News
10,000 people in Wales sign petition calling for improved financial support for people with a terminal illness,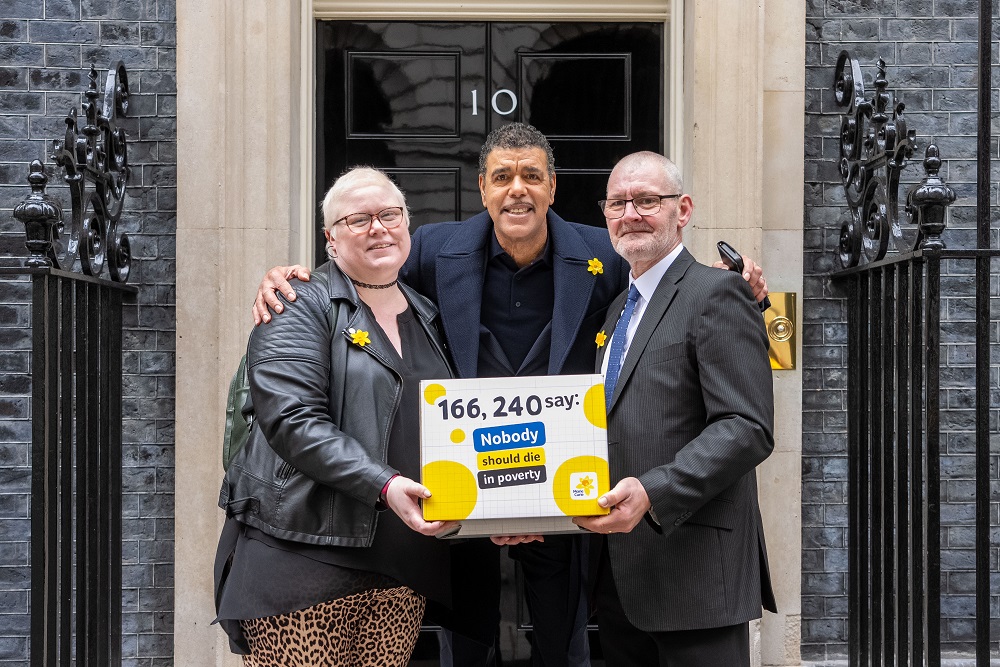 A petition signed by almost 10,000 people in Wales, calling for improved financial support for people with a terminal illness, has been handed in to Downing Street.
The petition, run by the end-of-life charity Marie Curie, has over 166,000 signatures from across the UK, with 9,951people in Wales supporting the campaign which urges the Government to give terminally ill people of working age access to their State Pension.
The petition was handed in by TV presenter and football pundit Chris Kamara MBE and two terminally ill campaigners who are experiencing the financial hardships that come with a terminal diagnosis.
Marie Curie's Dying in Poverty campaign has been calling for improved financial support for dying people since research found that 90,000 people die in poverty in the UK each year.
People who die in working age are twice as likely to spend their final year of life in poverty compared to people of pension age.
The charity also highlights that most people who die in working age have paid their national insurance contributions for 24 years.
Marie Curie says giving this group access to their State Pension would reduce the likelihood of a terminal diagnosis driving working age people into poverty.
The charity is calling for urgent action from the UK Government ahead of the Spring Budget.

'So unfair'
Wales signatory Janet said: "My husband worked six days a week, all his life until three weeks before he died. He died just before his 65th birthday. It is so unfair that he never got to enjoy his retirement or claim any of his contributions he paid for all of his life.
"He never claimed any benefits for anything. He was honest and hard working."
Kelvin, 54, who also supports the campaign, lives with COPD and says he's unlikely to reach retirement age. He said: "I was diagnosed in early 2019, and its becoming increasingly harder to carry out my day to day activities.
"As the main provider in our household, I have no option but to carry on working, even when I am really ill. If I had to retire tomorrow, our situation would affect us on a huge scale, and we are struggling already."
Marie Curie ambassador Chris Kamara MBE said: "We never had much money growing up, so I understand the strain that places on a family. Marie Curie cared for my Mum just before she died in 2003.
"I can't imagine having to deal with both of these stressful situations at the same time but that is what everyday life has been like for the people I've met through this campaign.
"What terminally ill people are going through at the moment is simply not right. Extending the State Pension to people with a terminal illness would make such a big difference. Those final weeks and months are precious. People should be spending their time making memories, not worrying about money."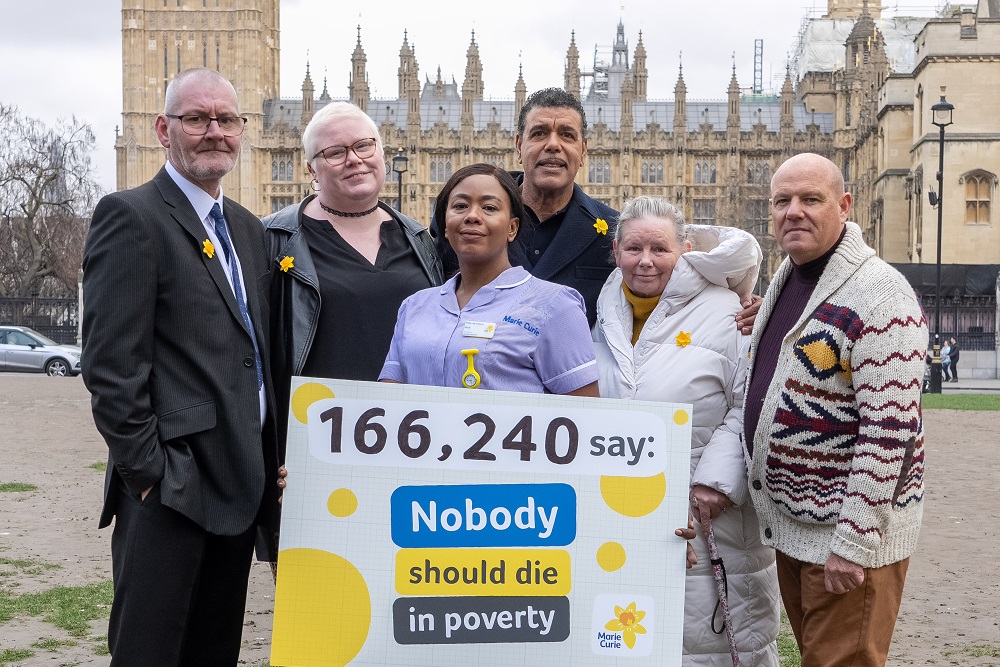 Research from the University of Loughborough, funded by Marie Curie, found that extending the State Pension to this group would cost £114.4 million per year which is just 0.1% of the annual State Pension bill.
Safeguard
Natasha Wynne from Marie Curie said: "The State Pension is a far more effective safeguard against poverty at the end of life than working age benefits. It's not right that terminally ill people are denied the financial assistance they need and deserve simply because they are not quite old enough.
"Being diagnosed with a terminal illness can have huge financial implications for people of working age. We regularly hear from people who have become too ill to work, and whose partners have had to reduce their hours to support and care for them as they approach the end of their life.
"At the same time they often have to deal with a mountain of additional costs, including paying for home adaptations, and higher energy bills to keep warm and to operate specialist medical equipment. That's why, sadly, many people are pushed into poverty when they're diagnosed with a terminal illness.
"There is simply not enough financial support available for terminally ill people. That's why we submitted our petition, urging the Prime Minister to make good on his pledge to always protect the most vulnerable.
"Welsh MPs must pay attention to these results and listen to the majority of the public who back our campaign to give dying people access to their State Pension.
"We know the public support this. We know it is affordable. The Government could end this injustice in its Spring Budget next month."
Launched in May 2022, Marie Curie's Dying in Poverty Campaign is urging the governments to give terminally ill people access to their State Pension, protection from rising energy bills and support with childcare costs.
According to polling conducted by Marie Curie, three quarters of UK adults support its recommendations and 72% believe that the Government has a responsibility to protect terminally ill people from falling into poverty.
---
Support our Nation today
For the price of a cup of coffee a month you can help us create an independent, not-for-profit, national news service for the people of Wales, by the people of Wales.