News
20mph demos 'piggybacked' by far right – extremism experts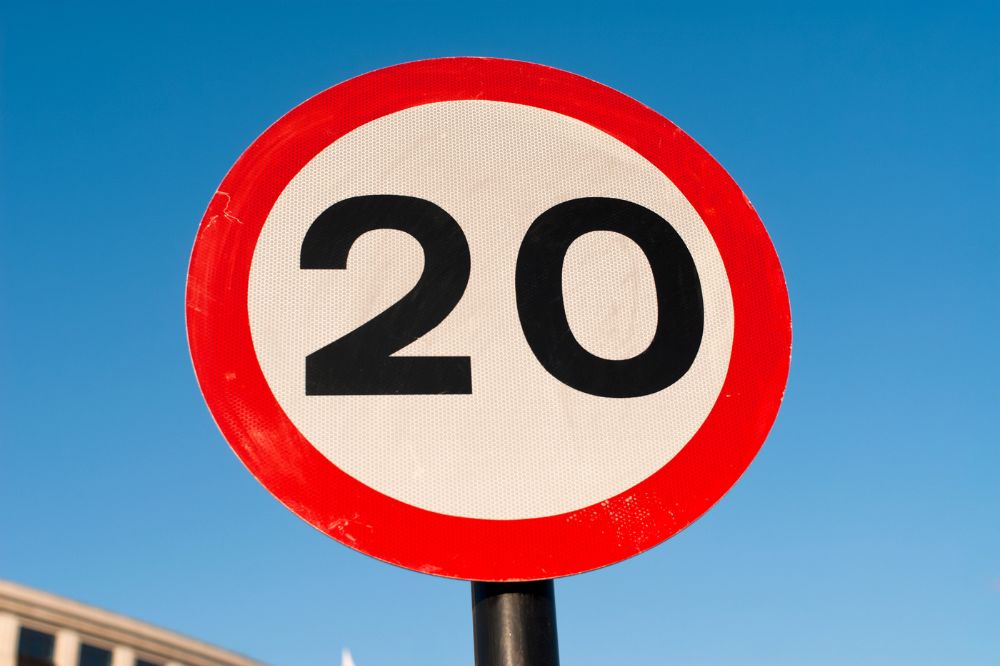 Emily Price
Extremism experts have warned that far right figures and conspiracy theorists are attempting to "piggyback" on demonstrations against Wales' new 20mph default speed limit.
The warning comes as leaked messaged reveal plans by right wing activists to march through Cardiff later this month in protest against the new speed limit and several conspiracy theories.
An invitation obtained by Nation.Cymru was shared by right wing group, Banners on Bridges via the encrypted messaging service Telegram.
Banners on Bridges is an outgrowth of the Covid-conspiracy movement, which organises people across the UK to stand by roadsides and bridges with yellow signs bearing conspiratorial messages.
The post calls for protesters to gather outside the National Museum Cardiff on November 18 for the 'World Wide Rally for Freedom'.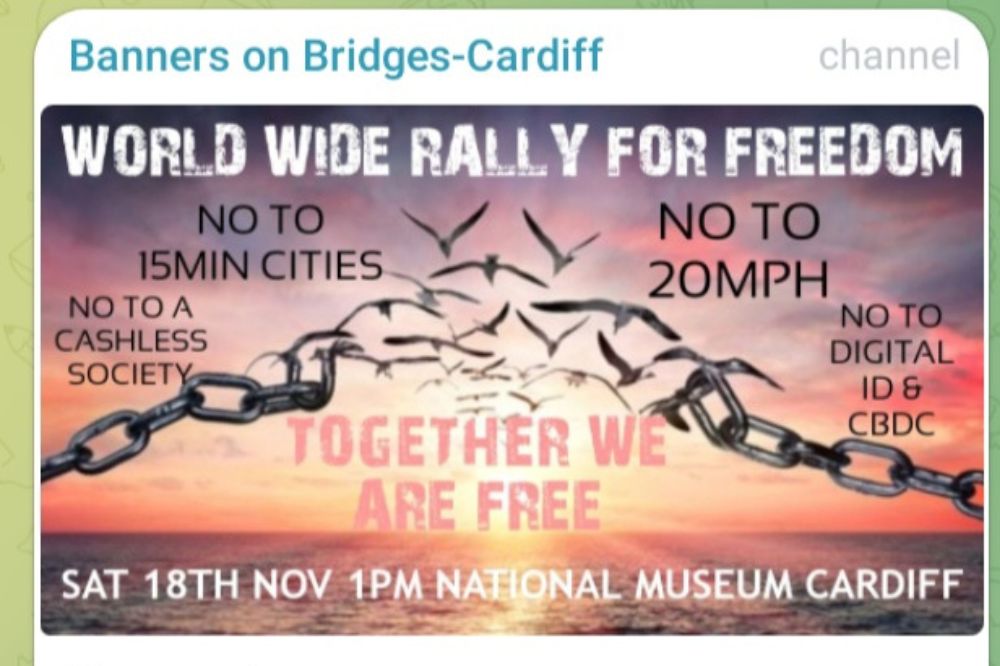 The invitation reads:
World Wide Rally for Freedom
No to 15 min Cities
No to a cashless society
No to 20mph
No to digital ID & CBDC
Together we are free
The '15-minute cities' concept has gathered pace in recent years as local governments try to find ways to cut down on carbon emissions and traffic.
Some people believe it is a sinister plot to remove rights and stop people from leaving their neighbourhood.
Conspiracy theory groups have argued that CBDC (central bank digital currencies) are the gateway to controlling a global population and are purely a tool to monitor and control the public.
The controversial issue of the new road regulation has gained both fierce support and heavy opposition.
A Senedd petition calling for the 20mph default limit to be scrapped has so far gained over 460,000 signatures making it the most signed in Senedd history.
A number of rallies and protests have taken place across Wales since the limit was rolled out on September 17.

Recruit
However, extremism experts HOPE not hate have warned the far right are now using the protests as a way to recruit.
David Lawrence, Senior Researcher at HOPE not hate: "It's certainly worrying that far right figures are attempting to piggyback on campaigns against transport changes.
"Of course, the majority of people campaigning against traffic measures do not step into harmful territory.
"However, the far right's involvement stems from conspiratorial thinking about shadowy global elites controlling events from afar, and serves as a new avenue to try and recruit."
Nation.Cymru also received a screen grab of another post sent via Telegram calling for protestors against the new speed limit to gather outside Cardiff Central train station on November 18.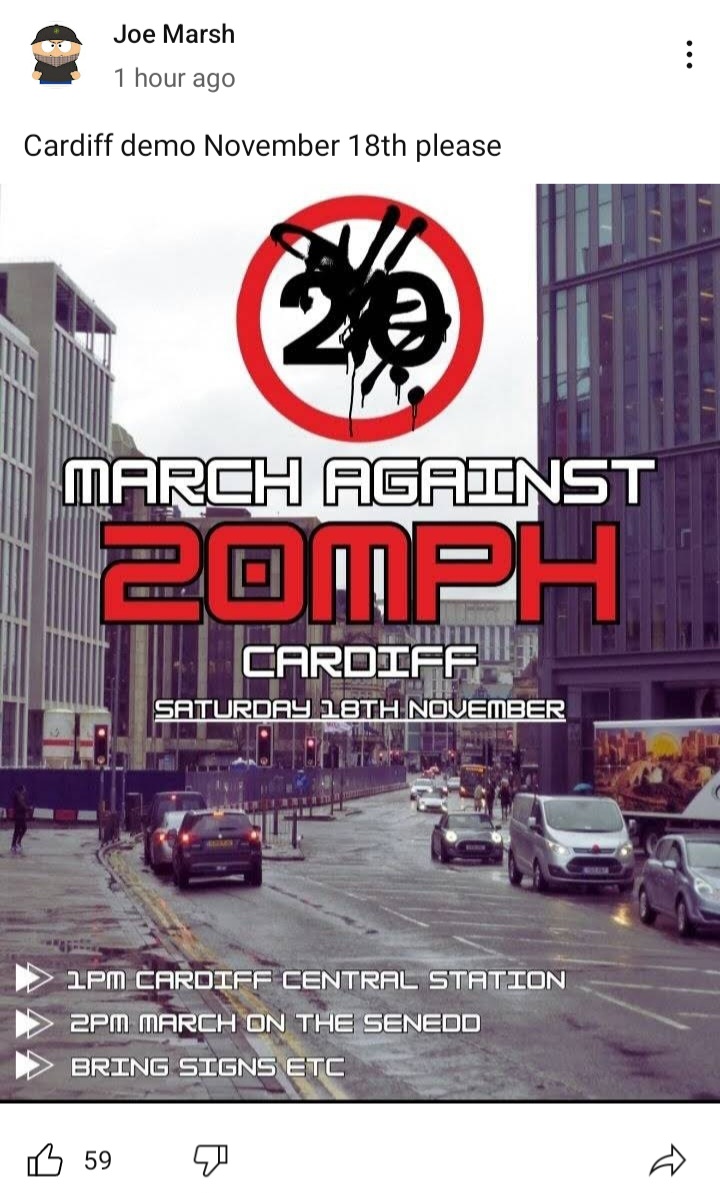 The invite was shared by Joe Marsh of the neo-Nazi group, Patriotic Alternative.
Joe Marsh, also known as Jeff Marsh has been described as "one of the most extreme far-right activists" involved in anti-migrant demonstrations outside Llanelli's Stradey Park hotel.
In 2015 Marsh was sentenced for throwing a female protester down a flight of stairs at an anti-austerity demonstration.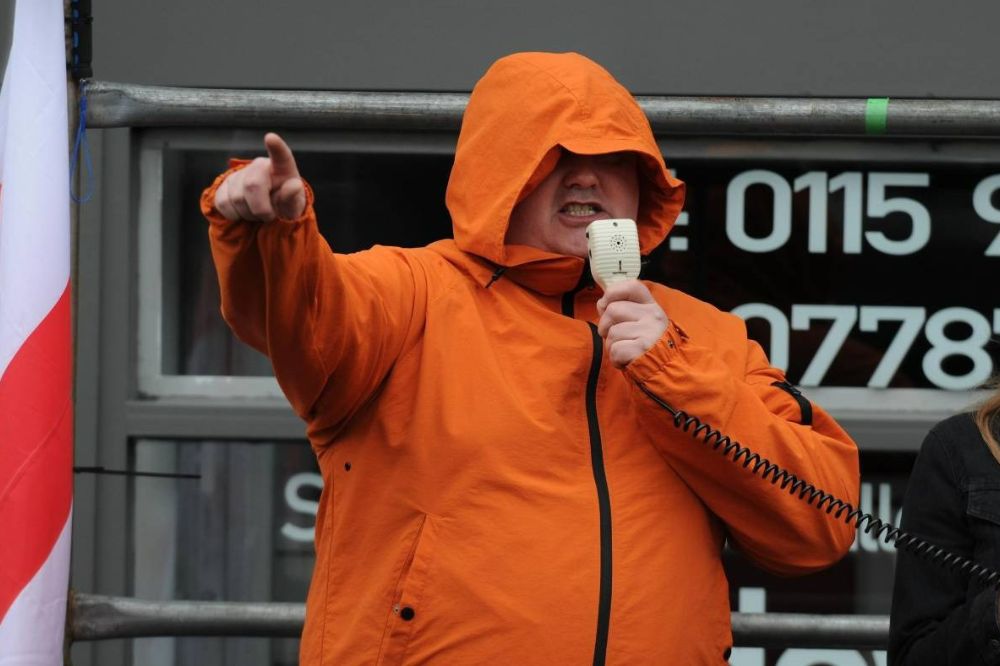 Marsh's hooligan 'Pie and Mash Squad' gang created stickers celebrating the assault and reenacted it for group photos.
He was also previously an organiser for the English and Welsh Defence Leagues, anti-Muslim street protest groups, and a member of the fascist British National Party.
In a statement a South Wales Police spokesperson said: "South Wales Police is aware of the proposed march and it will be policed accordingly."
---
Support our Nation today
For the price of a cup of coffee a month you can help us create an independent, not-for-profit, national news service for the people of Wales, by the people of Wales.