News
Adopted young people produce and present bilingual podcast in UK first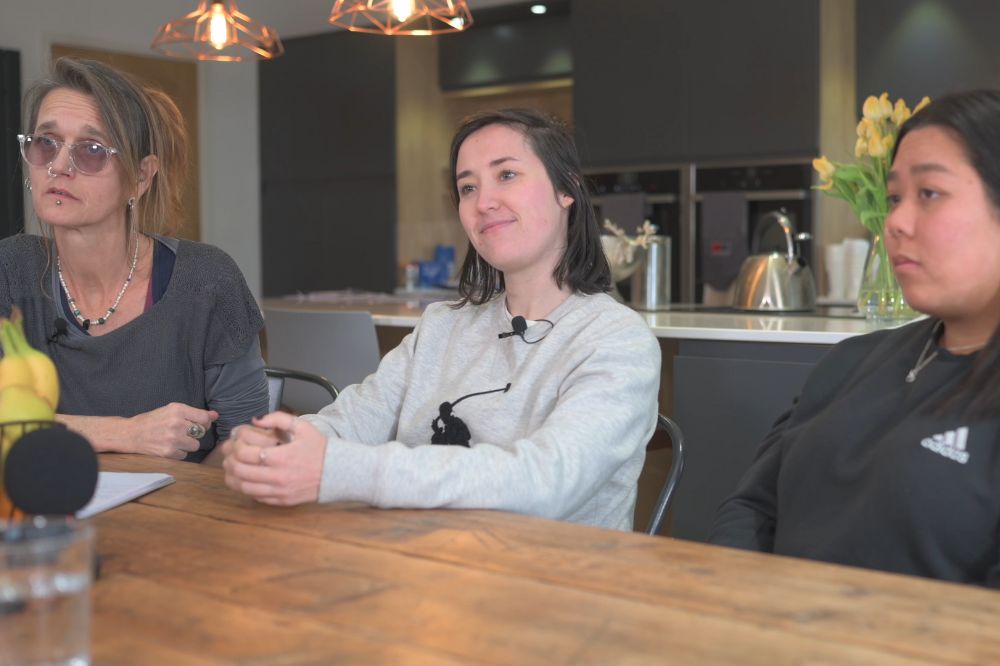 A group of young adopted people have produced and presented a bilingual podcast to share their personal experiences of adoption.
In a special episode of the hugely popular 'Truth Be Told; Adoption Stories' podcast, made on behalf of The National Adoption Service for Wales, 9 adopted people, from the ages of 13 to 26 discussed how adoption has shaped their lives, and the importance of putting adopted people at the heart of all services.
Charlotte, 26, features throughout the episode, she said: "I was lucky that my parents always gave me age-appropriate information, I was always told what I needed to know at the right stage of my life.
"I was always told important things, even if sometimes it took me a bit longer to understand it all. But, with adoption, whilst you have this new family, you're also experiencing a loss of birth parents and a whole different family and so everyone processes things differently."
Through the course of the episode, the presenters discuss common misconceptions and prejudices they have encountered, and highlight the need to continue challenging out-dated perceptions around adoption.
13 year old Sarah from north Wales said: "Little kids don't really understand things that well, so they used to say 'oh your mum and dad gave you away, they don't love you. These days, people are beginning to understand more about adoption."

Connect
The young people who took part in the episode are members of the Connected group and Connect Youth Council, run by the charity Adoption UK on behalf of the National Adoption Service for Wales.
The group regularly meets both online and in person providing a safe space for the young people to participate in activities, connect with other young adopted people, and facilitate collaboration with policymakers across Wales and the UK, including Welsh Government, to advise on adoption processes and support.
Charlotte said: "The groups give me a really space safe to explore my feelings and ask questions such as 'is this normal? Why am I feeling like this?' with trained youth workers and that helps massively, I am able to make friends and build confidence.
"Some of the things I would never have done had it not been for the group, especially being given multiple opportunities to make sure the voices of adopted people are heard at very important meetings.'
The episode was supported by staff from the National Adoption Service, dedicated youth workers, podcast production
specialists: Bengo Media, and strategic communications consultants: Cowshed Communication.
Ann Bell, Director of Adoption UK Cymru, said: "We are in awe of the wonderful young people from all over Wales who have taken part in the podcast. It is never easy for them to share their stories as it can be traumatic and exhausting."
Development of the episode included webinars, training evenings and collaborative sessions for the contributors, exploring the podcasting industry, practical production skills, editorial considerations, powerful storytelling and confidence building.
Skills
It is hoped the skills gained through the process will enable those involved to pursue further opportunities in this field.
Charlotte said: "It really does take a team to get a podcast done and everyone at Bengo Media, Cowshed and National Adoption Service for Wales were instrumental to us throughout the planning, producing and recording stages of the podcast.
"Everyone involved was thoughtful, kind and really afforded us a safe space to talk about our experiences with adoption and I thank them enough."
Suzanne Griffiths, Director of the National Adoption Service for Wales, said: "The National Adoption Service is proud of the fact that many of the changes in adoption that have happened in Wales have happened as a result of listening to our service users and responding to what they tell us.
"We're therefore absolutely delighted that the young people have had the opportunity to be involved in this podcast and have felt able to share their thoughts and feelings with us in such an open and honest way.
"Their stories are so important in not only helping us to understand, but also for anyone thinking about adoption to learn
what it feels like for the children and young people."
Listen to the full episode here
---
Support our Nation today
For the price of a cup of coffee a month you can help us create an independent, not-for-profit, national news service for the people of Wales, by the people of Wales.