News
Affordable housing scheme in Ebbw Vale to be decided by councillors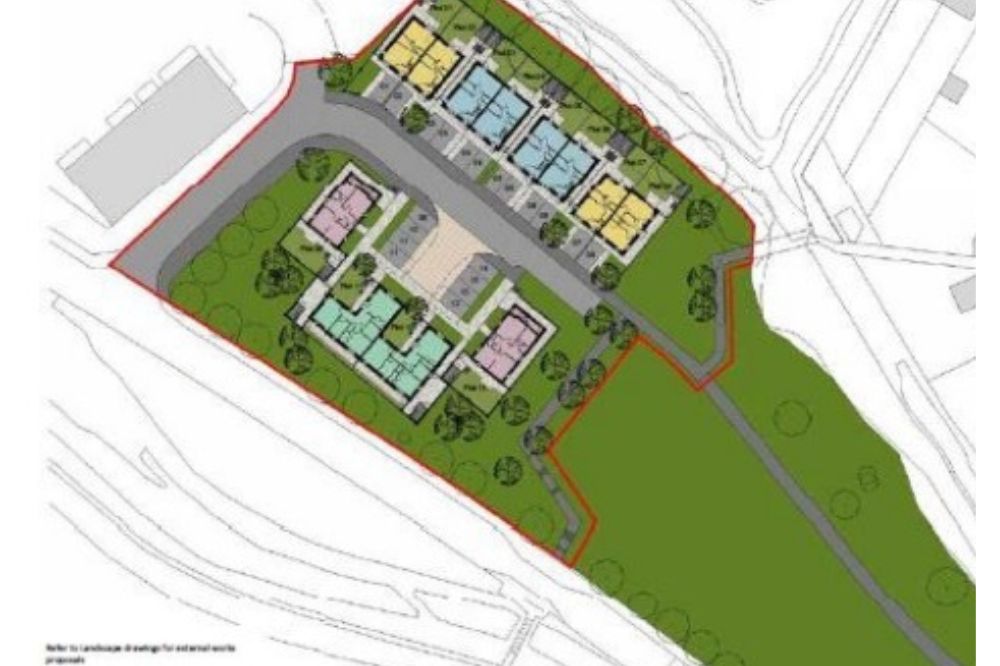 Elgan Hearn – Local Democracy Reporter
Plans for an affordable housing scheme in Ebbw Vale will be decided nearly two years after a previous proposal was refused by councillors.
Tai Calon Community Housing will be hoping for a different outcome at a meeting of Blaenau Gwent County Borough Council's Planning Committee on Thursday, September 7 when their application for affordable housing at the former sheltered housing complex Glan-yr-Afon Court will be discussed by councillors.
Again, Tai Calon have lodged plans for a mixture of flats bungalows and semi-detached houses.
But the numbers have dropped from 15 to 14 units and the area for development is a third smaller than in the previous application.
Tai Calon want to build four two-bedroom houses, four, three-bedroom houses, two two-bedroom bungalows and four one bedroom flats at the site which also includes a small area of undeveloped grassland near the flattened complex.
The bungalows and ground floor flats would be designed to accommodate wheelchair access in order to meet the needs of potential residents with limited mobility.
At two meetings in November 2021 and following a site visit councillors voted to refuse the application.

Green space
Residents had argued against this scheme as it would result in a loss of green space that had been used by people for 50 years.
The official reason to refuse the application is that the benefit of affordable housing did not outweigh the negative impact of losing the parkland.
This decision was endorsed by the committee in January 2022.
Planning officer, Joanne White explained Tai Calon's new proposal: "In a bid to overcome the reason for refusal the site has now been reduced in size from approximately 135 metres long to 75 metres and a reduction in site area from 0.83 hectares to 0.5 hectares.
"The majority of the grassland amenity area to the south-east has now been omitted from the scheme and the site now predominantly comprises brownfield land which formerly housed the sheltered housing complex known as Glan-yr-Afon Court.
"As such the proposed development would not result in an unacceptable loss of open space and would make a modest but necessary contribution to the delivery of affordable housing in the borough."
The council's education and leisure departments have asked for financial contributions as planning obligations rising from the scheme.
The leisure department has asked for £40,720 which would go towards upgrading the facilities at Glyncoed play area and ball court.
The education department wants £28,314 to go towards primary schools.
On these requests Mrs White said: "The applicant has submitted a viability assessment that indicates that the proposal would not be financially viable if the education and leisure contribution were sought."
Mrs White says that the planning policy manager has reviewed this assessment and agrees with Tai Calon that the project would not be possible if these payments were insisted upon.
Mrs White said: "Members should note that this impact needs to be balanced against the benefits of delivering much needed affordable housing.
"The proposed residential development is acceptable and planning permission be granted."
Before building work can start a further sustainable drainage application will need to be approved.
---
Support our Nation today
For the price of a cup of coffee a month you can help us create an independent, not-for-profit, national news service for the people of Wales, by the people of Wales.