News
Afghan refugees 'evictions plan' deeply concerning, say campaigners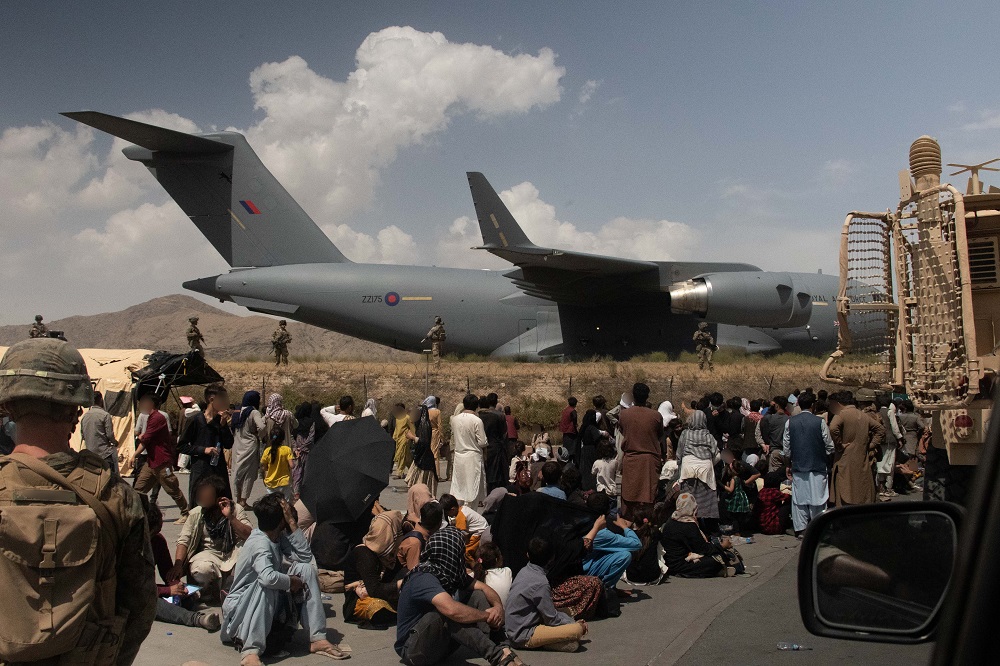 Campaigners have expressed their "deep concerns" amid reports Afghan refugees will be forced out of hotels as part of new UK Government plans.
Between 8,000 and 9,000 are living in UK hotels and will be given a few months' notice to move out, The Times newspaper said on Tuesday.
There are fears some will become homeless, with the Refugee Council saying they were promised a "warm welcome" by the UK.
The move, due to be announced by veterans minister Johnny Mercer on Tuesday afternoon, will reportedly see refugees offered a property – though those who fail to take up the offer before a deadline will be evicted.
Asylum seekers housed in hotels by the Home Office are not expected to be affected.
Enver Solomon, CEO of the Refugee Council, said that he is "deeply concerned" by details of the plan.
He said there is a "risk that they could lead to people who fled the Taliban in Afghanistan being left homeless and destitute on the streets of Britain".
"This is not how those who were promised a warm welcome in the UK should be treated," he said.
"Hotels are not the right place for refugees to live but the fact that thousands of Afghans have been left in them for months on end is a consequence of government mismanagement and a failure to work successfully in partnership with local councils and other agencies to find suitable housing.
"To expect councils to suddenly move them out of hotels by putting pressure of Afghan families risks causing great misery and anxiety for those who have already experienced trauma and upheaval."
More details are expected to be revealed in the Commons, with Mr Mercer likely to promise new support and funding to get refugees into homes.

Fall of Kabul
Thousands of Afghan refugees arrived in the UK after the Taliban takeover and fall of Kabul in 2021.
Figures given to the Commons Home Affairs Committee last year showed £5.6 million a day was being spent on hotels for people who had arrived in the UK and submitted an asylum claim, with £1.2 million paid to house Afghan refugees who fled the Taliban.
The British response to refugees fleeing Afghanistan has come under scrutiny in recent months.
Figures from February showed just 22 people, including eight children, had been resettled in the UK after fleeing Afghanistan under the strand of the Afghan Citizens Resettlement Scheme (ACRS) that promised to help vulnerable refugees.
The figure for Afghan nationals arriving in the UK by boat after crossing the Channel rose to 8,633 last year – a six-fold increase on 2021.
A pledge was made to take up to 20,000 Afghan refugees – with as many as 5,000 in the first year – who were forced to flee their home or faced threats of persecution from the Taliban under what the Home Office claimed at the time would be "one of the most generous" resettlement schemes in the UK's history.
The ACRS, split into three pathways depending on eligibility, was formally launched in January 2022 – although 7,141 Afghans had been resettled by December 2021 as people arrived in the UK under the summer evacuation exercise that year.
The first pathway, which focused on eligible people who were notified by the UK Government that they had been called forward or specifically authorised for evacuation but were not able to board flights at the time of the evacuation in 2021, saw just under 500 people resettled last year.
The Afghan Relocations and Assistance Policy (ARAP) was also launched in April 2021, offering priority relocation to the UK for current or former locally employed staff who have been assessed to be under serious threat to life.
Under that scheme, 4,094 were resettled last year and 7,118 in 2021.
---
Support our Nation today
For the price of a cup of coffee a month you can help us create an independent, not-for-profit, national news service for the people of Wales, by the people of Wales.