News
All the speeches, photos and reaction from the March for Independence in Swansea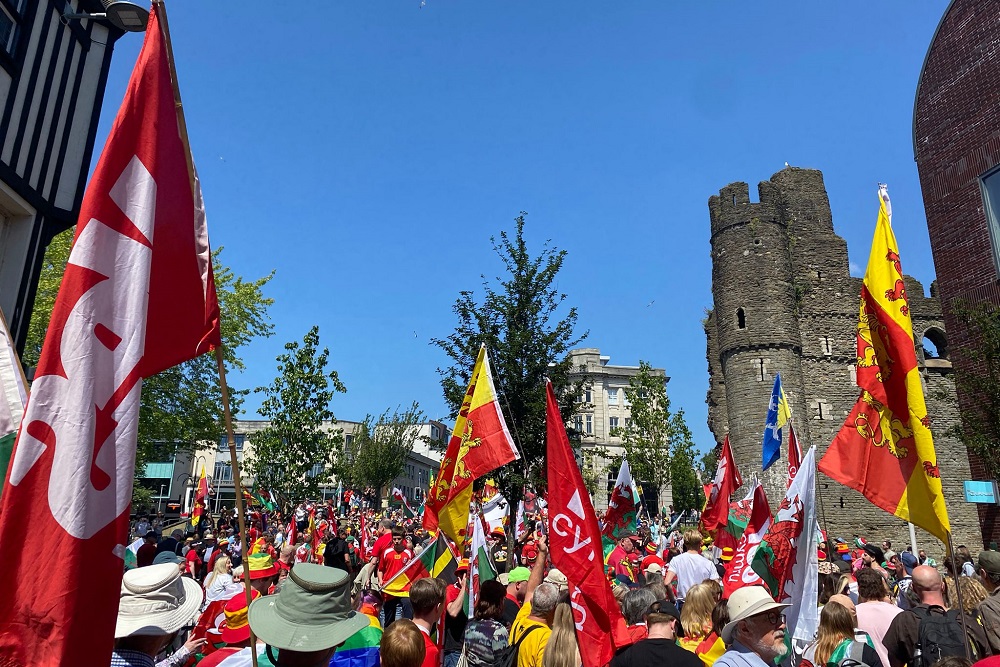 Christopher Evans
Over six thousand people took to the streets of Swansea earlier today for the first march for Welsh independence of 2023.
Organised by All Under One Banner Cymru and YesCymru, it is the first event since October 2022 when an estimated 10,000 people marched through Cardiff.
There was a positive and cheerful atmosphere as the sun shone over Wales' second largest city. People of all ages marched with flags and banners, whilst renditions of "Hen Wlad Fy Nhadau", "Calon Lân" and "Yma O Hyd" were belted out by the crowd.
Starting at 1pm, the march left Wind Street, snaking through Castle Street, College Street, The Kingsway, Dillwyn Street, Oxford Street, St Mary's Square, and Princess Way, before finishing on the Waterfront.
There was an Indy Market at the Green with numerous fringe events also taking place around the city that included panel talks, poetry, comedy, and live music. Following the march there was a rally at the National Waterfront Museum Green.

United
Speaking to Nation.Cymru at the rally, the Chief Executive of YesCymru Gwern Gwynfil said: "It's such a great occasion. It's a lovely day out. The number of families I've seen is incredible, people of all ages from all over Wales and further afield.
"There's normally a guy who comes all the way from the Netherlands, but unfortunately he couldn't make it today.
"The march is an opportunity for everyone to get together and feel united. There's a growing and expanding feeling in favour of independence, which obviously the data is also supporting."
This slideshow requires JavaScript.
Priorities
Gwynfil continued: "Wales would be much better off as an independent nation. Being able to set our own priorities, being able to have a government that reflected our own culture and our population and the beliefs of that population.
"It's not just Wales that benefits from independence. Scotland and England would also be better off as independent nations and we often forget this. England would have a chance to refresh itself, to revitalise and reinvigorate itself. Everything feels very tired.
"It's the end of an empire. There's no innovation. Westminster frankly appears to be a cesspit. All of that could be renewed, refreshed and revitalised by transformative change. And independence for everyone gives transformative change, for the good."
Real substance
Author Mike Parker made a rousing speech to the crowd at the rally.
The self-proclaimed adopted Welshman said: "The campaign for independence is about real substance. And it is urgent.
"Right now, with the world in such a dark and difficult place, with fascism and dictatorship on the rise, fuelled by imperialisms ancient and new, and rapidly widening inequality; with the climate collapse threatening to unleash horrors we haven't yet dreamed of, the need to do things differently could not be more pressing.
"The world needs Welsh values – strong community, kindness, sustainability – and it needs them on the widest possible stage. It's as simple as that."
Tinkering
He continued: "This country has so much to share, so many conversations to be part of. But that cannot be until we have found our own voice and are able to use it. No amount of tinkering around the edges of the current settlement will give Wales its real voice.
"The UK has shown time and time again that it cannot and will not reform itself. Gross inequality is hardwired into it, and as times get tougher, the proof of that is only going to become more extreme, and more obscene.
"So yes, Wales needs independence, but not just for the sake of those of us fortunate enough to live here.
"Our neighbours in these islands also need an independent Wales, to help hasten the much-needed rebalancing of power and wealth. Most importantly of all, the world needs an independent Wales."

Collective ambition
Naomi Hughes, of YesCymru, said: "If Slovakia can be independent, why can't we? If Lithuania can be independent, why can't we?
"If the Luxembourgers can be independent, why can't we? And if Iceland, with a population only 30% greater than Swansea itself can be independent, why can't we?
"We must seize a collective ambition to make this positive change to the future of our nation and the generations to come.
"To build a fair and tolerant society for everyone in Wales, North, South, East and West."
Confidence
Anthony Slaughter, the Leader of the Wales Green Party said: "This is a fantastic day and thanks to each and every one of you for turning up today. We can feel this movement growing, every time we get together. The sense of confidence is palpable.
"The idea of an independent Wales is becoming increasingly credible to more and more people.
"People can see the society we live in isn't working. The Union isn't working. Westminster isn't working. Wales deserves better.
"We need the power of independence – to work and to build that small, fair, progressive, green, independent country that Wales can become."
Animated
Addressing the crowd, the Plaid Cymru Westminster Leader Liz Saville-Roberts MP was animated: "We are all united against the injustices we face as a nation. We have made some noise today. They'll hear it in Westminster!
"We are not just here to dwell on the challenges and describe the status quo. We are here to outline our vision of a better, richer, fairer country.
"To convince others that Wales isn't destined for eternal poverty. It doesn't have to be like this. We are more than just a footnote in another people's history.
"We are a vibrant, resilient, and proud nation, with more than the capacity to thrive on our own. We know this. And we are here to carry on that proud Welsh tradition. Not just of standing tall against injustice, but rising above it to create something so much better.
"It's not normal to have a third of our children living in poverty. It's not normal that people are dying younger, that our living standards are worsening, and that is despite the fact that apparently we live in the sixth wealthiest nation state in the world."
Greed
"It's not normal – because the United Kingdom and its institutions are not normal. This isn't a cost of living crises, it's a cost of greed crisis! And this crisis is the result of the choices consciously made in Westminster.
"We can build a modern, thriving and inclusive European nation. We can be a sanctuary for those seeking refuge, where diversity is celebrated and embraced."
Saville-Roberts finished her speech with the crowd joining in with chants of "Annibyniaeth!" (Independence).
Stirring
Other speakers at the event included stirring speech from Angharad Owen, Rachel Garrick for Labour for an Independent Wales and the founder of Scotland's Common Weal think tank, Robin McAlpine.
Rachel Garrick
Robin McAlpine
For more information about future events visit the YesCymru website and the All Under One Banner Cymru website.
---
Support our Nation today
For the price of a cup of coffee a month you can help us create an independent, not-for-profit, national news service for the people of Wales, by the people of Wales.