News
Amnesty agreed for people prosecuted in connection with the 2017 Catalan independence referendum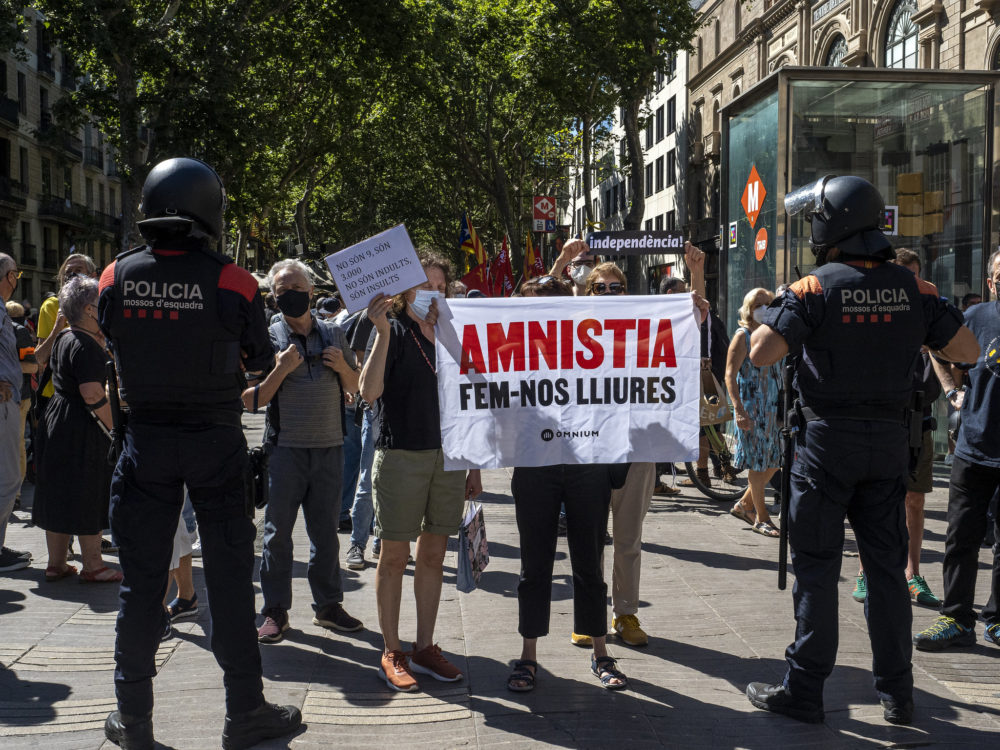 Luke James
Spain's ruling socialist party has agreed to an amnesty for people prosecuted in connection with the 2017 Catalan independence referendum as the price for a second term in government.
Former Catalan president Carles Puigdemont could return from a six year exile in Belgium under an agreement signed in Brussels today between his party, Junts per Catalunya (Together for Catalonia), and the Spanish socialist party (PSOE) following weeks of intense negotiations.
Puigdemont was one of seven politicians who went into exile following the crackdown on the referendum, while nine other political and civil society leaders served up to four years in prison.
The amnesty breaks a three month deadlock in the Spanish parliament and clears the way for the investiture of Pedro Sanchez next week for another five years at the head of a minority government supported by five nationalist parties.
"In no democracy is that a crime, contrary to what the Spanish state insists" said Puigdemont of the referendum today as he announced the agreement in Brussels.
"That's why the agreements includes an amnesty. It's a way to ensure what is politics returns to being politics."

Historic opportunity
Santos Cerdán of the PSOE called the deal a "historic opportunity to solve a conflict that can only be solved through politics."
The amnesty has already been met with a fierce backlash from Spain's right-wing.
Six people were arrested on Tuesday at a protest outside the Madrid headquarters of the PSOE supported by far-right Vox after activists chanted Franco-era anthems before charging at the police.
Spanish judges have also come out strongly against an amnesty and on Monday Spain's national court announced it was investigating Puigdemont over new charges in relation to the 2017 referendum.
"I was there for the referendum six years ago so to see they've managed to engineer an amnesty is very good news", Plaid Cymru MP Hywel Williams, who is vice-chair of Westminster's all-party group on Catalonia, told Nation.Cymru.
"You have a judiciary which is heavily politicised jailing people for things which we wouldn't consider to be crimes.
"Carme Forcadell, who was the speaker of the Catalan parliament, was jailed for 10 years for allowing a debate on independence. I mean, that's just astonishing in a western European country."
As well as independence leaders, the amnesty will apply to an estimated 3,000 others who faced criminal or civil proceedings for helping to organise or supporting the 2017 referendum.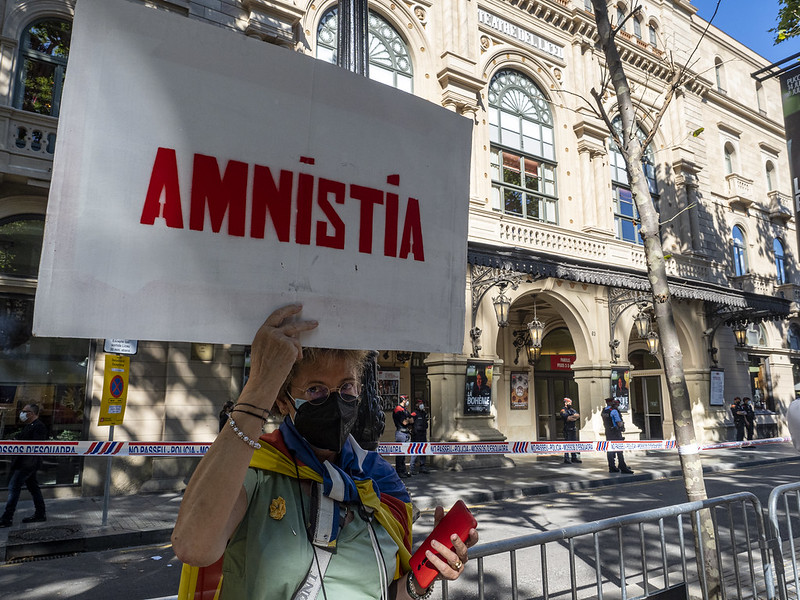 Local government officials
Many of them are local government officials who were charged with misuse of public funds for helping to organise the referendum.
But the campaign of what became known as 'lawfare' extended to cases like a 14-month ban from public office handed to a local councillor who posed for a photo next to a Spanish police officer wearing a red clown's nose.
"Thousands of local officials were subject to charges of disobedience or misappropriation of public funds and also face being banned from public office or being jailed," added Williams.
"It's not just prominent people, there's a huge number of local officials as well whose future hangs in the balance here.
"The unjust imprisonments have taken a psychological toll on both those imprisoned and their families."
The amnesty removes the main barrier to the investiture of Pedro Sanchez for a second term at the head of a coalition government between the PSOE and the left-wing Sumar coalition.
With 152 seats of the 176 needed for a majority, the two parties require the support of five nationalist parties from Catalonia, the Basque Country and Galicia to command a majority.
Sanchez looks set to be confirmed as Prime Minister next week as a result of today's deal with Junts, although he still needs to seal the support of the Basque National Party, which holds five seats.
Today's agreement represents a change in strategy for Puigdemont's party, which has until now adopted a confrontational approach and insisted its red line was the right to hold a new referendum.
That led Junts per Catalunya to withdraw from a coalition government with centre-left independence party, Esquerra Republicana de Catalunya (ERC), which has prioritised dialogue with the Spanish state.
"You've got a great split in the independence movement between those around Esquerra Republicana, who believe, in my view correctly, that the only way to achieve independence is to build a bigger social majority," Catalan history expert Dr Andrew Dowling told Nation.Cymru.
"The other side represented by Junts and Puigdemont, a very factional formation in itself, which says 'one last push. One last heave. We failed in 2017, if we do the same thing again this time, independence is in the bag'."
Others will say though that Junts' strategy has ultimately forced the Spanish government to make a concession far bigger than any achieved so far.
If Puigdemont is allowed to return under the amnesty, he would be in pole position to win the 2025 Catalan elections and regain the presidency he was stripped of in 2017.
---
Support our Nation today
For the price of a cup of coffee a month you can help us create an independent, not-for-profit, national news service for the people of Wales, by the people of Wales.