News
Andrew RT Davies accuses First Minister of 'smearing' Royal College of Emergency Medicine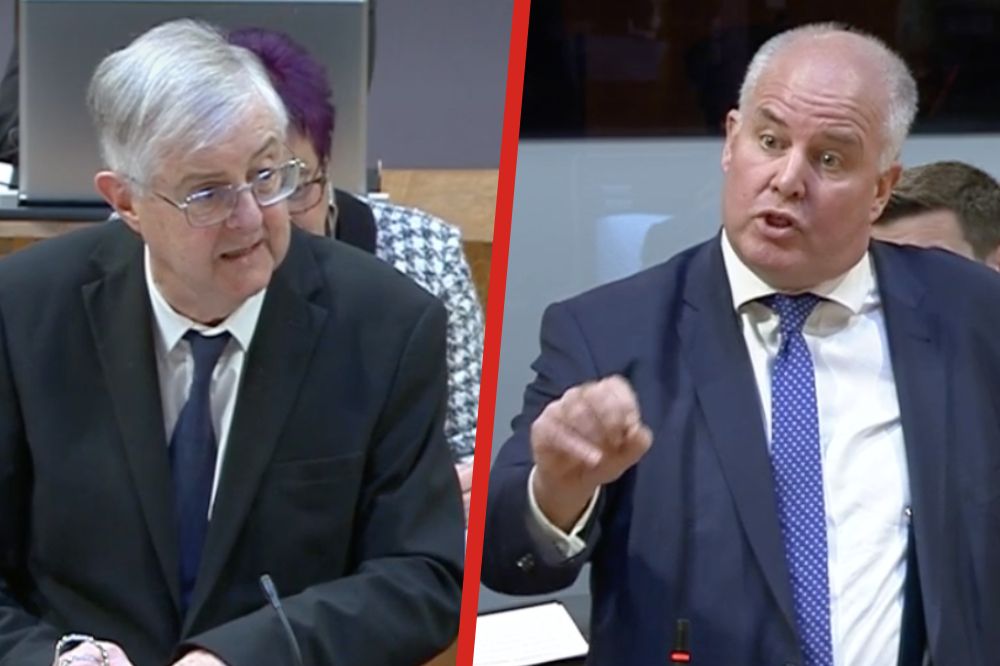 Emily Price
The Leader of the Welsh Conservatives, Andrew RT Davies has accused the First Minister of "smearing" the Royal College of Emergency Medicine (RCEM) over media reports of an A&E waiting time scandal.
The comments from the leader of the opposition came following FMQs yesterday (October 17) when Mr Davies raised the issue of a BBC investigation which claimed that over a decade worth of A&E waiting times have been underreported.
In the BBC report, the RCEM said that thousands of patients are subject to "breach exemptions" which are not included in the overall waiting time figures and haven't been since 2011 when the category was first introduced.
Just as FMQ's got underway on Tuesday, the Minister for Health and Social Services, Eluned Morgan issued a statement stating there was "no evidence" to support the media claims.
She said this was because the Freedom of Information request submitted by the RCEM to Welsh health boards had "misinterpreted" Welsh Government guidance.
However, the leader of the Welsh Conservatives said he thought the Royal College's findings was "strong evidence" that "merits consideration".
Mr Davies asked: "Can you confirm this afternoon, First Minister, that the figures on breach exemptions are calculated for eight- and 12-hour waits, not just four-hour waits?"

"Misinterpreted"
The First Minister responded: "Somewhere, there has been a misunderstanding of the figures, but not by us. The figures that were provided to the Royal College have been misunderstood and misinterpreted.
"That may be a matter of disappointment to Members on the opposition benches, but I'm afraid that is the case. Welsh Government statisticians do not exclude clinical exceptions from the data that is received from the local health boards.
"We report that data. That is what was suggested was not happening; that is not the case. Clinicians decide whether or not somebody should be retained in an emergency department beyond four hours when it is in the interests of the patient to do so.
"As the letter of 9 December 2011 said, these principles are recognised and supported by the Royal College of Emergency Medicine."
The leader of the opposition said that Mark Drakeford had failed to answer his question.
Numbers
He said: "I don't dispute that the patients turning up at A&E—and I don't think the Royal College of Emergency Medicine disputes that, obviously, these patients are captured as individuals who attend accident and emergency departments.
"My question to you was: once they go beyond the four-hour wait, are they captured in the eight- and 12-hour wait, which is a key gateway in measuring the flow through accident and emergency departments? You didn't answer that part of my question to you."
"Because, when you look at the numbers, 45,000, according to the Royal College of Emergency Medicine, were not captured in the eight- and 12-hour figures in the first six months of this year.
"In the 10 years since these figures were brought in, 670,000 people have not been captured in the way the Welsh Government correlate these figures in the eight- and 12-hour waits."
The first minister attempted to answer the question saying, "Not a single patient's care is affected by these figures…" but he was interrupted by jeers from the opposition benches and calling out from Labour benches.
Quiet
Llywydd, Elin Jones intervened calling for quiet in the chamber and Mr Drakeford answered: "Clinicians decide whether or not somebody needs to be retained in the A&E department or moved on to a different part of the system.
"There was a period in which, in order to beat the clock, the four-hour waits, we knew that people would be artificially moved out of the department so that they didn't score against a four-hour wait.
"Clinicians consistently said to us that that was not the right way for patients to be treated. But, if a clinician believed that that patient should stay in the accident and emergency department, that's where they should stay.
"The figures that I see routinely reported are at four hours and 12 hours. I'll ask the Minister whether there is management information, that records eight hours, but, routinely, we report what happens to patients at four hours and 12 hours.
"We do not exclude clinical exceptions from the data reported and the data that we do report is comparable with data reported elsewhere, as we always have maintained."
Following FMQs, the leader of the Welsh Conservatives said the first minister still hadn't answered his question.
In a statement, he said:"When it comes to the Welsh A&E reporting scandal, Labour's story keeps changing. Mark Drakeford failed to give a straight answer and Welsh patients urgently need clarity.
"We all know why this happened: Labour ministers in the Senedd are distracted. Instead of focusing on the people's priorities like our Welsh NHS, they've wasted time on vanity projects like blanket 20mph speed limits and spending £120million on 36 more politicians.
"Instead of smearing the Royal College of Emergency Medicine, Mark Drakeford must get his priorities right. Labour must drop their extreme policies and focus on our Welsh NHS."
In the statement released on Tuesday, Eluned Morgan said: "Media coverage has suggested that official statistics on emergency department waiting times for Wales have been under-reported since 2011, when a category called "clinical exceptions" was introduced.
"The media coverage is incorrect. We have received assurances from health boards that exceptions are included in their figures. Clinical exceptions (or breach exemptions) refer to when emergency department clinicians have deemed that patients require an additional, extended period of observation or treatment.
"Nationally agreed guidance states that clinical exceptions should be included in the data reported by health boards to Digital Health and Care Wales (DHCW), with an agreed process for how waiting times for these patients are calculated and considered in performance monitoring.
"I am grateful to RCEM for continuing to fight for the best possible care for patients in our emergency departments and I hope we can continue closely working together to drive whole system improvements through our Six Goals for Urgent and Emergency Care national programme."
---
Support our Nation today
For the price of a cup of coffee a month you can help us create an independent, not-for-profit, national news service for the people of Wales, by the people of Wales.