News
Andrew RT Davies blasts BBC as he seeks GB News U-turn from Llywydd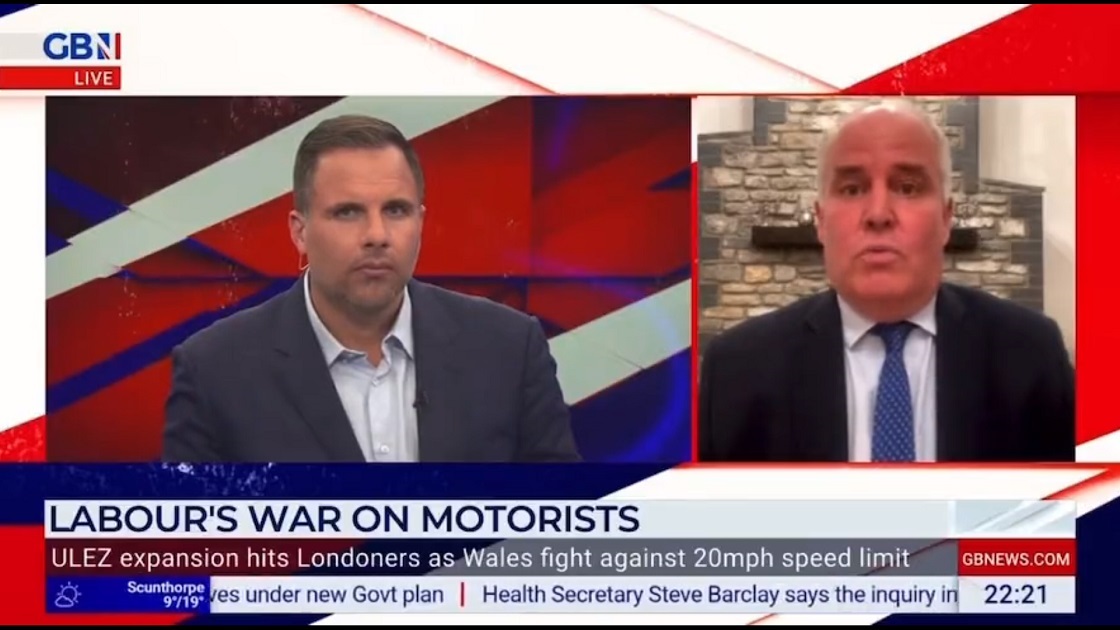 Emily Price
Leader of the Welsh Conservatives, Andrew RT Davies has blasted the BBC in a letter to the Llywydd, Elin Jones asking that she U-turns on her decision to remove GB News from Senedd TVs.
Ms Jones removed the right-wing TV station this week following a recent broadcast that she said was "deliberately offensive, demeaning to public debate and contrary to our Parliament's values".
In a letter sent by Mr Davies on Thursday (October 19), he compared the misogynistic comments aired on GB News with that of serious failings at the BBC involving Jimmy Savile who sexually abused children without detection.
In a social media post alongside the letter, the leader of the Welsh Conservatives said: "By banning GB News, the Senedd has set a dangerous precedent. It means the BBC will have to go too."
Responding to the post, Tory MS Tom Giffard said: "Andrew RT Davies is correct. If we care about the future of [the] Senedd, we need to make sure all views across Wales are heard and properly represented.
"It sets a dangerous precedent to say that our national parliament will only listen to certain views and ignore others."
Complaints
Earlier this month thousands of complaints were made to Ofcom about GB News following comments made by Laurence Fox during an interview with former Sun journalist, Dan Wootton.
Talking about female journalist, Ava Evans, the former actor and political activist asked what "self-respecting man" would "climb into bed" with her.
During the interview, Dan Wootten smiled when Mr Fox asked,"Who'd want to shag that?"
Laurence Fox has since been sacked by GB News and Dan Wootton remains suspended pending an internal investigation.
The Presiding Officer made reference to the exchange on X, formally know as Twitter, after Mr Davies published a post describing her decision as "disgraceful".
Responding to Mr Davies, Ms Jones posted: "Do you seriously support a channel that allows a woman to be talked about unchallenged as below to continue to be broadcast on our Senedd internal system? 'show me a single, self-respecting man that would like to climb into bed with that woman … ever …Who'd want to shag that?"
Recently GB News was found to have breached impartiality rules by Ofcom for the third time since its launch in 2021.
The Welsh Tory leader has made regular appearances on the channel and last month he attacked the 20mph speed limit on Dan Wootton's programme.
The day after the station was removed from the Senedd's internal TV systems, several Welsh Conservative MSs, including Mr Davies gave interviews to a GB News reporter outside the building.
Scandals
In the letter sent to the Presiding Officer, Mr Davies wrote: "I find your decision to ban the network incredibly disturbing. Put simply, it is censorship. It is also sets a dangerous precedent, which if followed will result in many other broadcasters being removed.
"As you will be aware, the BBC has been involved in a number of scandals over the years. In 2008, obscene comments of an explicit and sexual nature were made about a woman by Russell Brand and Jonathan Ross as part of a Radio 2 show.
"Serious allegations against the presenter Jimmy Savile were covered up. And over the past fortnight, it has refused to describe the proscribed organisation Hamas as 'terrorists'.
"I strongly oppose all of these decisions. Nonetheless, the BBC is a national broadcaster with a large viewership. I watch its content myself and appear frequently on both its TV and radio stations.
"I do not want the BBC to be banned by the Senedd. But the precedent you have set means that will now have to happen. Other media outlets will also need to be removed.
"It is therefore imperative that this precedent is removed as soon as possible. It is in this spirit that I write to request that the Senedd GB News ban is urgently overturned."
Ms Jones has stated that Senedd Members who wish to continue watching GB News can do so online.

"Offensive"
Nation.Cymru contacted Ms Jones for a statement regarding Mr Davies' letter.
A spokesman for the Llywydd said Ms Jones won't be commenting on each issue raised in the letter and the only statement will be the one issued previously: "GB News has been removed from the Senedd's internal television system following a recent broadcast that was deliberately offensive, demeaning to public debate and contrary to our Parliament's values.
"There are now several ongoing Ofcom investigations into the channel. The Commission will discuss the issue at a future meeting, and staff and Members who wish to view GB News will still be able to do so online in the Senedd."
Mr Davies was invited to comment but did not respond.
---
Support our Nation today
For the price of a cup of coffee a month you can help us create an independent, not-for-profit, national news service for the people of Wales, by the people of Wales.