News
'Angry' RT Davies accused of 'howling in the wilderness' as latest poll shows plummeting Tory support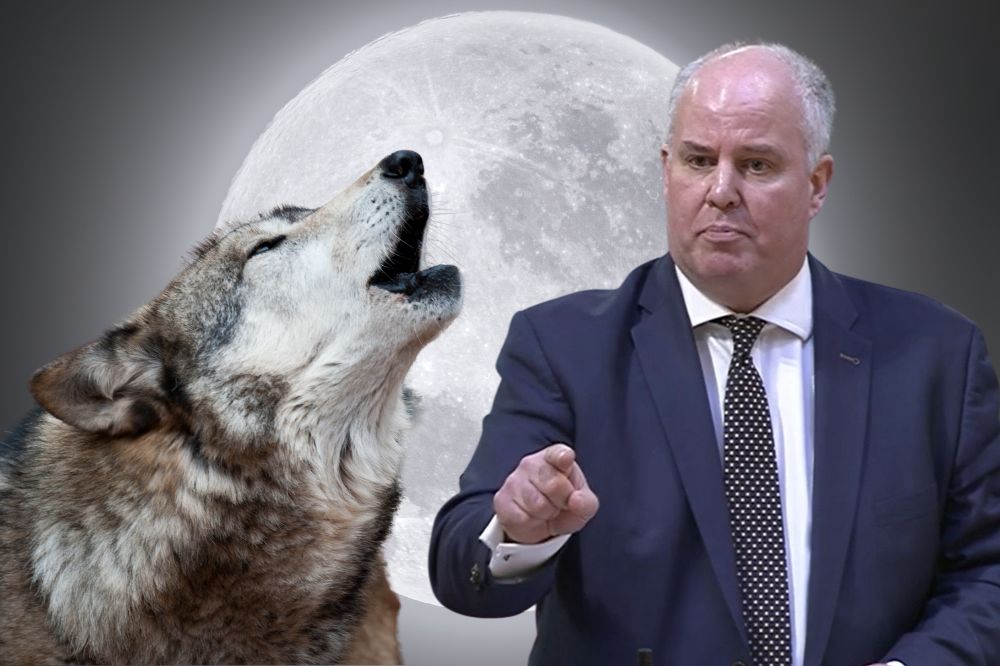 Leader of the Welsh Conservatives, Andrew RT Davies has been accused of "howling in the wilderness" as a latest Welsh poll shows plummeting support for the Conservative Party.
Deputy Minister for Climate Change, Lee Waters posted the results of a recent poll to Twitter along with the caption: "A reminder to those amplifying the latest dog whistle from the angry man leading the Senedd Tories: the latest Welsh poll showed Conservative support among people under 49 at just 5%.
"Five percent. RT is howling in the wilderness, poor dab."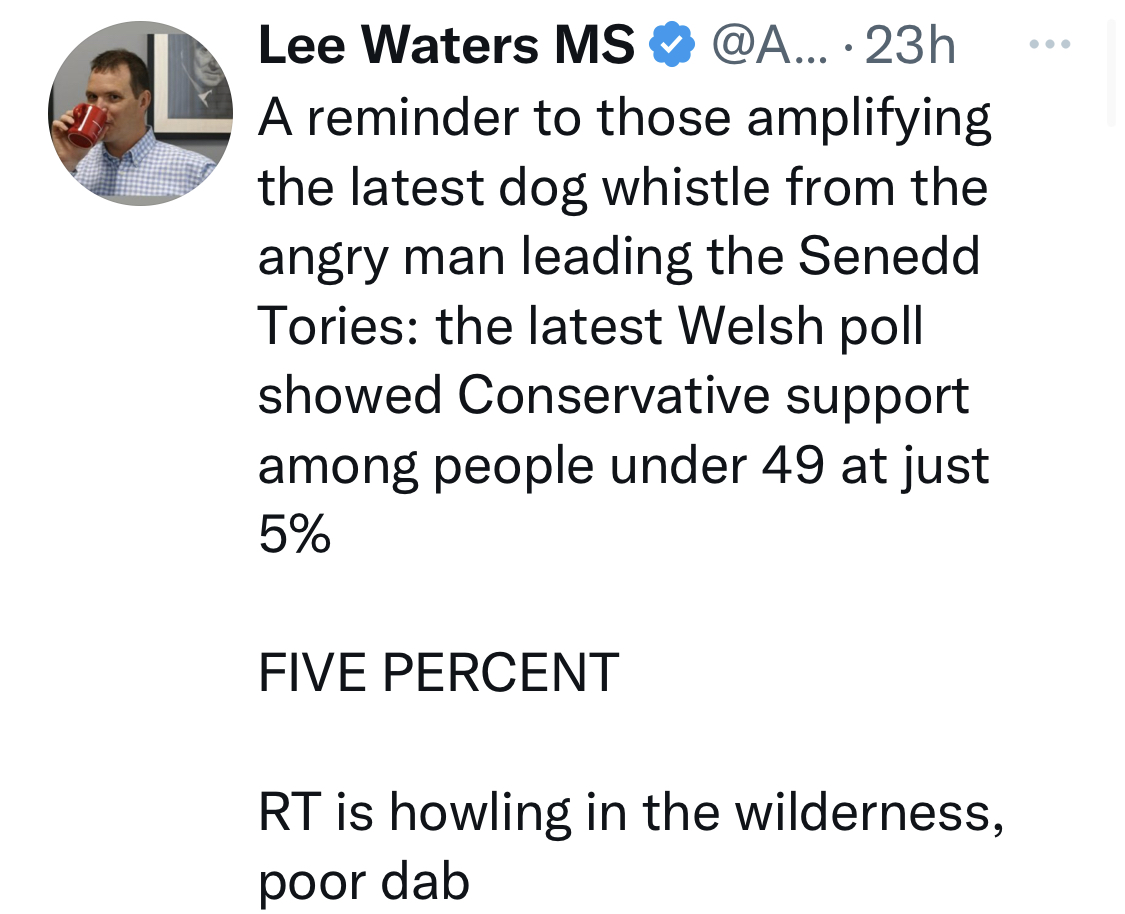 Election
The You Gov survey for Wales Online polled 1083 adults in Wales over the age of 16 between February 17 – 23, 2023.
The survey asked respondents what their voting intention would be if a general election was held tomorrow.
The results showed only 5% of people aged 25 – 49 would vote Conservative, whilst 39% would vote Labour.
2% of people in the same age group would vote Liberal Democrat and 10% would vote Plaid Cymru.
The poll also found that on 8% of 16 – 24 year olds would vote Tory whilst 37% would vote Labour.
7% of people in the same age group would vote Plaid Cymru and 3% would vote Liberal Democrat.
13% of 50 – 64 year olds polled would vote Conservative and 34% would vote Labour, whilst 6% would vote Plaid Cymru and 1% would vote Liberal Democrat.
24% of over 65's said they would vote Conservative if an election took place tomorrow and 29% of the same age group said they would vote Labour.
9% would vote Plaid Cymru, whilst 4% would vote Liberal Democrat.
The good folk who come to our Politics and a Pint events see through bluster.

They know Starmer is a leftie lawyer who will be weak on crime. pic.twitter.com/veGLzhGaaI

— Andrew RT Davies (@AndrewRTDavies) April 12, 2023
Criticism 
The Tory leader's latest attempt to gain support by hosting 'politics and a pint' events across Wales has drawn criticism from councillors and members of the public.
During one such event held in Cardiff this month, RT Davies can be seen in a video posted to his Twitter account describing the people who attended as a "good cross section" of the public.
Some Twitter user were keen to point out the "cross section" may not have been as diverse as the Tory leader liked to imagine with one posting, "Everyone was white and looked like they were from the countryside."
Another asked RT Davies in the comment section: "It's not really a great cross section of society? Especially for an urban central. Is that the most diverse you can find?"
In the video the Tory leader could be seen complaining there was no salt on his chips and expressed his thoughts on genders to a small group of sniggering attendees.
He said: "Genitalia is quite obvious to most people and if a man has got a penis he's not a woman. It's quite obvious, Kier Starmer might struggle to answer that question, I don't struggle to answer that question."
Sports reporter and presenter Beth Fisher posted: "The fact he thinks this is a 'good cross section of people' in the crowd probably says it all…but the part on transgender people and all the people are laughing is quite frankly disgusting.
"The fact it's been clipped up to use as a promo piece says everything about politics at the moment."
Bizarre
The legitimacy of RT Davies's bizarre social media posts were again called into question with many believing the the account is being run by one of the Tory leader's team due to the word patterns and phrasing of Tweets which have changed drastically over the last few months.
Nation.Cymru contacted Andrew RT Davies and asked whether any one else on his team has access to his Twitter account or whether the account is being run by him alone.
We also asked whether the change of tone in Twitter posts in recent months is because RT Davies has taken over the running of the account from a member of his team who has since left the post.
RT Davies did not respond.
When asked in a recent interview with Wales Online, RT Davies maintained he is running his own Twitter account.

Rhondda
The Tory leader also recently held a 'politics and a pint' event in Rhondda Cynon Taf where he insisted residents there were concerned about asylum seekers making their way into the country on small boats, much to the fury of RCT Council Leader, Andrew Morgan who blasted RT Davies for his comments.
Mr Morgan said: "It's hugely disappointing that the Tory Leader in Wales continues to focus on divisive issues and then after a recent visit to RCT, said on social media that the people of Rhondda allegedly support his views.
"It's clear what people in RCT think of the Tories, after the years of austerity they have inflicted on public services, there is no support for the Tories here.
"The Tory cost of living crisis hitting households across the country really should be their focus.
"The Tory's including Andrew RT Davies have little to offer the people of RCT or Wales, as we don't want their dog whistle politics here"
---
Support our Nation today
For the price of a cup of coffee a month you can help us create an independent, not-for-profit, national news service for the people of Wales, by the people of Wales.