News
Anti gambling MP sparks backlash after donating £500 Grand National winnings to food bank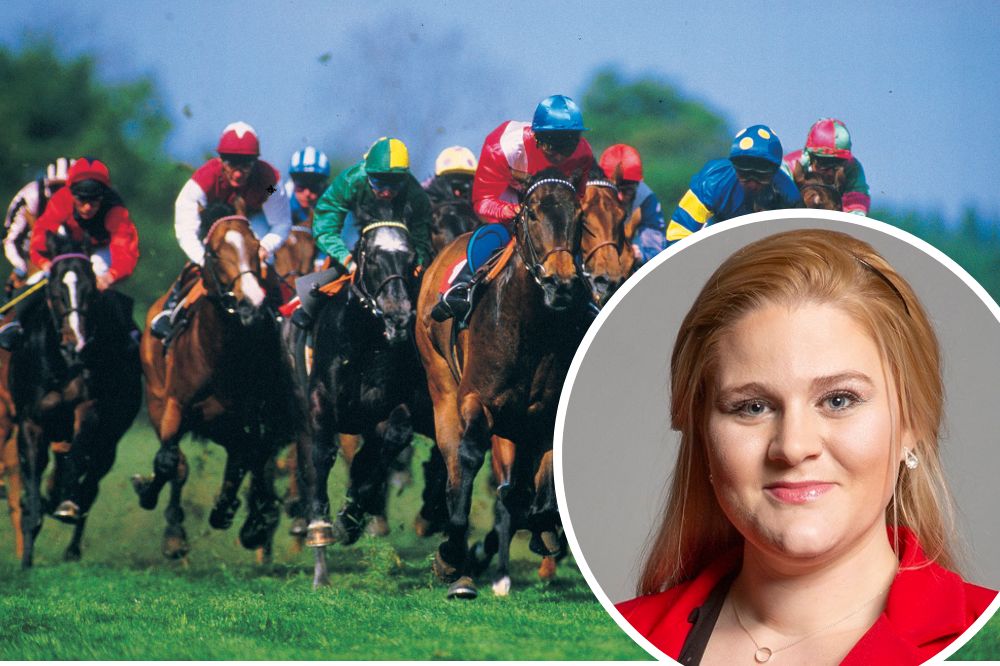 Emily Price – News Editor 
An anti gambling Welsh MP has sparked backlash after she made a donation to a food bank using winnings from bets she placed on the Grand National.
Shadow Minister for Tech, Gambling & Digital Economy, Alex Davies-Jones posted an image of herself to her Facebook page at a food bank in her Pontypridd constituency on Tuesday (April 25) after making a £500 donation there.
The donation was made with winnings from fifty pounds worth of bets given to her as part of the Betting and Gaming Council's (BGC) Charity Bet Campaign.
The BGC licenses and regulates individuals and businesses that provide gambling in the UK and it gave 40 MP's £50 to back horses at the Grand National in Aintree, Liverpool on April 15.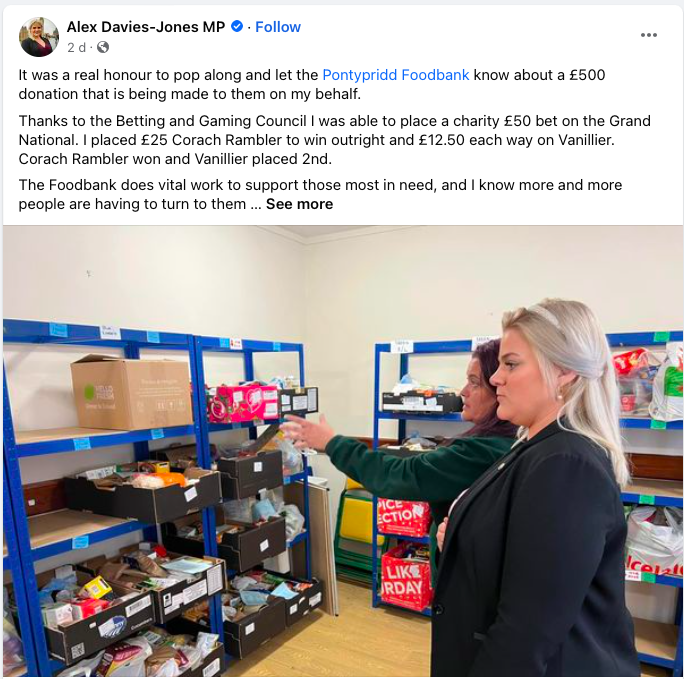 Comments
In the Facebook post, Ms Davies-Jones said: "Thanks to the Betting and Gaming Council I was able to place a charity £50 bet on the Grand National.
"I placed £25 Corah Rambler to win outright and £12.50 each way on Vanillier. Coach Rambler won and Vanillier placed 2nd.
"The Foodbank does vital work to support the most in need, and I know more and more people are having to turn to them for help particularly through the cost of living crisis."
Alex Davies-Jones has removed over 20 comments from beneath the post and left only one which reads: "Make sure you share your national tips on here in the future Alex."
Over on Twitter, screen grabs of the Facebook post have since been shared multiple times along with accusations that the Shadow Minister for Tech, Gambling & Digital Economy has promoted gambling by placing bets.
On Thursday (April 27), Ms Davies-Jones Tweeted her support for the long awaited gambling White Paper which could see gamblers who lose £1,000 a day facing checks as part of tougher gambling regulations.

Criticism
In a Tweet the Shadow Minister for Tech, Gambling & Digital Economy said: "It's welcome that the Government are finally bringing forward their long, long-overdue plans for gambling reform today.
"But let us be clear – the cost of this delay to human lives and to the public purse has been huge. Industry and individuals want to see positive change to protect against problem gambling – we all do.
"The Government must not slow down this process even further by committing to more and more consultations. That time has been and gone.
"I look forward to responding to the statement in Parliament later this morning."
The post received heavy criticism with one Twitter user saying: "But yesterday you were using a foodbank as a prop to shill for the betting and gaming council?"
Another commentator said: "You posted about a food bank donation you made from a charity bet from the betting and gaming council YESTERDAY!? That whiplash is insane. It's like opposing hunting the day after you donate a freshly killed fox."
Another Twitter user commented: "Not sure I trust your integrity given the promo ad for a gambling company when you were donating winnings to a food bank. Cant actually think of a worse message than promoting gambling as a way to feed your family the essentials."
"At-risk"
A report released by Public Health Wales in November 2022 found that 3% of Welsh adults were identified as "at-risk" gamblers and 1% as "problem" (harmful) gamblers.
It stated there are health, social and financial implications not only for individuals but for families, communities and whole societies – making it a public health issue.
The same report identified that some of the social groups most likely to experience gambling harms are those who are already experiencing inequalities, such as people who are unemployed or on low incomes, people from Black and minority ethnic backgrounds, and those with mental health problems.
Analysis by the Gambling Commission in 2019 found that problem gamblers are more likely than others to have suicidal thoughts, attempt suicide or harm themselves.
It's estimated that one individual will die by suicide each day in the UK due to harmful gambling.
Gambling charity GamCar has warned that the cost of living crisis has fuelled a rise in gambling.
Research carried out by the charity found that four in 10 (42%) problem gamblers believed gambling would improve their financial situation.
A survey of 4,202 people found that one in six problem gamblers had used a warm bank in the past year compared with 5% of the general population.
No reply
The YouGov poll commissioned by the charity found that half of parents who are problem gamblers regularly go without food or clean clothes to support children, compared with 20% of parents overall.
The Grand National drew in bets from around 13 million people and animal rights campaigners have called for a permanent ban on jump racing after three horses died in the event this year.
Nation.Cymru contacted Alex Davies-Jones for comment but did not receive a reply.
Zoë Osmond, CEO of GambleAware said: "Almost half (45%) of 11–17-year-olds are exposed to gambling marketing on social media each week.
"Our research shows that increased exposure to gambling can influence attitudes towards gambling and the likelihood of gambling participation in the future, which in turn comes with an increased risk of harm.
"Gambling harm is a serious public health issue, which can affect individuals, families and communities across Great Britain.
"These harms inevitably reflect wider social and health inequalities and a whole-system approach is needed to address the issue.
"The reforms outlined in this White Paper are a big step towards that goal and we look forward to continuing to play our full part in collective efforts, alongside the government, to achieve a society free from gambling harms."
"If you're worried about how gambling makes you feel, we can help. For free and confidential advice, tools and support, search GambleAware or contact the National Gambling Helpline, available 24/7, on 0808 8020 133"
---
Support our Nation today
For the price of a cup of coffee a month you can help us create an independent, not-for-profit, national news service for the people of Wales, by the people of Wales.