News
Baby formula preparation machines might not reach NHS recommended temperatures for killing bacteria – new research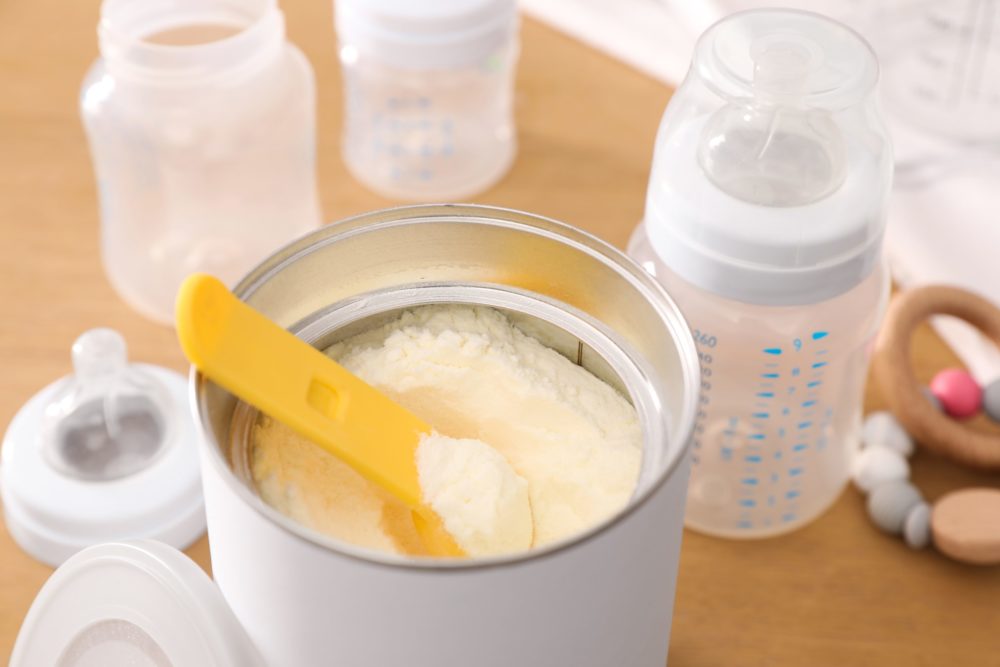 Aimee Grant, Senior Lecturer in Public Health and Wellcome Trust Career Development Fellow, Swansea University
Amy Brown, Professor of Child Public Health, Swansea University
Sara Jones, Senior lecturer at Lactation and Infant Feeding Translational research centre, Swansea University
When you have a new baby, it can feel as though there are suddenly thousands of things to worry about. One of the biggest concerns for parents in the early weeks is feeding.
Our new study has raised questions about one popular feeding device – the formula preparation machine. We found that only 15% of formula preparation machines tested dispensed water that appeared to be hot enough to meet NHS recommendations for preparing baby formula. In comparison, a majority of samples prepared using a kettle did meet the recommended temperature.
Almost three quarters of babies in the UK receive some formula in the first six weeks after birth. This goes up to 88% within the first six months. Infant formula comes ready to drink in bottles and powdered, which parents need to mix with very hot water. Around 80% of parents who use formula use a powdered version at least half the time.
NHS guidance states that formula should be prepared using a kettle to boil 1 litre of water, leaving the water to cool for no more than 30 minutes before adding it to the formula. This is so that it remains at a temperature of at least 70C when it is mixed with the powder. This is needed to kill any bacteria in the water.

Formula preparation machines
In recent years, a range of formula preparation machines have been sold in the UK. Some dispense a small amount of hot water to which powder should be added, the bottle shaken and then the bottle topped up with cold water. Other machines dispense prepared formula in to a bottle. Our past research suggests that more than half of parents use a formula preparation machine.
Some NHS trusts (as well as the Irish government), have stated that parents should not use these machines to prepare formula, due to there being problems with these devices that could lead to babies becoming unwell. This may be based on concerns that the water may not remain at a hot enough temperature to kill any bacteria in the powder. This matters because it increases the risk of gastrointestinal infection.
Formula-fed babies are more likely to get bacterial gastrointestinal infections than breastfed babies. There are two main ways that bacteria can get into formula. Firstly, powdered formula itself cannot be made sterile because of how it is manufactured, meaning it can get contaminated. This means that a brand new, unopened tub of formula can contain harmful bacteria such as Salmonella and Cronobacter.
Secondly, bacteria can be introduced into the formula in the home by parents or carers if they do not wash their hands or adequately sterilise all feeding equipment before making a bottle.
Using water boiled in a kettle and cooled to above 70C kills harmful bacteria that cause gastrointestinal infections. Because of this, it is the only method of preparing formula which is currently recommended by the NHS.
However, we found that many parents do not feel confident about preparing bottles of formula safely.
What we found
We asked 143 parents to test the temperature of the water they used to prepare a bottle of formula at home. We found that only 15% of the 74 infant formula preparation machines tested appeared to produce water that reached NHS recommended temperatures for preparing bottles of formula.
But among the parents in our study who used a kettle to make up their formula, 78% of temperatures reported were above the recommended NHS level.
This is concerning, as temperatures below 70C can be harmful to babies' health, and also given such a high number of parents use formula preparation machines.
Advice
If you are formula feeding, more information and support about preparing bottles is available on the NHS website. The NHS guide recommends using a kettle to boil the water.
The Food Standards Agency (FSA) recommend that if you already have a formula preparation machine, you use a food thermometer to test the temperature of the water it produces. If you do this, do not put the thermometer into the bottle that you use to feed your baby, as the thermometer could introduce bacteria, so you will need to do this separately to making a bottle.
If your thermometer shows the water is below 70C, the machine should not be used to prepare bottles of formula and you should use a kettle instead. The FSA recommend that parents should notify both the manufacturer and their local trading standards department or Citizens Advice.
We have shared our results with the Office for Product Safety and Standards, the UK's product safety regulator, who have purchased examples of formula preparation machines to assess compliance. We have also shared our findings with the FSA, who safeguard public health and protect consumers in relation to food across the UK.
This article was first published on The Conversation

---
Support our Nation today
For the price of a cup of coffee a month you can help us create an independent, not-for-profit, national news service for the people of Wales, by the people of Wales.