News
Backlash over TV farmer's plans to sell squirrel burgers at game fair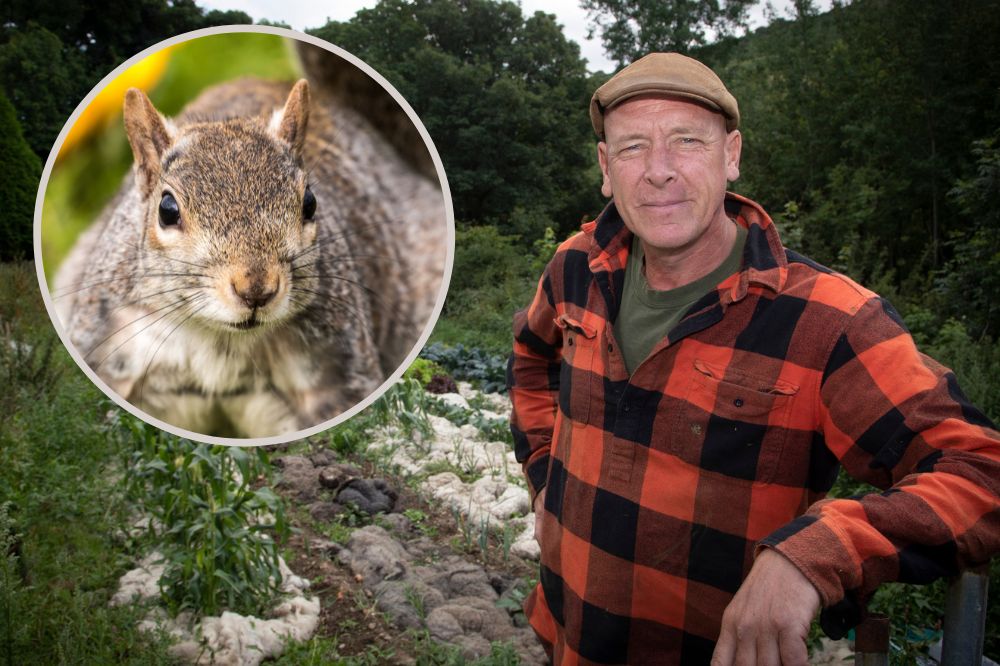 A TV farmer has hit back after suffering a fierce backlash over his plan to serve squirrel burgers at a two-day north Wales game fair.
Influencer Gareth Wyn Jones, who has a million followers on social media including 750,000 subscribers to his YouTube channel, has been on the end of abuse online since he went public with an appeal for supplies of freshly killed grey squirrel to make the patties.
Gareth will be running the pop-up restaurant Cwtch Kitchen at the Welsh Game Fair, staged in association with the Game and Wildlife Conservation Trust, at the Faenol Estate, near Bangor, on the weekend of September 9 and 10.
He plans to put the burgers on the menu at the event and is also suggesting serving them in a calzone, a folded pizza.
Gareth, a star of the television series, The Family Farm who farms at Ty'n Llwyfan in the foothills of the Carneddau Range above Llanfairfechan, in Conwy, said: "I've eaten it that way in Majorca cooked by Chris 'Flamebaster' Roberts for S4C and it would be perfect washed down with a glass of red Rondo from the Gwinllan Conwy vineyard.
"I've been deluged with offers of grey squirrel but I've had a fair bit of abuse from uneducated people with full bellies too. They're nuts."
That included loopy44 who posted: "I think that's a horrendous idea for burgers – next you will be suggesting seagulls. You are only doing it for notoriety. I definitely prefer to see my squirrels happy in trees.
Hawkeye responded: "You can stick them where squirrels stuff their nuts! Why not rat burgers, same thing but no bushy tail!!!" while imageezer blasted: "The man is sick in the head."
On Twitter there was: "Exactly what I'd expect from a Neanderthal, backward-thinking mug like Jones… the sooner we see the back of his industry the better."

Taste
But Gareth has his supporters too and indigodebz said: "Makes total sense to me, we import and transport far too much food.
"Eat local, eat seasonal. I'm up for trying a squirrel burger if they're genuinely having to be culled and would go to waste otherwise."
Jonesey added: "I killed, gutted, cooked and ate a couple of grey squirrels many, many years ago … part of a survival course thing. As I remember they didn't taste particularly good or particularly bad. As the bloke says, a bit like chicken."
Gareth's response was: "We should be supporting our native red squirrels. It's all about getting that message out there.
"Every single grey that's culled is protecting our native red population so let's do it.
"Grey squirrels are an invasive species so the more we shoot the better and if we can add value by turning them into tasty food that's even better.
"Even in the USA they're a pest. They have Douglas red squirrels in Washington state and they're being affected by the greys so people are encouraged to shoot them."
Activities
The Welsh Game Fair will take place over two days at the famous estate above the Menai Straits.
The main arena which will stage a rolling programme of events and displays including demonstrations by the Clwyd Axemen and wild-fowler Chris Green, the Cornish Countryman, and teams of spaniels and retrievers battling it out in the Four Nations International.
There will be a range of activities including archery, fishing, airgun shooting, clay pigeon shooting and gun-dog handling and to learn how to survive in the wild with bushcraft master Huw Jones of Ynys Twca.
The event is also a fund-raiser for countryside charity the Game and Wildlife Conservation Trust – a 92-year-old charity that conducts research into Wales's most vulnerable species.
James Gower, chief executive of Stable Events which organises the show, alongside The Game Fair and the Scottish Game Fair, said they're aiming to double last year's attendance figures and get 20,000 people through the gates this time.
He said: "Our aim is to celebrate everything that is best about the countryside and rural pursuits, including the wider benefits of conservation and field sports.
"We'll have gundogs, clay shooting, archery, fishing, food and falconry – not to mention the amazing shopping at the wide range of stalls.
"Over the two days we have a jam-packed itinerary of displays, demonstrations, have-a-go attractions and exhibitors."
The Welsh Game Fair is open each day from 9am to 5.30pm with free parking and children under eight admitted free. For more on the Welsh Game Fair go to https://www.welshgamefair.org/
---
Support our Nation today
For the price of a cup of coffee a month you can help us create an independent, not-for-profit, national news service for the people of Wales, by the people of Wales.