News
Barry Greens build dolphin beach art to highlight damage of plastic pollution to marine life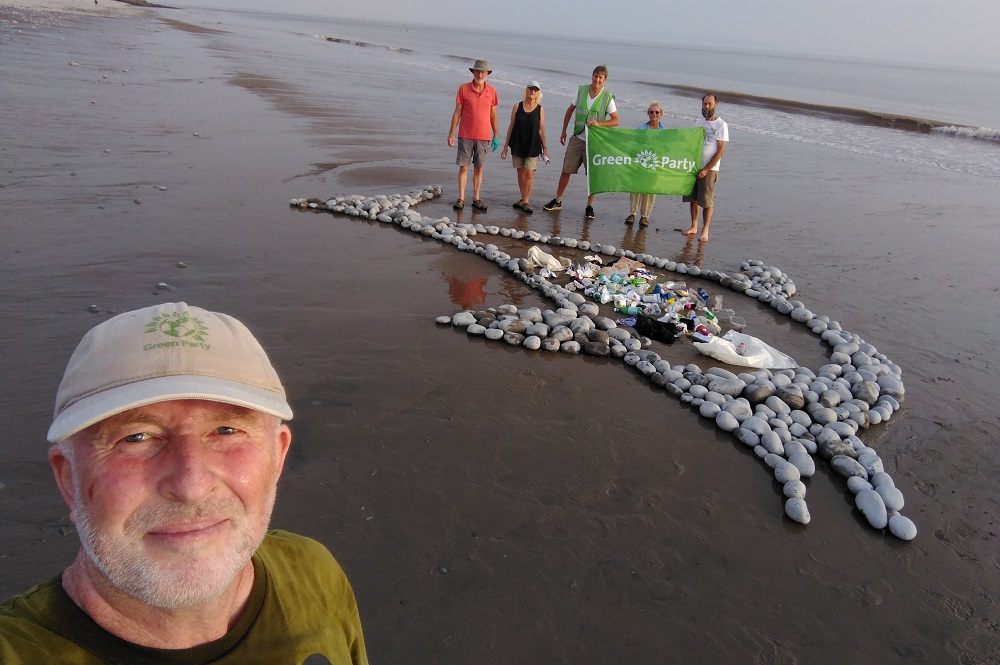 Members of the Barry and Vale Green Party have called for food and drink manufacturers to be held responsible for the packaging that ultimately ends up in the sea.
Volunteers recently took part in a beach clean and used the litter which they removed to highlight the growing problem of sea pollution and its impact on marine life.
The litter pickers removed rubbish from the pebble beach at the Knap and then made a dolphin from the beach pebbles before putting the litter in its stomach to highlight the growing tide of single use plastic ending up in our oceans.
Barry Greens campaigner, Rob Curtis, said: "I have been organising beach cleans on Barry's beaches for nearly 15 years now and have come to the conclusion that we must hold the big manufacturers responsible for the packaging they use in the drinks and food they sell us! But we will only get this if people are willing to change the way they vote.
"We also desperately need the introduction of deposit return schemes to divert some of this growing tide of pollution damaging our marine environment."

Microplastics
Local Green Party campaigner, Lynden Mack, added: "The uncontrolled production of plastic bottles and other forms of plastic packaging is seriously harming our planet. 70 per cent of the plastic pollution in our oceans comes from plastic packaging.
"Plastic is undermining the ocean's ability to absorb and keep carbon, killing marine creatures, filling seafood with microplastics and making seascapes unsightly.
"Steps can be made by individuals to reduce the amount of plastic they use, but ultimately concerted government action is needed to address the problem in the UK and abroad."
According to the World Wildlife Fund UK (WWF), 80% of plastic found in the sea comes from the land, coming from littering and careless waste disposal, inappropriate recycling and by flushing plastic containing products into the drainage system.
Consequently, the state, turtles eat plastic bags mistaking them for jellyfish, seabirds are found with their stomachs full of plastic items, plastic debris can get lodged in coral and affect the health of reefs and microplastics are consumed by animals like plankton, passing the problem back up the food chain to humans.
With an estimated 8 million tonnes of plastic entering the oceans each year, the WWF say that without a global response, there will be more plastic than fish in the sea by 2050.
Find out more about the problem and how to reduce your plastic footprint here.
---
Support our Nation today
For the price of a cup of coffee a month you can help us create an independent, not-for-profit, national news service for the people of Wales, by the people of Wales.