News
BBC urged to act 'very swiftly' on explicit photo claims about unnamed presenter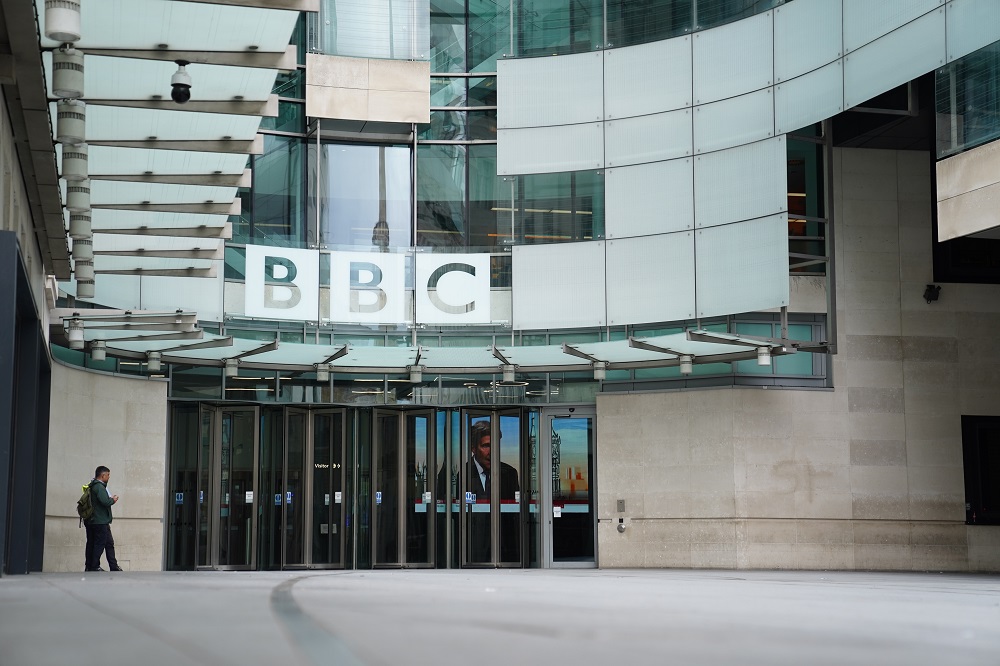 Senior officials have told the broadcaster that the allegations reported by The Sun newspaper must be investigated "urgently and sensitively", with the Department of Culture Media and Sport (DCMS) kept updated.
Ms Frazer and Mr Davie will have a phone call on Sunday as the BBC comes under pressure over its handling of the complaint.
A DCMS spokeswoman said: "These allegations are deeply concerning.
"As a public service broadcaster in receipt of public funding, senior officials have stressed to the BBC that the allegations must be investigated urgently and sensitively, with the department kept informed.
"The Culture Secretary will be speaking to Tim Davie later today."
Very serious
Government minister Victoria Atkins described the claims reported by the Sun as "very, very serious" as questions over the broadcaster's handling of the situation were raised.
The newspaper said the star paid the person, said to have been 17 when the payments began, £35,000 in exchange for the images.
In the latest claim, the young person's mother said she saw a picture of the presenter on her child's phone "sitting on a sofa in his house in his underwear".
The mother said she was told it was "a picture from some kind of video call" and looked like he was "getting ready for my child to perform for him".
The family were said to have complained to the BBC on May 19 but became frustrated that the star remained on air. He is understood not to be due on air in the near future.

Allegations
Ms Atkins, the Financial Secretary to the Treasury, told Sky's Sophy Ridge on Sunday: "These are very, very serious allegations and the BBC have said they have processes in place.
"But as public attention and concern grows the BBC is going to have to act very swiftly to deal with these allegations and to set out what they are doing to investigate them."
Shadow chancellor Rachel Reeves urged the broadcasters to "speed up their processes" in investigating such allegations.
The Labour MP told the BBC's Sunday With Laura Kuenssberg: "I do feel that I often come on this programme and we do start with another crisis at the BBC.
"The BBC do need to speed up their processes, it looks like these issues were raised in May, we're now in July and the presenter stayed on air.
"That's not good enough so the BBC need to get their house in order and give greater clarity to what on earth has gone on in this case and what they are trying to do to put it right."
Derisory
Former home secretary Priti Patel said the BBC's response has been "derisory".
"They must provide the victim and his family a full and transparent investigation," she said.
"The BBC which is funded by licence fee payers has become a faceless and unaccountable organisation."
Media lawyer Mark Stephens said the BBC handling of the complaint had been a "shambles", arguing it had "really dropped the ball".
"And it does seem that they've also caused this to escalate, because it was the frustration with the BBC not acting that led to the family to go to the Sun newspaper," he told Times Radio.
"And that I think is reckless, because of course what has happened is we've seen all this conjecture on social media."
Denials
A number of BBC stars publicly said they were not the presenter at the centre of the allegations, amid heavy speculation about their identity on social media.
Gary Lineker tweeted: "Hate to disappoint the haters but it's not me."
Rylan Clark wote: "Not sure why my name's floating about but re that story in the Sun – that ain't me babe. I'm currently filming a show in Italy for the BBC, so take my name out ya mouths."
Jeremy Vine said: "Just to say I'm very much looking forward to hosting my radio show on Monday — whoever the 'BBC Presenter' in the news is, I have the same message for you as Rylan did earlier: it certainly ain't me."
Nicky Campbell suggested he had contacted police about being mentioned online in connection with the story.
He tweeted a screenshot which featured the Metropolitan Police logo and the words: "Thank you for contacting the Metropolitan Police Service to report your crime."
He wrote: "I think it's important to take a stand. There's just too many of these people on social media. Thanks for your support friends."
Enquiries
A BBC spokesperson said: "We treat any allegations very seriously and we have processes in place to proactively deal with them.
"As part of that, if we receive information that requires further investigation or examination we will take steps to do this. That includes actively attempting to speak to those who have contacted us in order to seek further detail and understanding of the situation.
"If we get no reply to our attempts or receive no further contact that can limit our ability to progress things but it does not mean our enquiries stop.
"If, at any point, new information comes to light or is provided – including via newspapers – this will be acted upon appropriately, in line with internal processes."
---
Support our Nation today
For the price of a cup of coffee a month you can help us create an independent, not-for-profit, national news service for the people of Wales, by the people of Wales.