News
Bike involved in fatal road collision was birthday present to young victim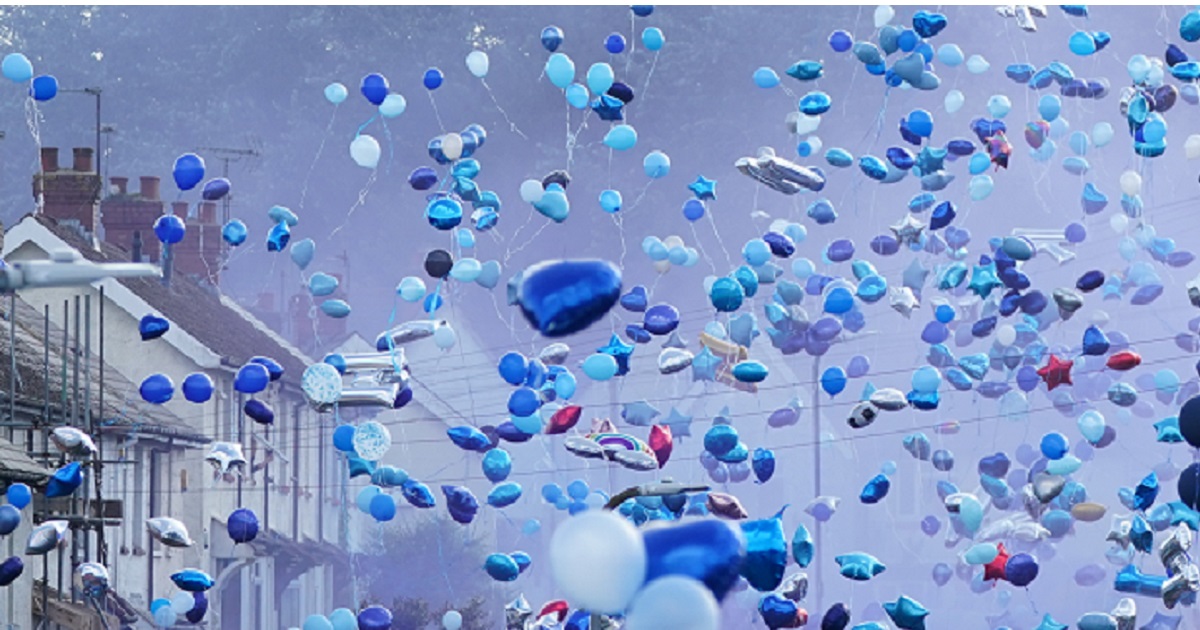 Family members of two boys killed in Cardiff while riding an electric bike have said it was an early birthday present to the younger of the victims – an occasion he will never get to celebrate.
Following a community vigil for Kyrees Sullivan, 16, and Harvey Evans, 15, in Ely on Friday night, the younger boy's aunt and grandmother said next month should have seen his 16th birthday.
Balloons, fireworks and flares were released to remember the teenagers, whose deaths sparked rioting amid claims police were pursuing them shortly before they died.
CCTV footage of a marked South Wales Police van following the teenagers as they rode a Sur-Ron electric bike quickly spread on social media after the incident, leading to violent clashes and disorder in Ely.
Speaking for the first time since the fatal crash on Monday evening, Harvey's aunt Hayley Murphy and grandmother Dawn Rees told the BBC the boy's mother had stood at the police barrier for more than two hours begging to know if her son and his friend were still alive.
Ms Murphy said: "We were stood at the barrier and we were begging them, begging them, to tell us if they were alive or dead, and they wouldn't tell us nothing – and then someone ran into the crowd and said 'I've got a video of the police chasing them', and that is what started it.
"That's what got everyone angry, so I understand because we wasn't getting no answers."

Pursuit
The rioting saw nine people arrested and left 15 police officers injured.
The claims of a pursuit were denied by Alun Michael, the Police and Crime Commissioner for South Wales, but the force has since confirmed a van was following Kyrees and Harvey.
The Independent Office for Police Conduct (IOPC) has launched an investigation into the circumstances.
Remembering Harvey, the two women said he had loved e-bikes and scooters and "did everything" with his pal Kyrees.
"They loved each other like brothers," Ms Rees said.
Ms Murphy also voiced her lack of faith and trust in the police – sentiments which were echoed by other family members at the 1,500-strong vigil earlier that night.
Frustration
John O'Driscoll, Harvey's great uncle, said Monday's night riot "was wrong" but "was out of frustration".
"It was because a lot of the boys get abused by the police around here and so that's why things kicked off," he said.
"They were just young boys. Everyone rides bikes and scooters around here. Yes, we find them annoying but that's just what they do.
"But as soon as those coppers saw they had no helmets they should've stopped."
Speaking at the vigil, another of Harvey's uncles said: "We're all tarred with the same brush here, especially given what happened on Monday.
"But this is the true Ely. Look how many people have turned out to pay their respects.
"The only difference between Monday and today is that the police aren't here."
It was understood the police had been asked not to attend.
Many of those gathered held blue balloons and wore white T-shirts adorned with pictures of Kyrees and Harvey, while others stood silently in tears.
A moment of silence was held before the crowd broke out in applause.
Since Monday, hundreds of floral tributes and messages have been left at the scene of the accident in Snowden Road.
Witnesses
Earlier, the IOPC appealed for witnesses who may have seen the moments before the crash.
It said the investigation was examining the "nature of the police interaction" with Kyrees and Harvey and the "appropriateness" of the officers' decisions and actions.
The watchdog is also considering whether the police officers' actions in the van constituted a pursuit, and whether the interaction between the officers and the boys was "reported appropriately by the officers prior to and following the collision".
IOPC director David Ford: "Our thoughts and sympathies remain with the family and friends of Kyrees and Harvey, as well as all those affected by the loss of two young lives in such a close-knit community as Ely.
"Our investigators have been conducting inquiries and securing evidence in the immediate vicinity of where the events took place, speaking to local residents, distributing leaflets and gathering as much relevant information as possible.
"I am truly grateful for the co-operation and assistance we have received from people within the local community.
"We are working hard to establish the exact circumstances of what took place in the period leading up to the collision. I would like to reassure everyone in the community that our work will be thorough, impartial, and independent of the police."
Community plan
Politicians and community leaders met to discuss the aftermath of Monday's tragedy.
First Minister Mark Drakeford said: "This week, two families are grieving for their sons and the people of Ely have experienced a collective trauma.
"My thoughts are with the families and friends of Harvey and Kyrees.
"Representatives of the local community and public agencies, including Action in Caerau and Ely, the Welsh Government and Cardiff Council today met in Ely.
"We have agreed to jointly sponsor a grassroots-led initiative to create a community plan for Ely, to respond to the long-term needs of residents. It will be focused on actions and outcomes for people in Ely."
---
Support our Nation today
For the price of a cup of coffee a month you can help us create an independent, not-for-profit, national news service for the people of Wales, by the people of Wales.