News
Braverman fails to back migrants claim with figures as controversial Bill clears Commons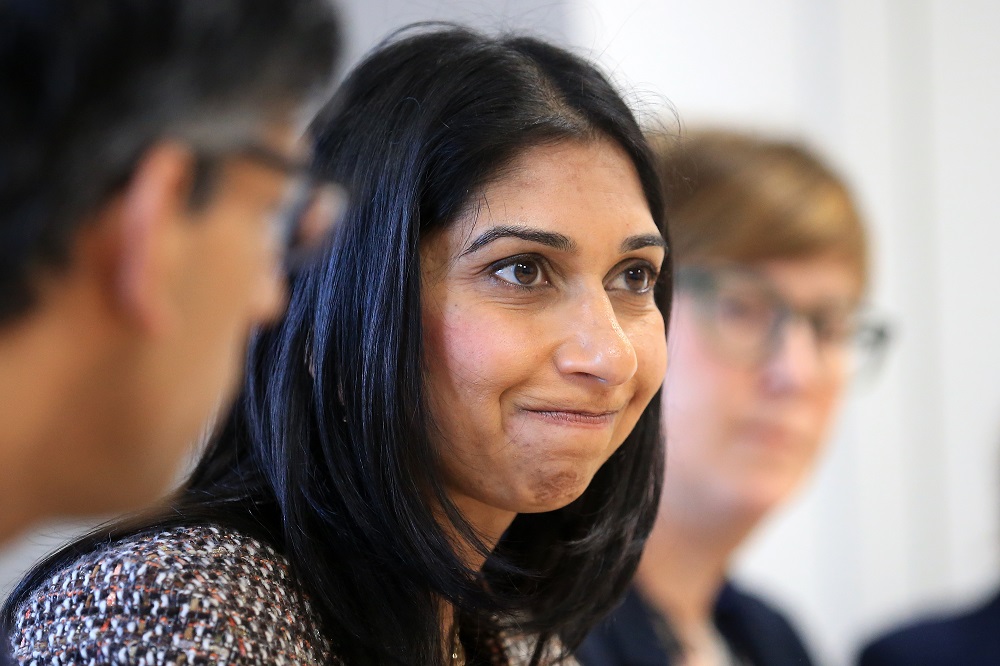 Suella Braverman has failed to offer statistical evidence to back her claim that migrants crossing the English Channel are linked to "heightened levels of criminality" as the Government's immigration legislation cleared the Commons.
The Home Secretary said people arriving in the UK in small boats have values which are "at odds with our country" ahead of MPs debating the Illegal Migration Bill.
Asked later whether she had figures to support the statement, she said it was based on information she had gathered from police chiefs.
It came as senior backbench Tories, including former prime minister Theresa May and ex-party leader Sir Iain Duncan Smith, voiced concerns in Parliament about the impact the Government's flagship immigration reforms could have on modern slavery protections.
But the Bill cleared the House of Commons without any drama in the votes after MPs gave it a third reading by 289 votes to 230, majority 59.
"I think that the people coming here illegally do possess values which are at odds with our country," the Home Secretary said earlier.
At an event later in Westminster, she added: "Not in all cases, but it is becoming a notable feature of everyday crime-fighting in England and Wales.
"Many people are coming here illegally and they're getting very quickly involved in the drugs trade, in other forms of exploitation."

Empirical evidence
Asked whether that claim was based on empirical evidence, she said: "I consider police chiefs experts in their field and authoritative sources of information."
The Illegal Migration Bill will change the law so people who arrive in the UK illegally will be detained and then promptly removed, either to their home country or a safe third country such as Rwanda.
Critics of the Bill have dismissed the proposed legislation as unworkable, while right-wing Tory MPs believe it does not go far enough.
Other Tories want greater protections for minors and victims of human trafficking.
Ministers have already given in to some demands to avoid potential revolts, with a series of Government amendments approved in the Commons.
The Government was unable to say whether the legislation complies with the European Convention on Human Rights.
Although the Bill cleared the Commons, it will face a stiff test in the Lords when it undergoes further scrutiny.
Mrs May warned that it will leave more people in slavery in the UK, calling it a "slap in the face" for anyone who cares about victims of human trafficking.
She told the Commons: "Modern slavery is the greatest human rights issue of our time. The approach in this Bill, I believe, will have several ramifications. I believe it will consign victims to remain in slavery."
Sir Iain said: "We need to send the right signals about this and I think the problem with this Bill right now is it's unnecessarily now targeting a group of people that are not the problem, themselves will suffer, and ironically we will fail as a Government through the home affairs end of it because the police simply won't be able to get those prosecutions."
Invective
Labour condemned Ms Braverman's comments about migrants' values, with a spokesman calling it the "sort of invective" that signals that the policies being promoted "have failed".
Campaigners accused her of "pouring petrol on a xenophobic and racist fire they (the Government) themselves have lit".
Steve Valdez-Symonds, Amnesty International UK's refugee and migrant rights director, said: "Suella Braverman's dog-whistle remarks about the 'values' of migrants being 'at odds' with British 'norms' are appallingly divisive and shamelessly intended to stoke fear and hatred of people seeking refuge in this country.
"No-one should suffer such blatant exposure to prejudice and hostility, especially not in the form of highly insensitive remarks from the Home Secretary.
"The Government's draconian asylum legislation is already set to tear apart legal protections in this country for refugees, victims of human trafficking and many other people, while Suella Braverman continues pouring petrol on a xenophobic and racist fire they themselves have lit."
---
Support our Nation today
For the price of a cup of coffee a month you can help us create an independent, not-for-profit, national news service for the people of Wales, by the people of Wales.