News
Caerphilly councillor says empty homes could help fix national housing crisis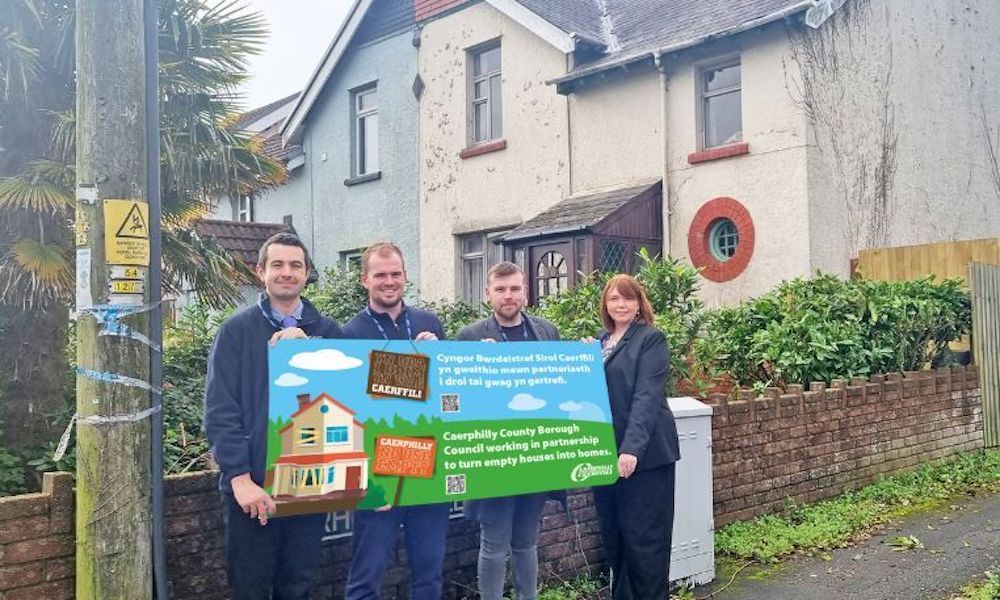 Nicholas Thomas, local democracy reporter
Homes which have stood empty for years could play an important role in fixing a national housing crisis, according to a senior councillor in Caerphilly.
Shayne Cook said the local authority used enforcement as a "last resort" but was prepared to take action to bring a "wasted resource" back into use.
Welsh Government figures show there are nearly 1,000 long-term empty homes in Caerphilly County Borough. That figure reached a high of 1,169 homes in 2021/22 and hasn't fallen below 850 homes in the seven years since comparable records began.
Caerphilly County Borough Council's specialist Empty Property Team is responsible for taking enforcement action at homes which have fallen into disuse.

Success
Cllr Cook, the council's cabinet member for housing, pointed to the recent enforced sale of a home in Caerphilly as evidence of the team's success. The house had stood empty since at least February 2015, following the death of the occupier three years earlier.
Over the course of seven years, the property deteriorated and started to attract pests, prompting complaints from the community, Caerphilly Council said.
The council was unable to find an owner, so stepped in to carry out clearance works in the home's garden, and then served a legal notice to enforce the sale of the property to recover the costs of those works. The house was sold in the summer of 2023.
Earlier this year, Welsh Government climate change minister Julie James announced £50 million of grant funding to bring long-term empty properties back into use.
Figures in January showed there were more than 22,000 long-term empty properties across Wales, and Ms James said at the time she hoped the new funding would help increase the nation's housing supply.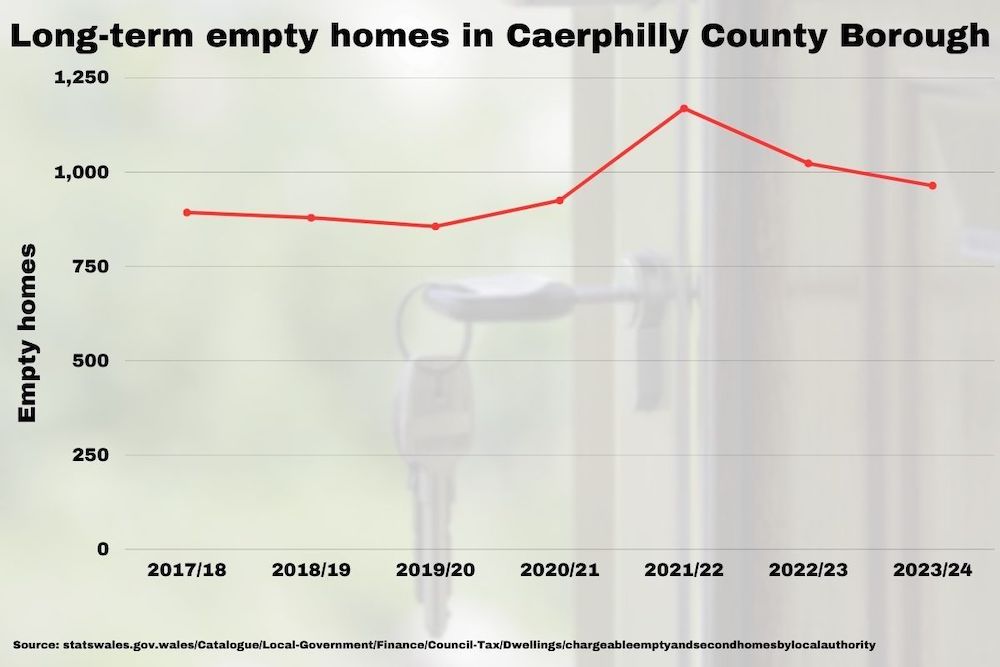 In some local authority areas in Wales – namely Carmarthenshire and Rhondda Cynon Taf – there are more than 2,000 homes classed as being empty in the long-term.
Speaking this week, Cllr Cook said: "Empty properties are not only a blight on our communities and magnets for antisocial behaviour, but they also represent a wasted resource, particularly given the pressures of the current national housing crisis.
"The council recognises that doing nothing is not an option and is committed to tackling the issue of empty properties. Enforcement is a last resort, but we recognise that it is necessary in some cases."
Cllr Cook said Caerphilly's Empty Property Team had hit a high of bringing 104 empty homes back into beneficial use in one calendar year.
"As well as creating much needed homes, the team's efforts are helping to transform local communities and generate financial benefits to both the council and the local economy," he said.
Total number of long-term empty homes, 2023/24, by local authority:
Blaenau Gwent: 745
Bridgend: 1,124
Caerphilly: 964
Cardiff: 1,391
Carmarthenshire: 2,309
Ceredigion: 780
Conwy: 828
Denbighshire: 883
Flintshire: 866
Gwynedd: 1,446
Isle of Anglesey: 349
Merthyr Tydfil: 506
Monmouthshire: 608
Neath Port Talbot: 1,115
Newport: 1,025
Pembrokeshire: 1,406
Powys: 989
Rhondda Cynon Taf: 2,130
Swansea: 1,687
Torfaen: 340
Vale of Glamorgan: 663
Wrexham: 303
Wales: 22,457
---
Support our Nation today
For the price of a cup of coffee a month you can help us create an independent, not-for-profit, national news service for the people of Wales, by the people of Wales.