News
Call for ban on greyhound racing welcomed in Senedd
//= do_shortcode('[in-content-square]')?>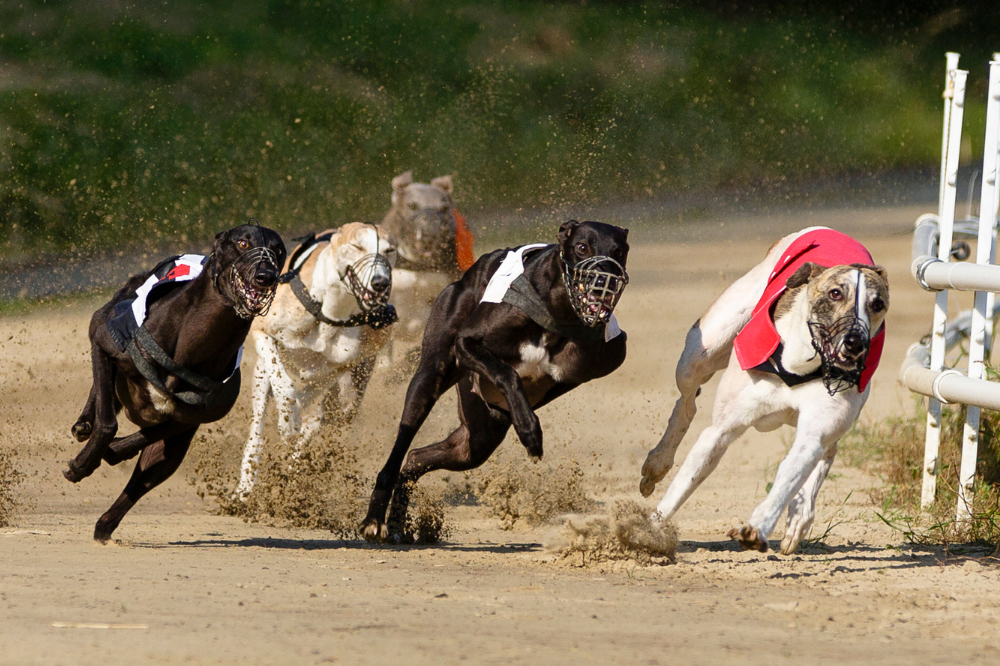 Calls to end greyhound racing in Wales have received cross-party support at the Senedd as the Welsh Government yesterday committed to consult on a possible ban on the practice.
Plaid Cymru's Luke Fletcher has been one of the leading voices calling for a ban alongside Welsh Liberal Democrat Leader, Jane Dodds who described the news as "a first step towards banning the cruel practice of greyhound racing in Wales."
The Hope Rescue charity first presented a petition of 35,101 signatures to the Senedd in December as part of a growing movement calling for a UK-wide ban of the sport.
The campaign won the backing of Members of the Senedd and support has since grown for Wales to take the lead over other countries in the UK.
Jane Dodds said: "As many will know I have continuously campaigned for a ban since being elected and rescued my own racing greyhound Arthur who sadly passed away recently.
"Greyhound racing leaves dogs traumatised, Arthur was a very anxious dog. His back legs went, and he had a serious neck injury from racing.
"I don't want any more Arthurs. I don't want any more dogs that come out like Arthur.
"We have to ban greyhound racing and I will continue to work cross-party to do so."
Flood plain
Senedd Member for Caerphilly, Hefin David also spoke in the debate at the Senedd on Wednesday about a potential phased ban of greyhound racing in Wales and the impact any decision would have for Ystrad Mynach residents.
Valley Greyhound Stadium is situated in Ystrad Mynach and is the only remaining Greyhound track in Wales.
The track is situated on a flood plain and Mr David raised concerns that closure or regulation of the track could lead to flooding.
The Member of the Senedd for Caerphilly said that he has had discussions with stakeholders on all sides of the debate and will continue to do so.
He said: "I appreciate there is strong feeling on this issue and I think a Welsh Government consultation is the right way forward.
"However, I would ask the Minister to consider what remedial action they would take to secure the land on which the track is based, should the consultation require either further regulation or a ban.
"I have worked with many Ystrad Mynach residents who have suffered severe flooding in this area over recent years, particularly during Storm Dennis.
"At the moment the track conducts informal remediation of the river, in their own interests. So there is some flood prevention happening there at the moment.
"I am concerned that the closure of the track would lead to further flood risk, leaving behind derelict land in an area which already struggles with severe flooding. Any ban or regulation would directly affect that.
"If the track was not there, there would be no one to prevent flooding or clean up afterwards."
Dr David continued that Welsh Government should be prepared to remediate that land – putting money towards the full remediation through Natural Resources Wales to prevent it becoming derelict.
He added: "At this point in time, I want to focus my argument purely on the consequences for the people of Ystrad Mynach and connected areas as a result of any decision".

Welfare
Mark Bird, CEO of the
Greyhound
Board of Great Britain (GBGB), said: "What is clear from today's debate is that inaccurate, un-evidenced and misleading information has been shared with Senedd Members in advance of the proceedings.
"Whilst we accept that people will hold their own opinions, we believe all such debate should rely on robust data and evidence rather than myths and generalisations.
 "To suggest that greyhound racing stands apart from other popular activities involving animals – whether horse racing, show jumping, gym kanas or dogs shows, let alone working dogs and livestock – is naïve.
"Our view of course remains that greater regulation of greyhoundracing in Wales is the right and obvious way to protect welfare and we will continue to work with Members and officials in whatever way we can towards securing this."
---
Support our Nation today
For the price of a cup of coffee a month you can help us create an independent, not-for-profit, national news service for the people of Wales, by the people of Wales.