News
Campaigner would walk from Bangor to Cardiff again to secure rail investment for Wales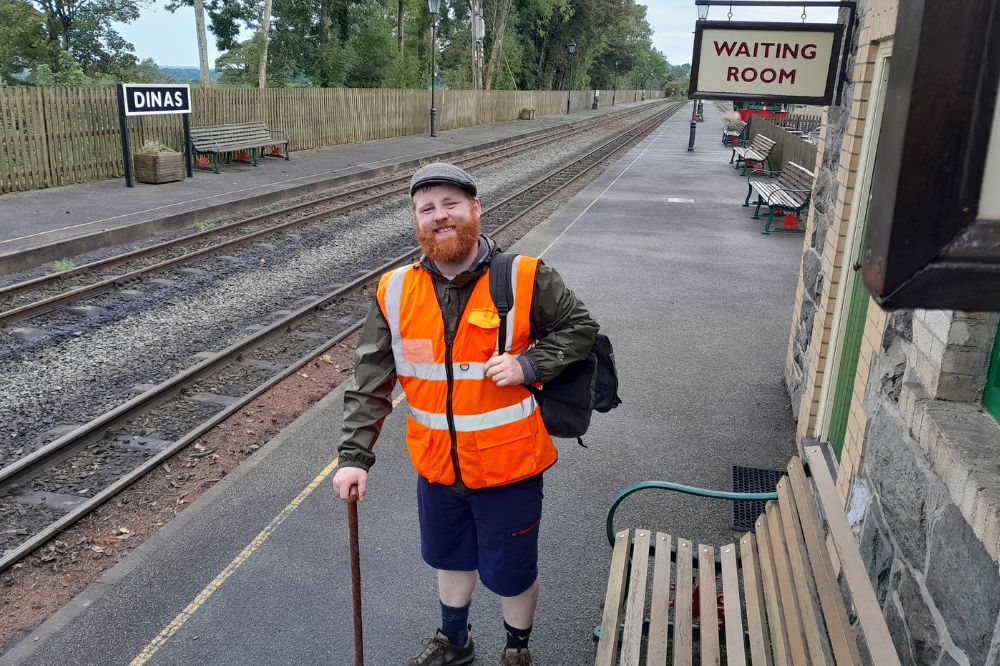 A trains campaigner who walked 206 miles from Bangor to Cardiff would be "more than happy" to make the journey again – if it meant re-opening railways.
Elfed Wyn Ap Elwyn, 26, successfully completed the journey despite being lashed by stormy weather and having to receive medical attention at a hospital to treat blisters on his feet.
The married dad-of-two from Trawsfynydd, Gwynedd, is a member of the Traws Link Cymru (TLC) campaign group.
More than 12,000 people have already signed his petition calling for railways to be re-opened to link south and north Wales.
One of TLC's aims is to re-establish train lines between Bangor to Caernarfon and Afon Wen and also between Aberystwyth and Carmarthen.
Elfed left Bangor on Sunday morning, September 17 and arrived at the Senedd in Cardiff Bay on Wednesday morning, September 27 when he presented his petition to members of the Senedd's petitions committee.
The petition will now be discussed by the committee although no date has yet been decided. Elfed, who is a Plaid Cymru councillor for Bowydd and Rhiw, Blaenau Ffestiniog, received support along the way with many joining him along parts of the journey.
There to greet him in Cardiff were his wife Anwen and their 15-month-old twins – Iorwerth Prysor and Gwynant Edw – and the rest of his family along with friends and TLC officials and politicians including Plaid Cymru leader and Anglesey MP Rhun ap Iorwerth and other members of the petitions committee.

Grateful
Elfed described the warm welcome he received in Cardiff Bay as "Glorious, thrilling and emotional".
He said: "I feel very happy to have made it. It was worth all the pain. Even though my legs were hurting – I think it's been worth all the struggle in the long run. I'm very pleased. I'm grateful to everyone who walked with me on the road."
Asked if he would do the same journey again, Elfed said: "I can't do it tomorrow – but if I had to do it again to get the railway in place – then I'd be more than happy to do it again if that's what needed to clinch it and if it meant success.
"Next time I'll remember to practice enough beforehand. My optimism, fair play, was enough to get me through – but optimism doesn't keep one's feet from blistering!"
TLC had successfully installed a tracker on its website to allow people to follow Elfed on his journey.
Traws Link Cymru chairman Mike Walker said: "Elfed's walk is a magnificent achievement. The petition to reopen the railway lines in west Wales was very much his idea and once launched gathered pace at a remarkable rate.
"I suspect that even Elfed was surprised (but gratified) by the public response. To have achieved over
12,000 signatures in such a relatively short space of time is extraordinary, but it reflects widespread support from across the country and beyond for the reinstatement of these railway lines.
"Had these railway lines in west Wales been open today, they would never have been closed. The Beeching calculations back in the 1960s were based on crude economic measures, with no heed paid to social, cultural or other factors that would undoubtedly have been taken into consideration today.
"There was no 'Well Being for Future Generations Act' to consider, nor was any thought given to
questions of connectivity both within Wales and between Wales and the major centres to the east.
"While enhanced connectivity is undoubtedly important, so too are economic and cultural factors. The reopened section of the Waverly line between Edinburgh and Tweedbank in the Scottish Borders is a prime example of the benefits (in tourism, economic development, and new housing schemes, for example) that can accrue from a reopened railway line. The same could be the case in west
Wales.
"Increased economic activity would come with improved communications offered by the railway, and the creation of new jobs would be an incentive for young people to stay and work in the areas rather than migrating out in search of employment.
"This, in turn, would both safeguard and promote the Welsh language in the traditionally Welsh-speaking areas of west and northwest Wales.
Mike continued: "There is a wider strategic objective for reopening these old railway lines. Not only would rebuilt railways improve both inter- and intra-regional connectivity, they could form the first stage in a new transport network along the eastern fringes of Wales that would link the north and south of the country without an eastward diversion into England.
"This Western Rail Corridor would connect the industrial areas of south Wales via the Aberystwyth to Carmarthen line, to the rural heartland of Wales, and then northward via the reopened link from Afon Wen to Bangor and north Wales.
"The strategic imperative of binding Wales together as a nation by schemes such as this will become ever more important as the ramifications of leaving the European Union are to be fully addressed."
---
Support our Nation today
For the price of a cup of coffee a month you can help us create an independent, not-for-profit, national news service for the people of Wales, by the people of Wales.