News
Campaigners call for Welsh Government action to reopen Carmarthen to Aberystwyth railway line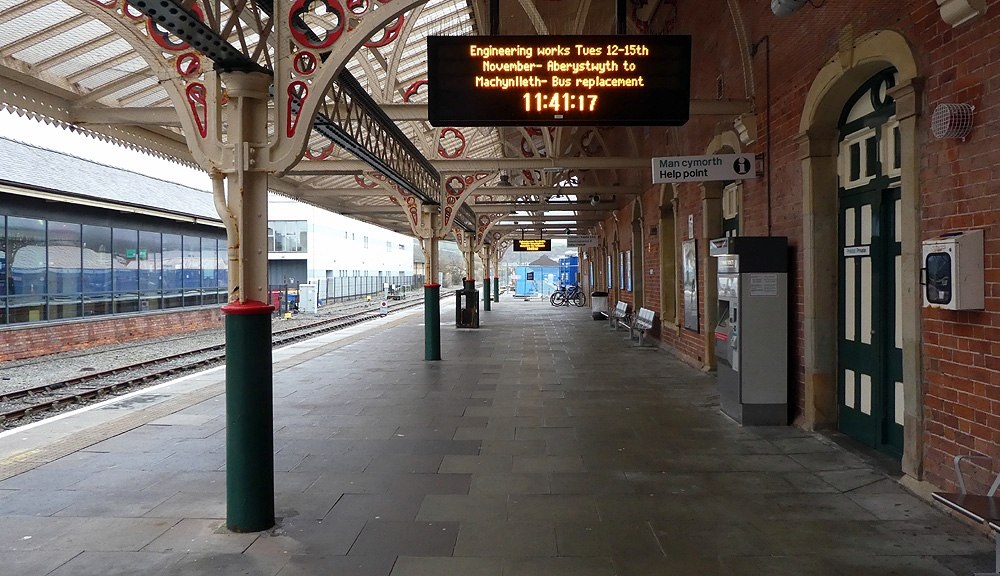 Transport campaigners have called for government action to reinstate the railway line directly linking Carmarthen to Aberystwyth which originally closed as a result of the Beeching cuts in February 1965.
The Welsh Government published a feasibility study into reopening the line in 2018 which said there were no major obstacles to restoring the line, estimating it would would cost approximately £775m.
In 2020 Traws Link Cymru, which was set up in 2013 to campaign for the line to be reopened, also published a report considering factors it said should feed into any assessment of the economic viability of the line, including population and passenger numbers,  the demand for public transport and the issue of rural transport poverty.
However, at a meeting last week of the Thriving Communities Overview and Scrutiny Committee of Ceredigion County Council, Professor Stuart Cole, an independent transport consultant, ruled out the prospects of the line reopening for decades.
Professor Cole was asked by councillors if there was any definitive answer from Welsh Government on whether the scheme would go ahead any time soon.
He replied there was "no chance at all" of it reopening in "the next 40 years".

Deeply disappointing
Traws Link Cymru (TLC) chairman Mike Walker described the response as "deeply disappointing" and urged the Welsh Government to bring pressure on Westminster to secure the necessary funding to restore the line.
Mr Walker said: "This is a deeply disappointing statement from Professor Cole and response from Ceredigion County Council. As he is heavily involved with the bus lobby, it is very clear that he does not take the need for reliable rail transport in the western half of Wales seriously.
"New electric buses that take up to three hours to connect two of our most major towns are insufficient and unsustainable.
"We have worked incessantly for a decade to convince the public of the need for a reliable rail service which will connect the entire nation much more effectively and we remain steadfast in our belief that one of the only ways to solve these issues is to build a rail corridor in west Wales.
"Indeed, this is a railway line that should never have been closed in the 1960s, and almost certainly would still be open today had contemporary economic and social factors been taken into consideration when the closure decision was made.
"But now this endless filibustering will do nothing to solve the deep problems faced by west Wales in terms of poor infrastructure, poverty, depopulation, and desecration of our communities and our native language.
"We cannot afford to wait a minute longer to ensure that people living in one of the poorest parts of western Europe have access to high quality public transport, with all the benefits that would bring in terms of access, mobility, connectivity, and economic regeneration.
"We have only to look at the reopened Borders railway between Edinburgh and Tweedbank so see the social and economic stimuli that a new railway can bring to a region.
"Sadly, the refusal by the Welsh Government to countenance a new rail link in this area of the country is entirely in keeping with its recent decision not to allocate a single penny to West Wales from the Levelling Up Fund. It would seem that those of us living in the west and northwest of the country are no longer on the Cardiff radar.
'In terms of the railway, any proposal to use the former track bed, of which 97 percent is untouched, should come with absolute guarantees that a reinstated railway will take precedence over any cycle path or nature trail, which is what Ceredigion County Council now seems to have in mind for the track bed, and this must be enshrined in law."
Economics
Professor Cole rejected the accusation that he is heavily involved with the bus lobby, citing work he has produced for the UK Government's Wales Office report on the expansion of passenger services along the Swansea District Line.
He is also Chair of the Heart of Wales Travellers Association and says he is a positive supporter of rail transport.
He said that his view that the public transport connection between Carmarthen and Aberystwyth has no possibility of being built in the next 30 years "is based on the economics of operating railways versus buses in a rural area".
Professor Cole, who created the TrawsCymru network (the long-distance integrated bus network for Wales) and Bwcabus the connecting demand responsive bus operation said these are "the better solution for the Aberystwyth -Carmarthen route and for others in Wales where once there had been a railway."
---
Support our Nation today
For the price of a cup of coffee a month you can help us create an independent, not-for-profit, national news service for the people of Wales, by the people of Wales.