News
Campaigners lose sewage pumping station legal challenge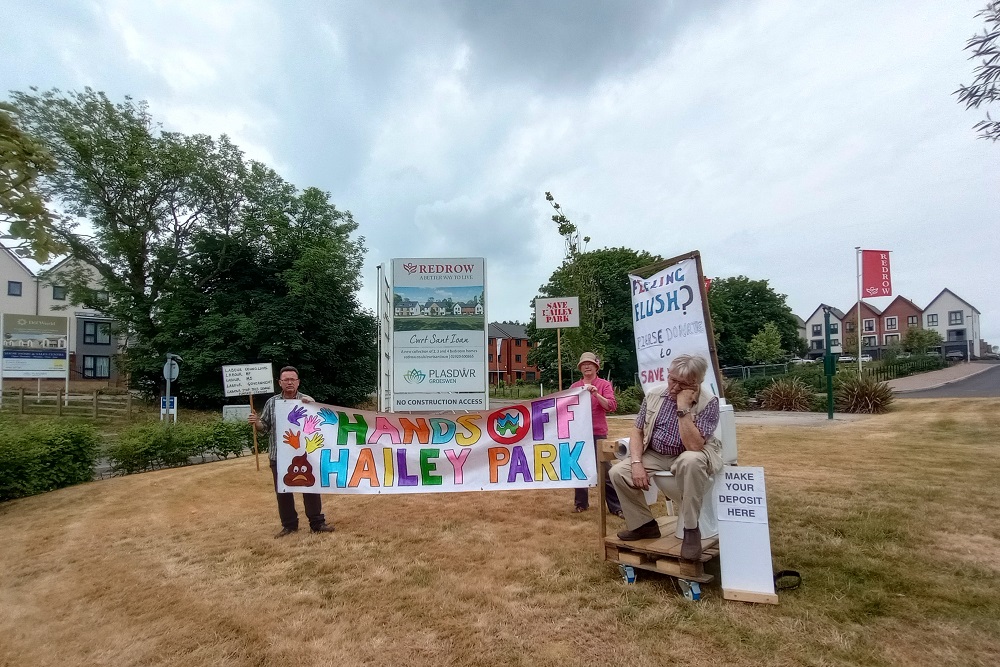 Martin Shipton
Residents opposed to the siting of a sewage pumping station in a well-loved park have lost their battle to have the scheme declared unlawful.
Llandaff North Residents Association took Cardiff council to the High Court in a judicial review case, but Judge Milwyn Jarman KC has now rejected the argument that insufficient consultation took place.
The residents argued that the pumping station was being built in Hailey Park to service thousands of new homes in a growing urban village called Plasdŵr, on the other side of the River Taff. But the council insisted it would service other developments too.
In his ruling Judge Jarman stated: "The fact that the pumping station is needed for the Plasdŵr development does not mean that it will not also serve other existing and potential developments in the area, and the officer and the authority were entitled to have regard to those matters."
Steph Wilkins, who chairs the residents' association, said: "Our legal challenge was brought by us on behalf of our community, to contest Cardiff council's planning processes and decision making. Of course, we are very disappointed with the ruling, but thank His Honour Judge Jarman KC for looking at our case, together with our legal team who have supported us throughout the process. We also thank our wonderful community who have donated so generously and worked so hard to fundraise to enable this legal challenge.

Deprivation
"We are an area of multiple deprivation and Cardiff council should be ashamed of leaving us no choice other to pursue a legal challenge, especially during a cost-of-living crisis, and we call on them to keep any costs awarded against us to a minimum. We will look at the judgement in detail and respond in due course, but this ruling does not mean the works have to go ahead.
"Separate to the legal challenge on planning process, there are moral, health, wellbeing and environmental arguments not to build on our precious green spaces, and Cardiff council's decision to allow development on parkland should concern every community in Cardiff.
Since Welsh Water first announced its intentions in 2021 to build the sewage pumping station in Hailey Park, the Llandaff North and park-user communities have stood solid in their opposition to Cardiff council giving away Hailey Park land to enable Redrow's 6000-plus home development Plasdŵr to send its sewage to Llandaff North and Welsh Water to build a sewage pumping station, putting the needs of wealthy developers over our community.
"This scheme is of no benefit to Llandaff North residents, and we will carry the ongoing risk of increased sewage loads in a Victorian sewer under our houses, the disruption, losing valuable green space, and a sewage pumping station being built on a flood plain.
"Welsh Water have also told us it only has a lifespan of 15 years before it will need upgrading. The scheme also fails to provide the infrastructure that wider Cardiff needs, or resolve the numerous discharges of raw sewage into the river Taff.
"We call on Cardiff council to stop the lease of Hailey Park land, which enables the scheme; and we call on Welsh Water to work with the developer, Redrow, to explore an alternative solution, like it said it could in its newsletter in July 2022."
Ms Wilkins said it was "evident that the planning system in Wales is broken, and favours developers' needs over local communities." She added: "Despite claims to care about the environment, planning legislation and guidance does nothing to ensure the environmental protections that we want and need.
Now that the legal route has been concluded, we turn to our elected politicians to fight our corner. We have Labour councillors, a Labour MS, Labour MP, Labour council and Labour Welsh Government: this is for Labour to fix. Now is the time for our politicians to step up and act in the interests of the people, not wealthy developers.
"So this ruling does not end our fight. Through adversity we have grown stronger as a community and our campaign will continue with increased vigour and urgency."
Ms Wilkins said donations towards the residents' association's legal costs could be made at www.justgiving.com/crowdfunding/savehaileypark2
Open
A council spokesman said: "Throughout this process the council has tried to be open and clear about its role as the planning authority.
We have always maintained that we acted correctly. Today's judgement sees the claim against us fail on all grounds, with the court finding that the council, acting as local planning authority, acted rationally and appropriately.
"We know residents will still have concerns about the impact of construction works, but we want them to know that we will work with them, and with Dŵr Cymru Welsh Water to ensure these are managed, and that the visual impacts of the development are mitigated through the approval of a detailed landscaping scheme
---
Support our Nation today
For the price of a cup of coffee a month you can help us create an independent, not-for-profit, national news service for the people of Wales, by the people of Wales.