News
Campaigners picket Post Office over lack of Welsh-language services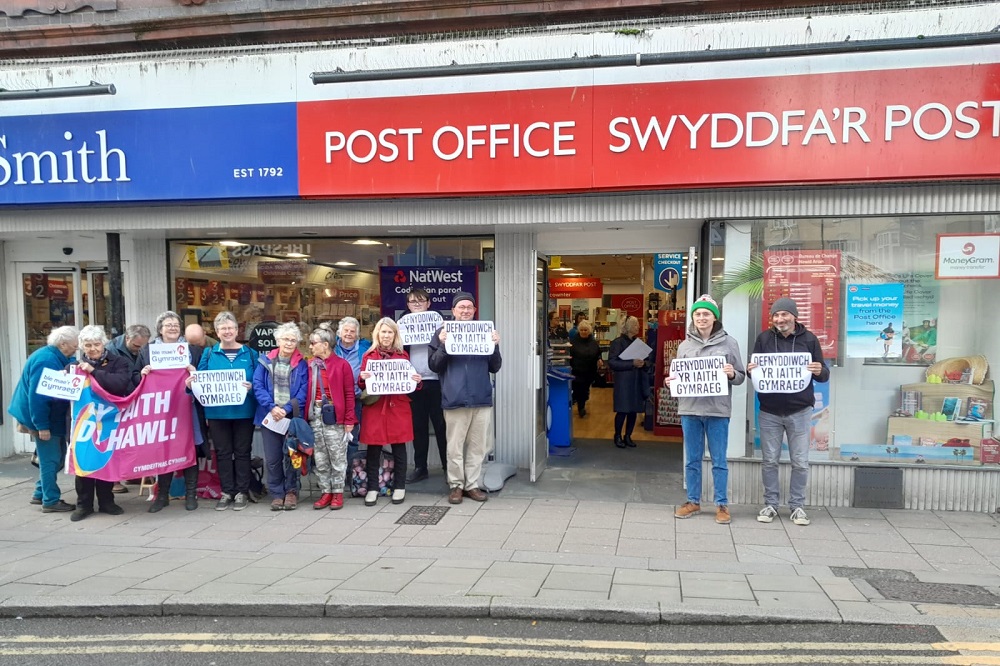 Campaigners have held a picket outside Aberystwyth Post Office following complaints over its lack of Welsh-language services.
Some disgruntled customers have been directed to other nearby post offices, which do provide a Welsh service, after complaining about the lack of provision.
Cymdeithas yr Iaith, who organised the picket, maintain that this is inadequate, referring to the Welsh Language Measure 2011 which establishes that Welsh is an official language in Wales and that everyone has the right to use it.
Cymdeithas yr Iaith wrote to the Post Office in September asking the company to instigate measures including as installing completely bilingual signage and supporting and encouraging staff to make more use of Welsh.
The group also requested that Welsh-language forms were made as readily available as English ones, and that customers who chose to use Welsh were treated with respect.
Cymdeithas yr Iaith say they are still awaiting a response.

Siôn Jobbins, who has experienced difficulties in receiving a Welsh-language services, said: "This is not a matter against individuals, it is about the principle that staff of a service that is a national monopoly such as the Post Office should understand basic Welsh words and especially those that are fundamental to its business.
"I do not even expect a conversation in Welsh. It is not too much to ask that staff understand 10 or so Welsh words and be able to sell a stamp book in Welsh. One would hope that a member of staff would be respectful and enthusiastic enough to understand very simple Welsh from a customer that pays for a service."
Siân Howys, Chairman of Cymdeithas yr Iaith's Welsh Language Rights Group, said: "The treatment of the language by the Post Office is completely unacceptable – they need to address these serious inadequacies. The Welsh Government also needs to act – since 2011, their ministers have had the power to implement statutory obligations on the company.
"Sixty years on from the Cymdeithas yr Iaith's first ever protest, which was for Aberystwyth Post Office to work in Welsh, we are calling upon the Government to take firm and urgent steps so that people can finally have access to their fundamental right to receive services in their own language."
---
Support our Nation today
For the price of a cup of coffee a month you can help us create an independent, not-for-profit, national news service for the people of Wales, by the people of Wales.