News
Car park which made seaside village a 'no-go' zone gets a revamp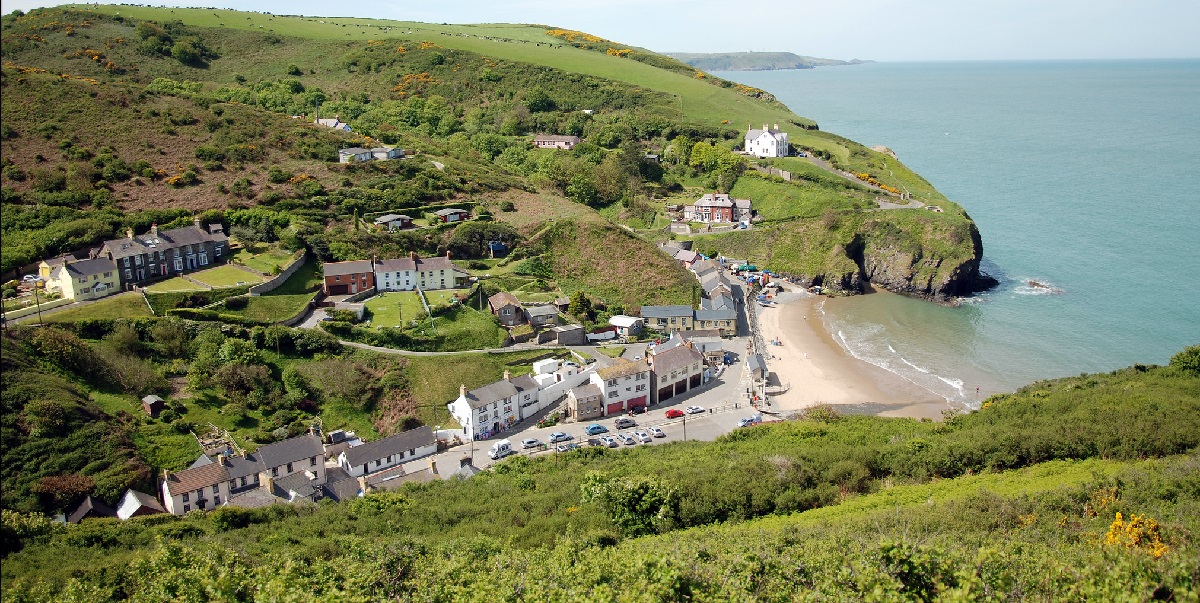 Bruce Sinclair, local democracy reporter
Hopes have been raised that a new parking machine at a car park that has been at the centre of a Welsh language row, will resolve issues which have made a west Wales seaside village 'no-go' zone.
In the last few years, a privately-owned car park at the Ceredigion village of Llangrannog's has made the  headlines due to a malfunctioning pay and display machine and a court case against a Welsh language campaigner who refused to pay a parking fine, unless it was translated into Welsh.
The defective machine has meant users had to phone a number to arrange payment or download and use an app to register payment – options often thwarted by poor wi-fi  access in the village.
Some motorists who managed to pay for a ticket after struggling to get a signal were subsequently  fined for over-running a 10-minute period of grace at the car park, run and managed by Worthing-based One Parking Solution Ltd.

Horrified
At the height of the car park chaos, Dr Kathryn Dawes, secretary of the Llangrannog Welfare Committee, said: "The community feel helpless and horrified at the bad press and bad feeling this is generating.
"It's so upsetting when people declare they will never come to Llangrannog again, all because of a small square of car park in the middle of the village."
The plight of motorists caught out by slow connections was previously taken up by Sara Powell, a retired barrister from nearby New Quay, who had called on anyone receiving such a fine to fight it.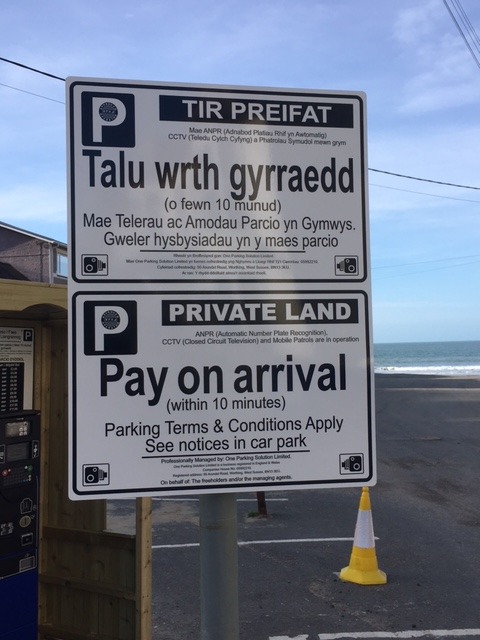 Earlier this week, Dr Dawes said it was hoped new machinery – using a simpler old tech method of parking payments – would now solve previous problems.
"The Llangrannog beachfront car park has a new parking machine which takes coins and cards. You can also use JustPark to pay (but wifi is very slow).
"The rule that you must pay within 10 minutes of entering the car park remains in place. There are new signs which clearly state the conditions of parking."
She warned: "It should be noted that vandalism of the new machine or any car park property will be on CCTV. Please do not tamper with the machine; this means others cannot pay and is counter-productive.
"We hope that the new machine will alleviate the problems with the car park over the last few years."
English-only
In May last year Welsh language campaigner Toni Schiavone, a former teacher and education officer for the Welsh Government, faced legal action from the car park's owners after refusing to pay an English only parking fine received while visiting the seaside village.
Mr Schiavone declined to pay as the the penalty notice, and all subsequent correspondence, was in English only.
Mr Schiavone says that he contacted the company requesting the penalty notice and further correspondence in Welsh several times, stating that he would then pay the fine.
"In an area as Welsh as Llangrannog why can't we expect a Welsh language service?" Mr Schiavone said.
The case against him, heard at Aberystwyth Justice Centre last May, was thrown out because no representative from One Parking Solution attended.
One Parking Solution Ltd has been contacted for a response.
---
Support our Nation today
For the price of a cup of coffee a month you can help us create an independent, not-for-profit, national news service for the people of Wales, by the people of Wales.