News
Cardiff Bay pub asked by operator to take down Abolish poster after boycott calls
//= do_shortcode('[in-content-square]')?>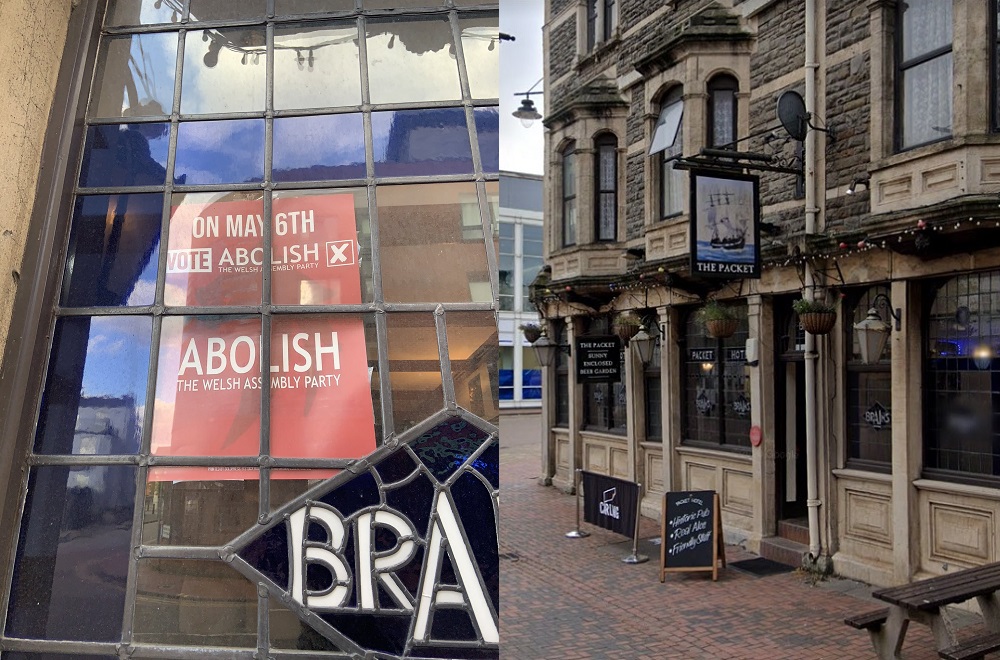 A Cardiff Bay pub has been asked to take down an Abolish the Welsh Assembly Party poster by its operator after calls for a boycott.
The Packet, which has been a favourite watering hole of Senedd staff, is operated by Marston's and trades under the Brains brand.
Marston's told Nation.Cymru that it has been in touch with the licensee and asked for the poster to be removed from the window.
The pub received a public backlash from people who believe the move to indicate support for a party that wants to scrap Wales' national parliament is unpatriotic.  The poster has since been taken down.
The Ab*lish posters have been taken down 👀 pic.twitter.com/bPqdCWH5sC

— #dilyw (@DilywCymru) April 17, 2021
The Packet describes itself as "friendly" and as "one of the last remaining traditional pubs left in Cardiff Bay".
It is operated by Marston's as a Brains' Partnership pub where the facilities, drinks and food menus are decided by the brewery firm's partner, who runs the pub as their own business.
Brains says it is "fiercely proud to be a Welsh, family-run business" on its website.

'Never' 
After the poster was put in the pub's window, outgoing Plaid Cymru MS Bethan Sayed said: "Lots of Senedd staff went there. Never will again."
Meurig Parri said: "There's 3 weeks before the election. Time for people to go round our Capital City and note every business which puts these revolting 'Abolish' posters in their windows. Then we will know where we don't want to spend our money."
Keith Parry said: "Not a very bright policy few hundred meters from Senedd!"
Former Chief Special Adviser to the Welsh Government, Matt Greenough said: "That's an interesting business decision. It's a bit like the Red Lion in Westminster deciding to fly an anarchist flag."
Steve Grant said: "Not sure Brains would necessarily be keen on their managers/tenants expressing political opinions as it instantly tends to restrict your client base. Not exactly a good plan for a pub, particularly at these times!"
Catrin Jones said: "Bit of a strange thing to do if it's a Brains pub. Don't they pride themselves in being all things Welsh!? Have a word!"
Meilyr Hedd said: "Never drinking here again."
Craig Griffith said: "Stupidest pub in Wales."
Sarah Rees said: "Well that's the way to close your business."
On the Brains website it says: "We are fiercely proud to be a Welsh, family-run business with a long history and are committed to providing the very best of Wales, the best beer, the best pubs and the best working environment."