News
Cardiff Male Voice Choir to celebrate 125th birthday with Principality Stadium performance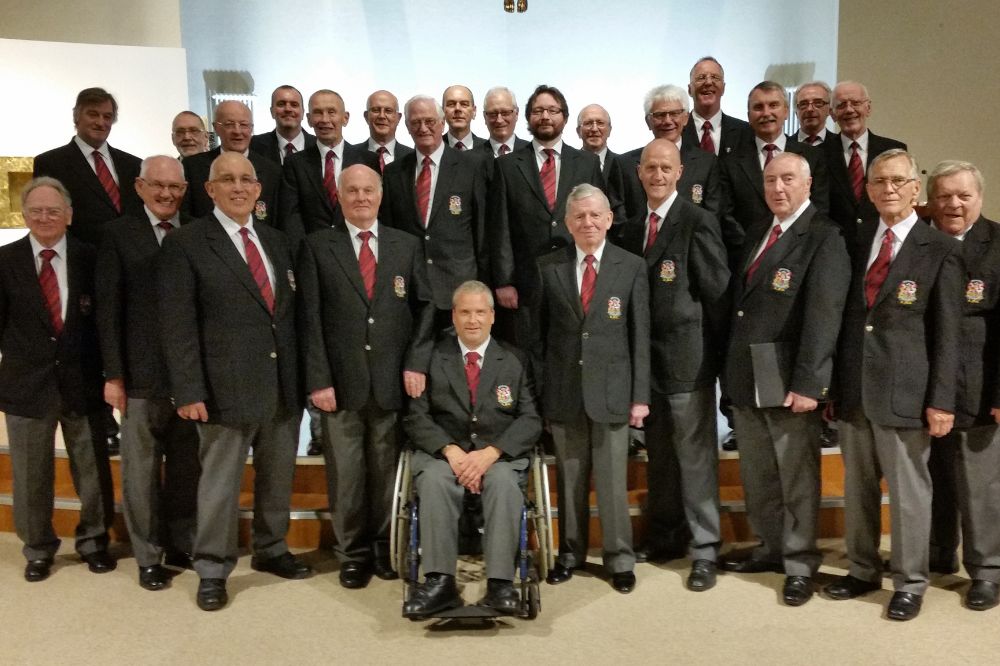 Rhys John Edwards
Cardiff Male Voice Choir is celebrating a phenomenal 125 years with what its members have described as a 'dream opportunity' to perform to a packed-out crowd ahead of the Wales v South Africa match this Saturday.
Formed in 1898, the choir stems from the Welsh male voice choir tradition – a cultural staple of many communities throughout Wales – but one that has struggled to thrive in some parts of the country in recent years.
With dwindling members and challenges brought about by the Covid-19 pandemic still present, this vital aspect of Welsh Culture is under threat.
Chorister John Callaghan has been a member of Cardiff Male Voice Choir for over a decade and says there is a need for new members to keep the tradition alive.
He said: "We're always looking for new members. Especially young people because they're the ones who are going to keep the choirs going in the future.
"You get the opportunity to travel – we've toured across the UK and Europe – and there's plenty of socialising outside of singing too."
Long standing member Andy Morris says that whilst it will be a huge honour and achievement to represent the nation and the national team when singing at the Principality on Saturday, what he's most proud of in his sixteen-year tenure is looking after the welfare of some of the older members.
Groups like Cardiff Male Voice Choir not only offer people a focus through a fun leisure activity, they also provide a sense of community that brings with it numerous social opportunities.
Music Director Tim Goss said that joining the group for a drink after rehearsal is considered just as much a priority as the singing.
Tim joined the choir as its Music Director in 2019, after attending a concert and seeing potential in the group.
He said: "The men were friendly, enthusiastic and came with a wealth of lived experience which made the prospect of being their MD an exciting adventure I wanted to go on."
On recent challenges brought about by the pandemic, Tim says he is proud of how the men rallied around each other, making sure no one was left out.
When they were not able to meet in person, they would rehearse virtually via Zoom.

Experience
Admittedly, this was not the most efficient way of teaching music to 45 men, who naturally all had to remain muted to avoid a cacophony of bandwidth-induced delays – but by doing so, the true purpose of the group was retained.
Even if only online, this male voice choir still offered a space for people to come together every week and undoubtedly provided substantial relief when members were unable to leave their homes.
For Tim, whilst he is ambitious and wishes to push the choir to their vocal limits, the community at the heart of the group is what leaves the biggest impact.
He said: "There is a true depth of camaraderie and connection. I haven't had a choir quite like it.'
Across its 125 years, Cardiff Male Voice Choir has brought this Welsh tradition to many parts of the globe, from Nantes to Apeldoorn and the Hauge, with standout concerts at world- renowned venues such as the Royal Albert Hall, but it is their upcoming performance at the Principality which many of its members consider to be its crowning achievement.
Tim said: "This is something a number of the choir have been looking forward to for a long time. Every Wednesday there is talk of local teams and national and international matches in the bar after rehearsal. The excitement at singing on the pitch, to spur Wales on, is palpable.
"The smiles on the faces of the men as they sing on 19th August will say more than I can put into words. It's going to be an amazing experience."
Cardiff Male Voice Choir will perform alongside members from Brecon and District, Cantorion Gogledd Cymru and Pontarddulais choirs – accompanied by The Royal British Legion Band of Wales – this coming Saturday 19 August at the Principality Stadium.
---
Support our Nation today
For the price of a cup of coffee a month you can help us create an independent, not-for-profit, national news service for the people of Wales, by the people of Wales.