News
Cardiff man becomes first person convicted of belonging to neo-Nazi Feuerkrieg Division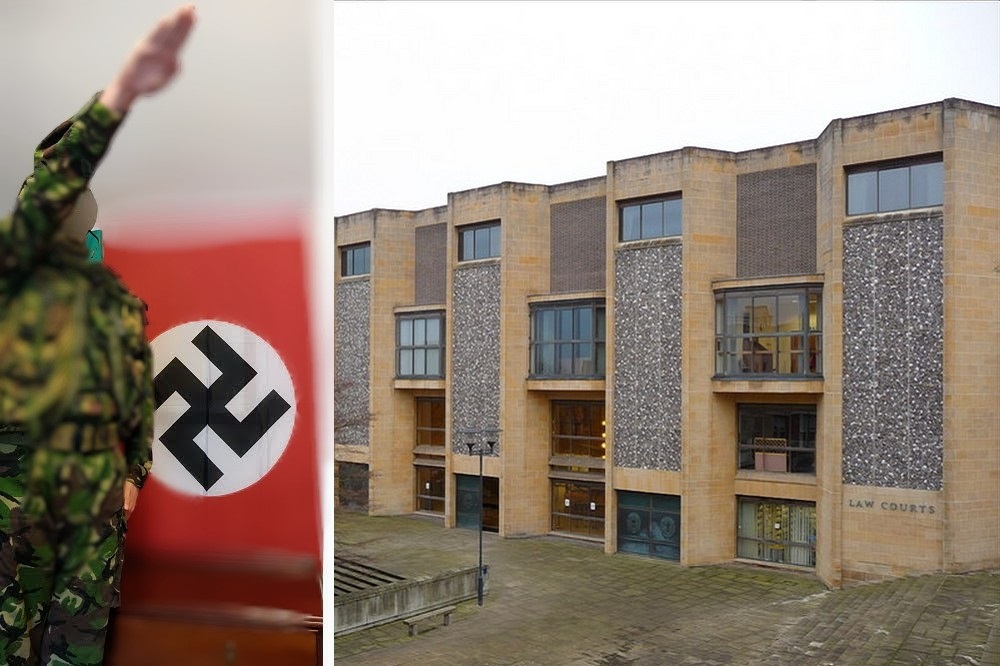 The first person to be convicted of belonging to banned white supremacist group the Feuerkrieg Division has been jailed for at least six years.
Luca Benincasa, 20, was a "prominent member" of the Feuerkrieg Division (FKD) which is said to promote violence and mass murder in pursuit of a race war.
The group, which primarily exists online, was banned in July 2020.
Benincasa, from Cardiff, pleaded guilty in July last year to membership of the FKD and four counts of collecting information likely to be of use to a person committing or preparing an act of terrorism on or before February 1 2022.
He also pleaded guilty in August to three counts of possessing indecent images of children, one count of possessing an extreme pornographic image and one count of possessing a prohibited image of a child between December 29 2021 and January 1 2022, for which he was also sentenced.

Child sacrifice
The court heard that Benincasa browsed the internet for "forced teen porn", "rape games" and "child sacrifice".
A Nazi dagger, Schutzstaffel (SS) officer's hat and swastika armband were among items discovered in his bedroom when police raided his separated parents' homes.
Appearing at Winchester Crown Court in Hampshire on Wednesday, the 20-year-old was jailed for five years and seven months for the terrorism charges and a consecutive eight months for the images charges, to be served in a young offenders institution.
He was also given an extended licence period of three years for the terror charges.
Judge Jane Miller KC told him: "By February 1 2022 you were calling yourself the UK cell leader of FKD and one of its recruiters.
"You were clearly a prominent member of the organisation."
Fanatical
She described the material seized by police as "racist, antisemitic and homophobic" and said Benincasa's messages to like-minded people showed him to be "fanatical and single minded".
Benincasa's bedroom in his father's house in Cardiff, where he spent most of his time was full of Nazi memorabilia when police conducted a raid on February 1 last year, including parts of an SS officer's uniform, a dagger, two airsoft rifles, skull balaclavas and full-size body armour.
A flag depicting the logo of the SS, Adolf Hitler's paramilitary organisation, was hanging on Benincasa's bedroom wall alongside a fascist Italian flag.
He had also taken photos of himself on his phone wearing the SS uniform with his face covered and, on different occasions throughout 2021, brandishing a Stanley knife, a rifle and an SS dagger.
Benincasa's laptop was found to contain extreme right-wing literature and documents, including instructions on security and how to make explosives, poisons and firearms, mostly downloaded from the Telegram app.
An unfinished "Feuerkrieg Division Handbook" was also discovered.
The draft said the organisation does not "encourage" illegal activities but would not "disavow" a "true warrior" who "takes up arms and fights for the sake of our race".
It lists enemies as the Government, anti-fascist activists and journalists.
Manifesto
Police also found a "manifesto" drafted by Benincasa, described by prosecutors as "extremely racist" and "extremely antisemitic".
It said the fact that a "criminal scumbag aka George Floyd had more outbreak over his death than the 13 marines that died in Afghanistan says a lot about the world we live in", and that "ethnostates are the only solution", to be "achieved by force or takeover" because a "race war is inevitable".
Analysis of Benincasa's Instagram and Snapchat accounts between March 2021 and January 2022 revealed messages written by him such as: "I'm a neo… nazi", "I am an extremist I commit multiple acts of hate crimes" and "told my mum I wanna be a terrorist… little does she know I'm currently classed as one already".
After the men's football Euros final between England and Italy on July 11 2021, Benincasa messaged someone to say: "All the black England players missed."
The prosecution said investigators identified at least 33 one-to-one Telegram threads in which Benincasa was "actively recruiting" people to join FKD.
Examples were read out in court in which prospective members would send applications to Benincasa, and if they were acceptable he would send "propaganda" and instruct them to print and put up flyers in their local areas and ask them to send photos of themselves "to check their skin colour".
Genocide
He told one applicant: "I usually want to genocide anyone that's not white."
Most applicants said they were under 18, the court heard.
In April 2022, two months after his arrest, Benincasa's cell at HMP Chelmsford was searched and officers discovered right-wing and Satanic graffiti on the walls, door and table.
His prison calls were monitored and revealed conversations between March and July 2022 with other young people in which Benincasa identified with incel culture and laughed about news articles about his case.
His defence barrister told the court his client's guilty plea, young age, lack of previous convictions and likely diagnosis of autistic spectrum disorder should mitigate his sentence.
---
Support our Nation today
For the price of a cup of coffee a month you can help us create an independent, not-for-profit, national news service for the people of Wales, by the people of Wales.