News
Cemetery 'desecration' row settled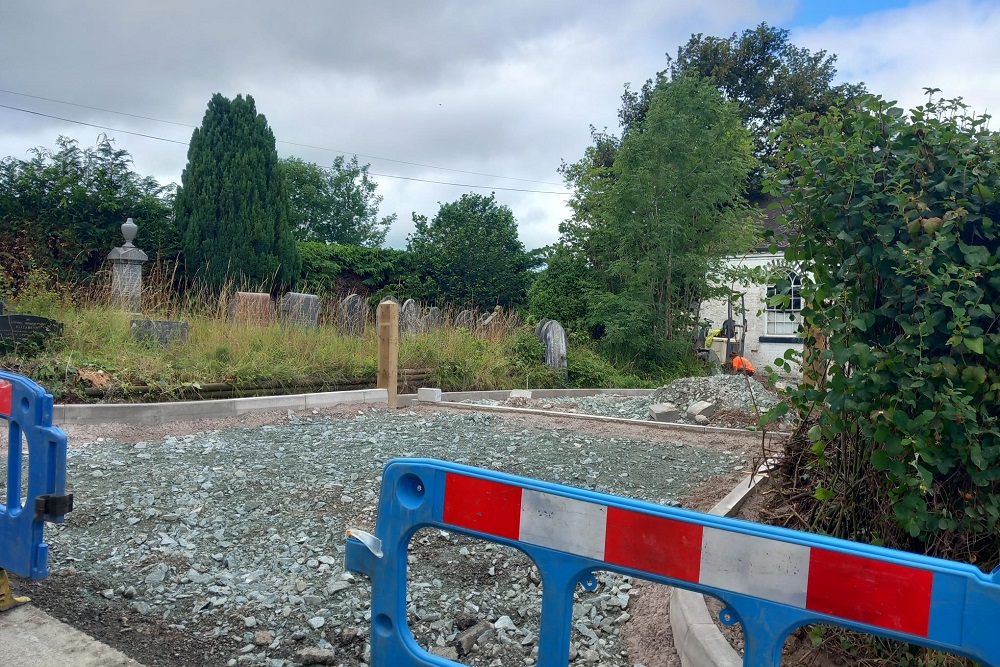 Martin Shipton
A church that was accused of "crass insensitivity" after removing headstones from graves and building a new access road and car park across a cemetery has made peace with its neighbours.
The Dolafon Gosport Hall Trust upset relatives of people buried in the graveyard at Bethany Chapel in Hodley near Newtown and faced enforcement action by Powys County Council, which had originally granted planning permission for a car park and driveway at the chapel under the mistaken impression that it was on agricultural land.
The chapel closed in the early 2000s and was bought recently by the Trust, part of a church known as the Exclusive Plymouth Brethren.
Cllr Elwyn Vaughan, leader of the Plaid Cymru group on the county council, pressed planning officials to take enforcement action against the Trust.
Following a meeting between council and Trust representatives, Cllr Vaighan said: "I'm pleased to say that a resolution has been secured resulting in the restoration of the graveyard at Hodley chapel.
"The developers. the Gospel Trust, have agreed to return topsoil back over the graveyard, to close the vehicle access and provide a footpath for visitors to the cemetery. They will also employ a stonemason to return the gravestones to their original places.
"This is a victory for common sense and the right thing to do for peace of mind for all the affected families. It is a shame that it had to come to this before the situation could be corrected. This is as a result of the enforcement process which I started with the county council.
"We want a clear timeframe for implementing this work and will be liaising with the developers to ensure that all aspects are done correctly.
"This has been a very painful situation for many and I'm naturally pleased that a way forward has been secured. However it does leave questions for Powys County Council, Could they have handled the whole situation better? The only conclusion I come to is yes.
"What's important now is that whatever one's views about what has happened, mutual respect is shown and all can live within that community without concern."

Critics
The official name for the Exclusive Plymouth Brethren is the Plymouth Brethren Christian Church (PBCC). One of the church's most vocal critics during the row over its actions at Hodley has been Richard Marsh, who spent 45 years as a member of PBCC before, as he puts it, "escaping".
Since leaving the church he has lost contact with members of his family.
While researching the history of the chapel at Hodley, Mr Marsh discovered that one of the people whose graves were disturbed by the building of the access road was Nathan Preece, a local blacksmith and devout Christian, who died in 1892.
An obituary published immediately in a local paper after his death said of Mr Preece: "For many years he was practically blacksmith for the district, and his trade necessarily brought him into close contact with the majority of his neighbours, who were farmers and farm labourers. Being of a conversational turn of mind, and of a genial disposition, he won their confidence, and drew around him a wide circle of friends, and had few, if any, enemies.
"Throughout his career he was a sturdy Nonconformist and a consistent Liberal. Though honoured by influences that tended to chill and discourage the growth of such principles he clung to them and found (what others would find if only they believed) that by being true to his convictions, he sacrificed neither his business nor the respect of those opposed to him in religion and politics.
"But however well known as he was as a neighbour, a Liberal and a Nonconformist, it was in his capacity of Deacon in Bethany Congregational Church that he became conspicuous. When he joined the little flock in 1861 it numbered but three members. He commenced at once to make himself useful by collecting the pew rents, then he became secretary, and in 1871 Mr. Preece was elected treasurer, a post he held with honour until his death.
"He was the pioneer too of the Sunday school at Bethany. When he commenced he had but five scholars, and several times he thought of giving it up, so slight was the encouragement he received. Still he persevered until he was rewarded by seeing it attain a flourishing condition. He always looked forward with keen delight to the Sunday school anniversaries, and listened with pride to the children reciting pieces which he had been at trouble to teach them.
"Thus the church which he found in a weak and disorganised condition, and the Sunday school which he originated, by careful fostering and cautious financing gained strength, and he has left behind him some who are inspired with the same spirit, and who will see to it that the work shall not be undone."
Mr Marsh said: "What would Nathan Preece think of the Plymouth Brethren Christian Church, which wrenched his headstone from his grave and paved over it for a car park?"
A spokesperson for The Dolafon Trust said: "Being good neighbours and serving our local community has always been our absolute priority. Over the last two weeks, we have listened carefully to feedback from the community, and following further discussions with Powys County Council, we have suspended all works at Bethany Chapel.
"We continue to be in discussion with the Council to address any issues with the site and will fully cooperate with relevant organisations on any outstanding investigations. We are committed to learning from mistakes and making things right with the local community."
---
Support our Nation today
For the price of a cup of coffee a month you can help us create an independent, not-for-profit, national news service for the people of Wales, by the people of Wales.