News
Chancellor agrees measures with banks aimed at cooling mortgage crisis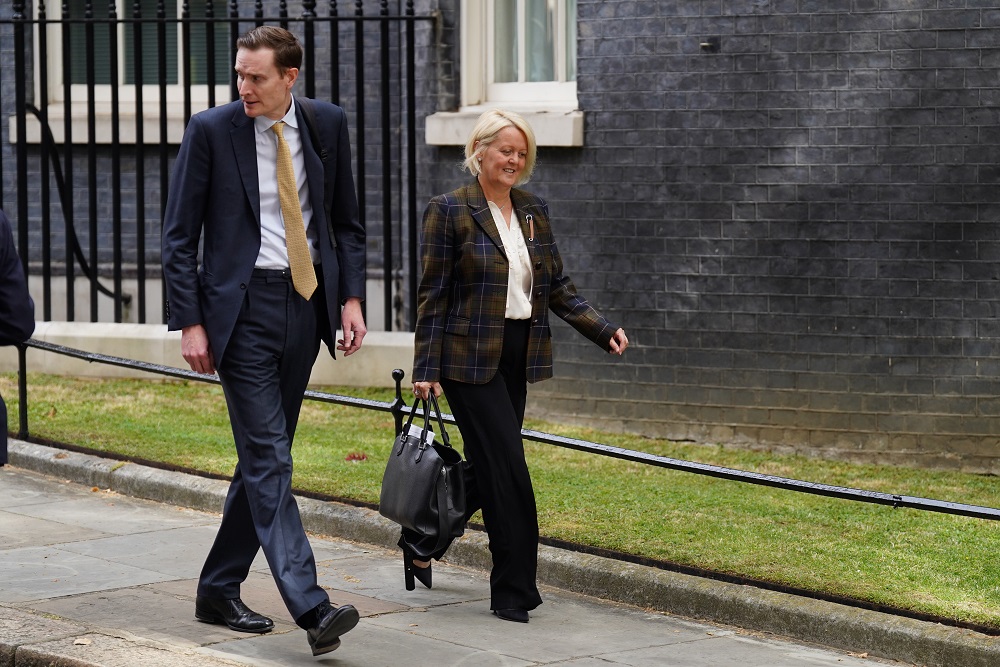 Mortgage holders struggling with repayments will be given a 12-month grace period before repossessions begin, Jeremy Hunt has agreed with lenders in crunch talks to sooth the crisis as interest rates soar.
The Chancellor and leading banks and building societies endorsed a new charter including mortgage holidays to give homeowners more flexibility when they met in Downing Street on Friday amid calls for greater action.
Under the measures being rolled out in the coming weeks, borrowers will be able to extend the term of their mortgages or move to an interest-only plan temporarily "no questions asked" in a change that echoes Labour's demands.
But the Opposition, which has been calling for ministers to compel banks to be more supportive, said the new measures were a "weak response", and the Liberal Democrats described them as a "sticking plaster for a gushing wound".
Mr Hunt met with the bosses of HSBC, Santander and Barclays among others after a shock interest rate hike threatened further pain for struggling households.
Speaking to broadcasters, the Chancellor said that they are most concerned about families who could lose their homes and those whose payments could soar as their fixed-term rates come to an end.

Flexibility
He said lenders agreed to give more flexibility to those "anxious" about their finances by letting them switch to interest-only payments or extend the length of their mortgages before reverting to the original terms within six months "no questions asked, no impact on your credit score".
"That, I think, is going to give people a lot of comfort and stop people worrying about having conversations with their banks when they are worried about their financial situation," he said.
There will also be more leeway for those facing losing their homes, increasing protections from using repossessions as action of last resort to not starting them for a minimum of a year.
"The last thing that they want to do is to repossess a home, but in that extreme situation they have agreed there will be a minimum 12-month period before there's a repossession without consent," Mr Hunt said.
The Chancellor stressed that tackling stubbornly high inflation, which measures the rate of rising prices and is behind the Bank of England's repeated hiking of interest rates, is the "number one priority".
But he was resisting giving into calls from some Tory backbenchers to offer a major support package to mortgage holders, fearing it could further fuel inflation.
He said ministers must instead be "totally resolved and unflinching" in cooling prices.
NatWest chief executive Alison Rose said it had been a "very productive meeting" as she left Downing Street.
"We're doing everything we can to help customers and help with the anxieties," she said.
Chief executive of Lloyds Banking Group Charlie Nunn said that bosses had held a "good working discussion with the Chancellor".
With bosses arriving from around 7.30am, attendees also included Barclays chief executive Matt Hammerstein, Virgin Money boss David Duffy, and Nationwide chief executive Debbie Crosbie.
The meeting came a day after the Bank of England issued its 13th interest rate hike in a row, this time by half a percentage point from 4.5% to 5% in the sharpest increase since February.
Surprising economists who had been expecting a smaller hike of 0.25 percentage points, the move brought rates to the highest level in nearly 15 years.
Inflation
The move was an attempt to reduce inflation, which measures the rate of rising prices, which remained at 8.7% in May despite efforts to bring it down.
Prime Minister Rishi Sunak and Mr Hunt have ruled out a financial intervention as rates were hiked.
Labour has called for banks to be forced to give more help to struggling mortgage holders in a tougher response, while some backbench Tories have demanded support for under-pressure borrowers.
On Friday, shadow chancellor Rachel Reeves said: "Today's weak response from the Government on a mortgage crisis they created shows just how little they understand what families are facing.
"Questions remain on how voluntary these measures are. The Government must offer clarity and confidence to homeowners by putting in place requirements now to reassure households.
"Instead of shrugging their shoulders, the Tories should be taking responsibility and acting now."
Liberal Democrat Treasury spokeswoman Sarah Olney added: "This is a sticking plaster for a gushing wound. Even after today, bailiffs will still be knocking on people's doors because the Government refused to help."
Time bomb
However, consumer champion Martin Lewis, who met with Mr Hunt earlier this week as he warned that a mortgage ticking time bomb is now "exploding", said he is "pleased to see it looks like the Chancellor has listened".
Financial markets are predicting that interest rates will strike a high of 6% by the end of the year.
There have been warnings that 1.4 million mortgage holders will lose at least a fifth of their disposable income in additional repayments.
They are set to rise by £2,900 for the average household remortgaging next year, according to economists at the Resolution Foundation.
More than 80% of homeowners with a mortgage are on fixed-rate deals, according to trade association UK Finance.
However, around 2.4 million fixed-rate mortgage deals are due to end before the end of 2024, with some potentially heading for a bill shock.
---
Support our Nation today
For the price of a cup of coffee a month you can help us create an independent, not-for-profit, national news service for the people of Wales, by the people of Wales.