News
Charity refuses Home Office demands to delete clip of Holocaust survivor confronting Suella Braverman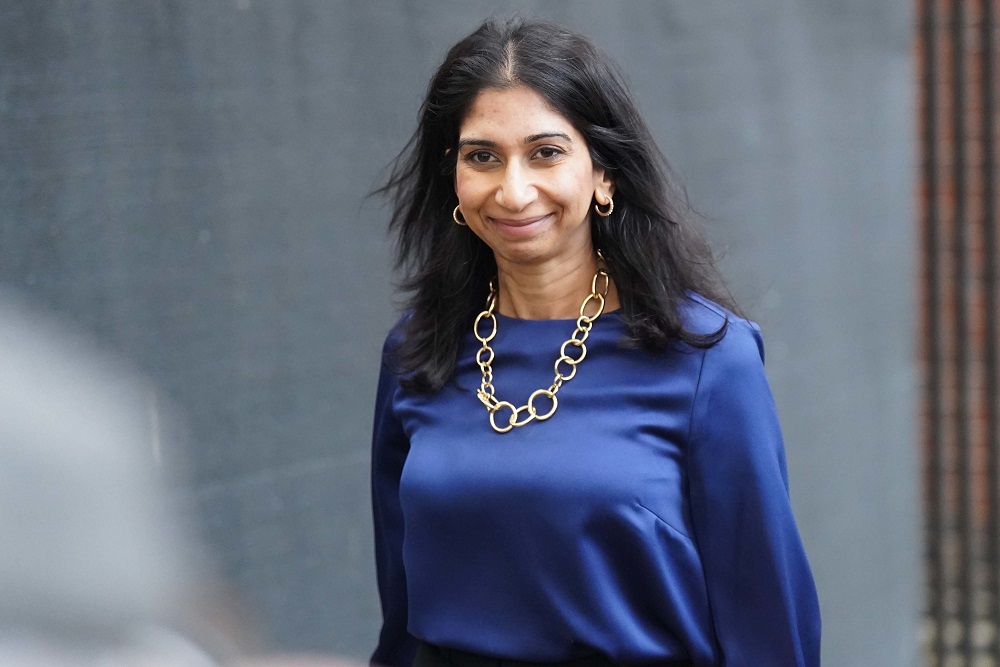 A charity which supports torture victims has defied Home Office demands to delete a video of Suella Braverman being confronted by a Holocaust survivor over her language on immigration.
Freedom From Torture has said the Home Secretary should be "ashamed" of her "dehumanising" rhetoric and it will not be "pressured into helping her hide it" by taking down the clip.
The video shows 83-year-old Holocaust survivor Joan Salter confronting the Government minister during a meeting in her Fareham constituency in Hampshire on Friday evening.
The Home Office has said the one-minute video "misrepresents the interaction" because it presents selected excerpts of Ms Braverman's response, which was several minutes long.
During the exchange, Ms Salter, who has been recognised with an MBE for her work on Holocaust education, likened Ms Braverman's language on migrants attempting to cross the English Channel to that used by the Nazis.
Ms Braverman thanked Ms Salter for her question, but said she "won't apologise" for previously describing migrants as "an invasion".
Freedom From Torture chief executive Sonya Sceats said the charity will not remove the short clip from social media, and pointed out that a video of the full exchange is available on its website.
BREAKING: a Holocaust survivor just confronted Suella Braverman to say: your hateful language has consequences pic.twitter.com/o8EjIkrLRA

— Freedom from Torture🧡 (@FreefromTorture) January 14, 2023
Dehumanising language
Ms Sceats said: "Suella Braverman refused to apologise for offensive and dehumanising language when challenged by a Holocaust survivor at a party meeting.
"Not only that, but the Home Office has demanded we remove the footage.
"As an organisation providing therapy to torture survivors who feel targeted by her language and who know first-hand where such dehumanising language can lead, we will not do so.
"She has used language she should be ashamed of, and we won't be pressured into helping her hide it."
A Home Office spokesman said: "Footage of a conversation with a Holocaust survivor is circulating online.
"The video has been heavily edited and doesn't reflect the full exchange.
"Since the footage misrepresents the interaction about a sensitive area of policy, we have asked the organisation who posted the video to take it down."
Ms Salter, who fled to the UK from Belgium, asked Ms Braverman why she described migrants as "an invasion", which she said was reminiscent of "the language used to dehumanise and justify the murder of my family and millions of others" in the 1940s.
The Home Secretary thanked Ms Salter for her question, and said she "shared a huge amount of concern and sympathy" over the "challenge" of illegal immigration, adding that her own parents were not born in Britain.
She added: "There is a huge problem that we have right now when it comes to illegal migration, the scale of which we have not known before.
"I won't apologise for the language that I have used to demonstrate the scale of the problem."
Ms Braverman's answer was greeted with applause from the audience.
The full video is here.
Belgium
Ms Slater was born Fanny Zimetbaum in Brussels in 1940 to Polish Jewish parents and was just three months old when Belgium was invaded by the Nazis.
Following the invasion, she escaped to France with her mother and sister before being taken to the US by the Red Cross in 1943.
Ms Salter remained in foster care in America until being reunited with her parents in 1947 in London, where she has lived since.
Less than a week into her tenure as Home Secretary under Prime Minister Rishi Sunak, Ms Braverman referred to her job as being "about stopping the invasion on our southern coast".
She had previously held the post under Liz Truss from September 6 until October 19, when she resigned for breaching the ministerial code by sharing an official document from her personal email address.
---
Support our Nation today
For the price of a cup of coffee a month you can help us create an independent, not-for-profit, national news service for the people of Wales, by the people of Wales.