News
Controversial 'cult' accused in graveyard 'desecration' row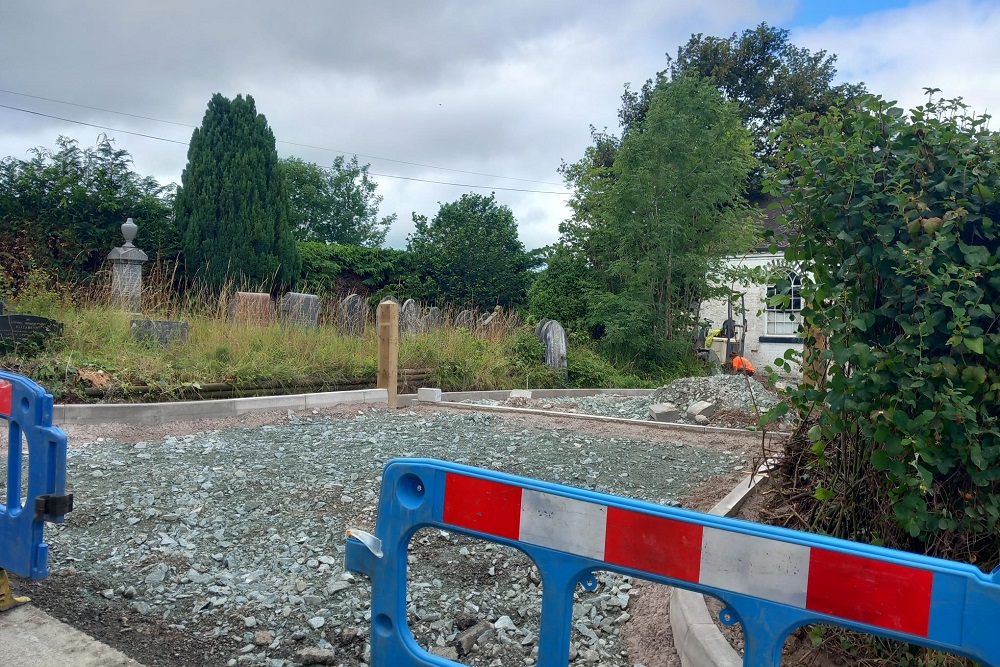 Martin Shipton
A man who describes a church he left as a "cult" says he is not surprised it is involved in a row after building an access road across a graveyard.
Relatives of those buried in the cemetery at Bethany Chapel in Hodley, near Newtown, were left devastated by what a local councillor has described as "crass insensitivity".
The matter is under investigation by regulatory authorities.
What many may not realise is that the Dolafon Gospel Hall Trust, which built the access road, is a branch of a sect known as the Exclusive Plymouth Brethren – officially the Plymouth Brethren Christian Church (PBCC).
Richard Marsh, who spent 45 years as a member of PBCC before, as he puts it, "escaping", contacted us after reading our story about the cemetery row.
He told us: "There are PBCC congregations in Newtown, Cardiff and Swansea. That is all the congregations in Wales. The Newtown congregation was very small (10 to 20 persons) until the 2000s when the global leader, then John S Hales of Sydney, directed brethren to move to strengthen small congregations. I guess they are now between 100 and 200. The nearest other congregation to Newtown is Shrewsbury.
"I was a member for 45 years – escaped in 2015, but sadly left my ex-wife and 5 children in the cult. I believe my youngest daughter is married in Shrewsbury.
"What upsets me about this desecration of graves is that the PBCC would be outraged if someone did this to THEIR graves. There would be all manner of legal action proceeding and demands for restoration and compensation.
"There was an incident in France where some old PBCC graves were moved to make way for construction, and this led the current leader, Bruce D Hales to minister that the brethren should have their own cemeteries, specifically so the graves could never be disturbed.
"The brethren have this very strained, adversarial relationship with the world, which they regard as being under the power of Satan – while they consider themselves to be God's special, separate chosen people. Non-members are referred to as 'worldly persons' and are regarded as a source of corruption. This sadly leads to a disrespect and disregard of the property, rights and feelings of their neighbours, whom they secretly regard as being inferior.
"My own experience is that I grew up in the Cambridge congregation of the PBCC, but I have attended Brethren church meetings in both Shrewsbury and Newtown. In the 80s and 90s the church was very strict about separation from the world, but took pride in being honest and straightforward in their dealings with the 'outside'. In the 2000s I believe that integrity went out the window, and dishonesty in business and in dealing with government bodies became the norm. That was what ultimately drove me to leave.
"Along with many other former members I fear for my children, friends and relatives inside, as the church slides into ever more extreme and cultish behaviour. That is what motivates me to speak up publicly and point out the damaging aspects of the PBCC."

Beliefs
In August 2023 the New Statesman magazine published a long read article by its assistant editor Pippa Bailey, some of whose family members, including her maternal grandparents, belonged to the PBCC. In the article she writes at length about the church's beliefs and way of operating.
She states: "To some, life in the Brethren might seem a conservative idyll. The family unit and the raising of children are central. The divorce rate is negligible, and children live at home until they are married. Homosexuality is not permitted, nor is abortion (as is the case in many Christian denominations); most members use natural methods of contraception.
Private education and healthcare are provided. The elderly are cared for at home; poverty is rare. It is unusual for women to work after marriage, and for men, well-paid employment is almost guaranteed in Brethren-run businesses. The Church provides financial assistance to young members to buy homes.
"But governing all this is what the Brethren call the 'doctrine of separation'. For nearly 200 years members have lived by a literal interpretation of Bible verses such as 2 Timothy 2.19 ('Let everyone who names the name of the Lord withdraw from iniquity'), dividing themselves from the perceived evil of the world. Outsiders are known as 'worldlies'. At its most extreme, separation means that when a member leaves or is 'withdrawn from' (excommunicated), those who remain will not eat, speak or live with them."
Nearly 200 years after its founding, the sect has 50,000 members worldwide, with 16,000-17,000 in the UK. Under Bruce Hales, and his father before him, it has become an empire. In the UK, there are at least 1,000 Brethren-owned businesses, with a combined annual turnover of £5bn; companies linked to the group were awarded £2.2bn of government Covid contracts. Much of this wealth remains within the community, donated to Brethren-linked charities such as its independent schools network.
Bailey states: "The Brethren don't vote, but nor do they abstain from politics entirely: they have proved vociferous lobbyists when legislation has encroached on their way of life, on issues from annuities-linked pensions to compulsory Aids education in schools."
Paul Flynn
In 2013 the late Welsh Labour MP for Newport West, Paul Flynn, told the Commons that a Brethren campaign for charitable status was "the most egregious example of intensive, million-pound lobbying by hundreds of people that I have experienced in my 25 years in the House".
According to Bailey, the sect's edict that had the greatest impact was made at a meeting in Manchester in 1960, and remains in place today. Brethren were no longer to eat with non-Brethren, ending "mixed" marriages and dividing families. Men could not dine with "worldly" colleagues; children came home from school for lunch. These new rules drove many to leave, people referred to by the leader at the time as "profitable losses".
At a 2006 meeting Hales described a loathing of the outside world as foundational to the Brethren: "We have to get a hatred, an utter hatred of the world. Unless you've come to a hatred of the world, you're likely to be sucked in by it, and seduced by it," he said. A text called "Faith in Practice", which the Brethren adopted in 2014 as a condition of retaining its charitable status in England and Wales, puts it less forcefully: separation "involves drawing away from the world in a moral sense, rather than a physical sense". It also says that separation "permits interpersonal communication" and that "those in fellowship must ultimately exercise their own judgement".
Before excommunication, a Brethren member may be "shut up" (more recently, the practice has also been called "shrinking" away from someone). They are not allowed to attend meetings or socialise with other members. Church elders visit the shut-up person – sometimes called "priestly visits", or "priestlies" – to discuss the point of contention. One former member told Bailey her sister, then 16, was shut up for watching Charles and Diana's wedding on TV through a shop window.
A spokesperson for the PBCC told the New Statesman that both excommunication and shutting up are now rare, and that, while someone facing a disciplinary process cannot attend church meetings, "in all other aspects they are free to go about their lives". They added that "many families remain in touch with former members".
Covid contracts
With a combined annual turnover of £5bn, British Brethren-run companies make £294,000 a year for every man, woman and child who is a member in the UK. According to research carried out by the investigative website Open & Candid, half this figure – £2.5bn a year – is made by just 80 firms. One such company, Unispace Global, was identified by the National Audit Office as one of the biggest beneficiaries of the pandemic, winning £680m of government Covid contracts between March and July 2020. Unispace was co-founded in Australia in 2010 by Charles and Gareth Hales – sons of Bruce Hales.
Until 2009, religious organisations automatically enjoyed the benefits of charitable status, but a new Charities Act removed this presumption and required them to prove their public benefit. That year, the Brethren's Preston Down Trust (PDT), which runs three gospel halls, applied for charitable status. In 2012 the commission referred the case to tribunal, saying it could not be sure that the PBCC met the new public benefit requirement.
In a parliamentary debate on 13 November 2012, Conservative MPs including Alok Sharma, Caroline Nokes and Fiona Bruce voiced support for the PBCC, praising at length its "good public works" and raising concerns about threats to religious freedoms. Robert Halfon MP bemoaned that the Brethren were "having to spend hundreds of thousands of pounds [fighting the tribunal case] that they could otherwise use for charitable activities".
In the Lords a week later, however, the Conservative peer Baroness Berridge (who has family in the Brethren) supported the Charity Commission, arguing that the practices of shutting up and barring young people from university outweighed any public benefit; she called for a Church of England-led inquiry into what she described as a "sect".
Westminster
The Brethren continued to campaign, hosting a Westminster reception in January 2013, at which members sang hymns and Carole King's "You've Got a Friend", and where Conservative MPs Halfon, Owen Paterson and Michael Ellis spoke in their support.
In January 2014 the case was settled out of tribunal by the Charity Commission, which finally granted the PDT charitable status. In its decision, the commission noted it had "received a considerable body of evidence" from the PDT supporting its claim to meet the public benefit requirement, but also "unsolicited evidence from many concerned individuals, including former Brethren, who assert that the doctrines and practices of the PBCC are inimical to charity".
The PDT was given charitable status on the condition that it "address issues of detriment and harm" by adopting a deed of variation (including "Faith in Practice"), detailing the key tenets of the Brethren lifestyle and committing it to public works such as street preaching. In the following years, other Brethren gospel hall trusts were granted charitable status. In 2015 the Times estimated that the resulting tax reliefs were worth £13m a year.
The PBCC argues that its values are misrepresented by former members. A spokesperson told the New Statesman: "We are a Christian church and our members have lived and worked in communities across the UK for nearly 200 years. We fully embrace British values of tolerance and mutual respect, and strive to live a community-minded life, underpinned by our core values of care, charity and compassion.
"While we are saddened that a very small number of former members continue to spread falsehoods about our values and way of life, we wish them well."
---
Support our Nation today
For the price of a cup of coffee a month you can help us create an independent, not-for-profit, national news service for the people of Wales, by the people of Wales.