News
Controversial Swansea skate park finally opens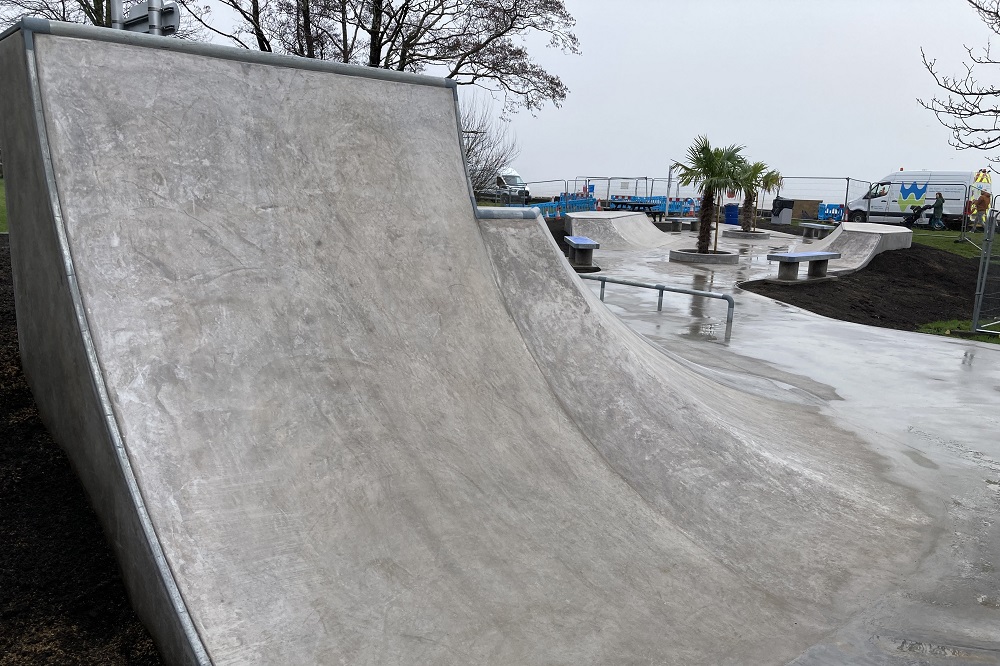 Richard Youle, local democracy reporter
Five years in the making and not for the want of trying, a new skate park is now open to the public in Swansea.
There has been no fanfare or no ribbon-cutting just yet – in fact you might not even have known it was open on Friday, February 17, as drizzle swirled around and walkers and cyclists headed past on the seafront.
But skateboarders are expected to descend on Mumbles Skatepark on Saturday, and a formal opening event will take place this summer once the landscaping and planting is established.
Users are being reminded to access the Llwynderw facility via the promenade only, and to avoid the bare earth and seeded areas while they settle.
Dan Evans, who lives close by, said he was very impressed by the finished product when he walked past, and that he and his older two sons would be spending a lot of time there.
"They have been dragging us to other skate parks across Wales," he said. "This is the first of anything like this in Swansea, and it's on our doorstep."
Passer-by Gemma James, of West Cross, said: "I think it's going to be a really good asset for the community, for all ages. It's nice for there to be free things for people to do."

A challenge
Ian Jennings, of Maverick Skateparks, which designed and built the facility, said the autumn and winter construction period had been a challenge.
"We'd planned for it to be a summer build," he said. "We dealt with a cold spell when it got down to minus ten, driving rain, sunshine – all the seasons. If it's sub-zero you can't pour concrete."
Asked how the team created such smooth ramps and compressions, designer and builder Mr Jennings said he couldn't disclose "trade secrets", but added: "All our guys are multi-skilled craftsmen. We don't use any sub-contractors. In general it's just about having a good eye.
"A lot of our guys are skateboarders, so they look it with a really critical eye because they understand the functionality of what they're doing."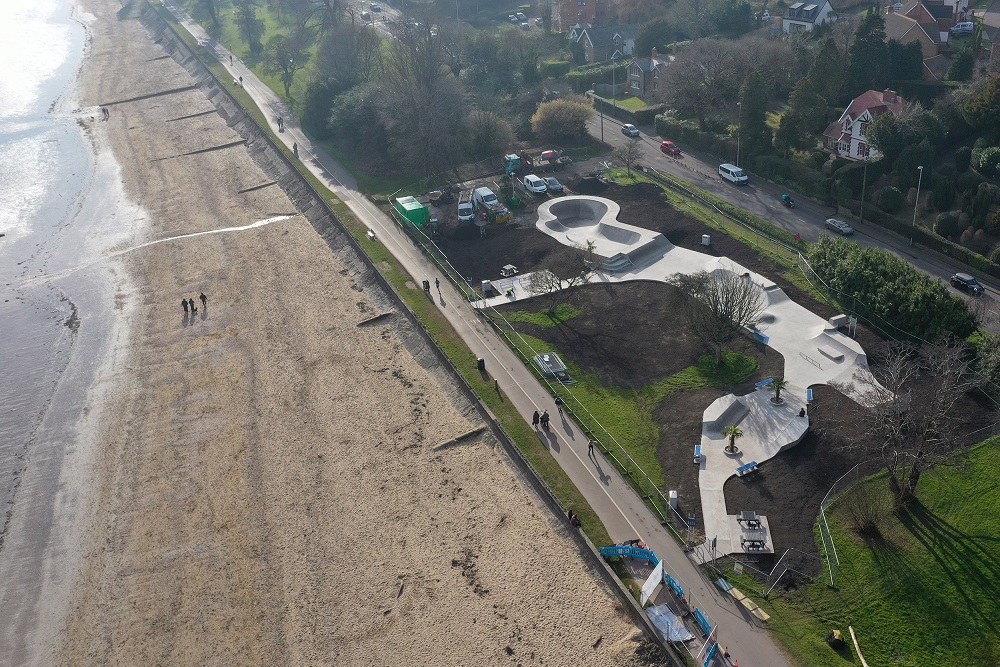 Mr Jennings and his colleagues couldn't resist some skateboarding in their downtime and would head to the indoor Exist Skatepark, Mount Pleasant. Unfortunately Mr Jennings took a tumble, dislocating his shoulder and collarbone, which left him unable to work for four weeks and requiring surgery.
"I'm planning to come back in the summer and spend a lot of time here," he said. "It's such a lovely spot. It's going to be a massive asset for Swansea. There is a really good scene here."
He added that the team had been warmly welcomed by the whole community and that Mumbles Community Council, which is funding the £461,800 project – the figure includes planning and legal fees – had looked after them really well.
In a statement, the community council said: "We would like to thank Maverick for creating a world-class skate park which is accessible to all, whatever age, physical ability or level of skill."
It reminded users that access was from the promenade, not Mumbles Road.
"Mumbles Community Council would again like to thank all those involved in making this fantastic project happen and we look forward to seeing Mumbles Skatepark come to life," it added.
Hard standing
The land used to be home to a mini half-pipe and a nondescript stretch of hard-standing, and was chosen as the site of a new state-of-the-art skate park three years ago.
While the project has received considerable public support, there has been opposition on the grounds of its proximity to a busy road, access, and the lack of toilets.
Swansea Council's decision to transfer the land to the community council was challenged by legal representatives of a group of residents. The council accepted that it had not published its intention to dispose of the land for two weeks in a local newspaper, and accepted that its transfer decision did not comply with the relevant legislation.
That sparked acrimony and ill-feeling in some quarters, and the council had to restart the land disposal process again.
Work finally began late last September. Speaking at the time, Jason Williams, chairman of Mumbles Skatepark Association, which has lobbied and raised funds for the project, said the group was thrilled.
"Community support has been phenomenal and the new skate park will be a fantastic asset to the community," he said.
Swansea Council joint deputy leader David Hopkins said this week: "We're pleased to have played a key role in helping to make the project reality.
"The park will be a big positive for the skating community, with young adults teaching young children, building self-esteem and strengthening the sense of belonging. It's something people of all ages can get involved with; it's family friendly and accessible to all."
Fellow cabinet member, Cllr Robert Francis-Davies, said: "There was great positive feedback to the skate park in public consultation.
"It's well located for local skateboarders and has many other positives such as offering the potential to further enhance the Blackpill activity area."
---
Support our Nation today
For the price of a cup of coffee a month you can help us create an independent, not-for-profit, national news service for the people of Wales, by the people of Wales.