News
Council backtracks on Cofiwch Dryweryn mural threat
//= do_shortcode('[in-content-square]')?>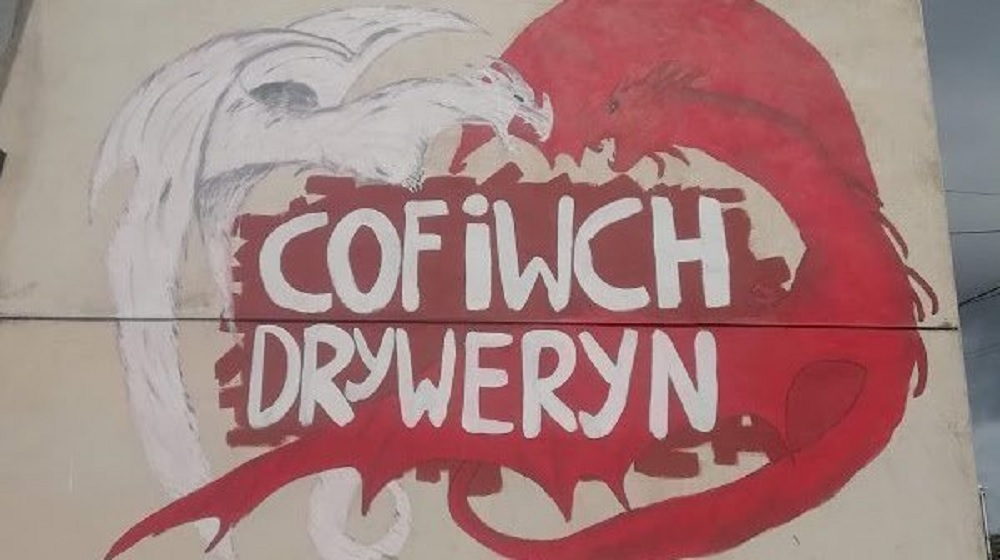 Bridgend County Borough Council has issued a statement that says the Cofiwch Dryweryn mural which was painted on the wall of a private property in Nantyffyllon, Maesteg last year, can now remain if the householder applies for retrospective advertising consent.
Last month the owners of the building received a letter from the council warning that if it were not painted over within 21 days, they would be liable for prosecution.
The letter from the council stated that the Highway Department believed that the mural was a danger to motorists.
The new statement from the council says: "The decision has been made after Bridgend County Borough Council received new information confirming that, while the site is located at a difficult junction, with multiple turning options for vehicles, official accident statistics provided by South Wales Police have not revealed a significant increase in incidents since the mural has been in place. As such, it is no longer deemed to pose a potential distraction to drivers."

Councillor Richard Young, Cabinet Member for Communities added: "I would personally be happy for the mural to remain once the householder has applied for retrospective consent."
"In planning terms the mural has to be considered an advert because the Town and Country Planning Act 1990 defines 'advertisement' as being 'any word, letter, model, sign, placard, board, notice, awning,  blind, device or representation' which is used 'wholly  or partly for the purposes of advertisement, announcement or direction."
"Cofiwch Dryweryn remains a very important part of our Welsh culture and history and should be remembered as such but not in a manner which breaks the law and forces the local planning authority into a position where it has no other course than to take action."
Maesteg's branch of YesCymru, who launched a petition to stop the council painting over the mural, has rejected the council's statement. They tweeted: "Our mural is a memorial not an advert and therefore doesn't require (paid for) advertising consent. "
Our mural is a memorial, not an advert, and therefore doesn't require (paid for) advertising consent.
Diolch.

— Yes Cymru Maesteg 🏴󠁧󠁢󠁷󠁬󠁳󠁿 (@yescymrumaesteg) August 11, 2020
Cofiwch Dryweryn was first painted on a wall in Llanrhystud in the 1960s in a reference to the Welsh village near Bala that was flooded to provide water for Liverpool.
The message was originally painted by young nationalist Meic Stephens, who was determined that the people of Wales would never forget the decision by the UK Government to drown the village of Capel Celyn in 1965 to create a reservoir for Liverpool City Council.
Actor Rhys ap Hywel is also known to have re-painted the wall as a schoolboy.
The Cofiwch Dryweryn mural was knocked down in April 2019 and had been defaced with graffiti many times before then, including being spray-painted with a swastika in June of this year.
Following the attack on the wall last year several other Cofiwch Dryweryn murals were painted up and down the country.