News
Council considers improving transport links with west of England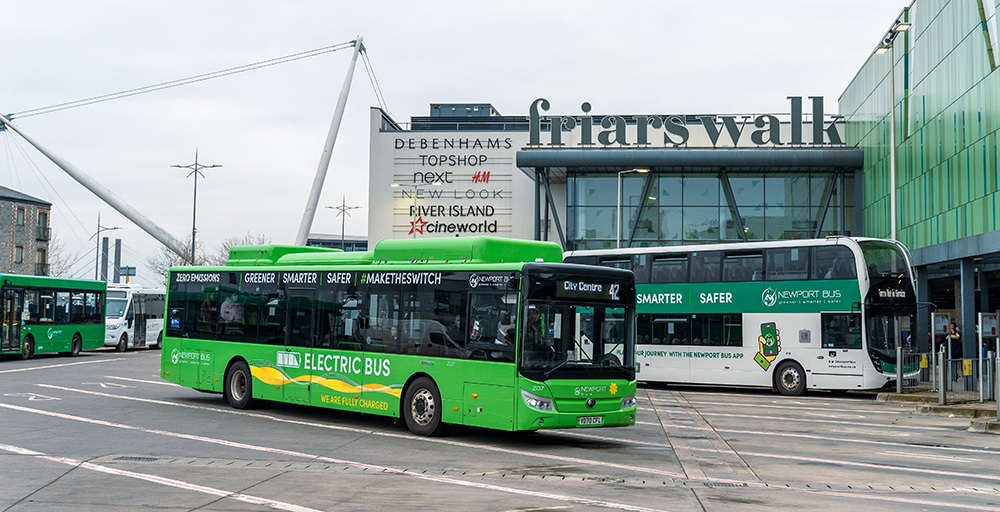 Twm Owen, local democracy reporter
A bus service between Monmouthshire and the Avonmouth port north of Bristol could be established as public transport routes across the county are examined.
Work on a transport plan for Monmouthshire is due to get under way next week, and councillors have been told improved bus services with the west of England as well as across South Wales will be under consideration.
Chepstow Bulwark and Thornwell councillor Armand Watts said traditionally many of the town's residents travelled west to work in the steel industry – at Llanwern for example – but employment opportunities are now across the Severn Bridge, and estimated the Avonmouth industrial estate and port likely employ between 8,000 to 9,000 people.
During a meeting of the council's public services scrutiny committee he asked if any consideration was being given to a bus to transport those employed in Avonmouth who may be working around the clock.
"We (the council) are the largest employer in Monmouthshire and employ, I think, 4,000 to 5,000. The largest employer of people in the south is Avonmouth and between the industrial estate and the port there are some 8,000 to 9,000 jobs is there any scope to incorporate and be more in tune and have a more aligned transport service to serve those people commuting and going to work on 24 hour periods on shifts?"

Lack of funding
His Labour colleague Dale Rooke, who represents the Chepstow Castle and Larkfield, complained about buses to England and a lack of funding for improvements.
He said: "Bus services out of Chepstow going to Gloucester and the Forest of Dean are particularly poor and bus times and train times aren't coordinated. You get off a bus and get to the train station and you've still got a long wait.
"We are right on the fringes of the boundary between Wales and England and should be seeing a huge benefit in Monmouthshire for transport and as part of the Cardiff Capital Region but we seem to get peanuts if anything."
Conservative councillor for Goetre Fawr, Jan Butler, said where she lives, in Penperlleni, south of Abergavenny, people don't trust public transport.
"If you go to work in Cardiff or Newport you can't trust it and if you work 9am to 5pm you can't get back to my village from Cardiff so are forced to use your own car or a lift.
"I despair really it's not up to snuff. It's very, very good to have a review in progress as we're never going to get a public transport network or get people to use it until what's provided is trustworthy and accessible."
Debra Hill-Howells, the council's head of transport, said work on the local transport plan will start next week (June 26) and "stakeholders" will be invited to contribute over the summer before it is put before a scrutiny committee in September.
The council is also in talks with the Burns Delivery Group that is charged with easing congestion on the M4 around Newport including by looking at improving public transport.
She said talks over a potential Avonmouth bus have been held with not-for-profit firm Severnnet that aims to support business and improve transport in the Severnside area.
Ms Hill-Howells said: "They have contacted us as they are aware a large amount people working in Avonmouth are coming across from Wales and they want to work with us to see how we can support transport and employees getting back from, and to, Avonmouth. It's enabling us to have that joined up discussion."
Transport manager Christian Schmidt said he recognised the complaints made by councillors and said, as Transport for Wales is responsible for some bus services, including the T7 that runs from Newport and Chepstow to Bristol, it has an incentive to improve coordination between timetables which it intends to do. But he said that was harder at Abergavenny as it was dependent on the Marches Line that runs to Manchester.
Newport Bus
He said the council had agreed that Newport Bus, which operates the T7, and other Chepstow services, could alter some timetables, which had helped improve services, and described the Bristol bus as "one of the better-performing ones". But he said it is often caught by delays in the city which also meant it couldn't as yet, be expanded to cover, Monmouth.
He also said when bus services are supported by a local council there is normally a "lead authority", and in Chepstow that isn't Monmouthshire. He told Cllr Rooke he found it "weird in effect there is no bus service between Coleford and Chepstow but there's not much we can do about it."
The council is trying to improve routes to Beachley and its also intended that bus contracts will be tendered by area, similar to how Newport Bus runs services in Chepstow, which would help reduce costs for firms.
The committee was also told that post-covid financial support for bus services, from the Welsh Government, that was due to end in July has been extended to the end of the financial year while the council also intends to further support public service buses by using them for home to school transport from September onwards which could shift £140,000 every academic year from the education to transport budget.
---
Support our Nation today
For the price of a cup of coffee a month you can help us create an independent, not-for-profit, national news service for the people of Wales, by the people of Wales.