News
Council leader feared potential 'loss of life' due to Stradey Park Hotel unrest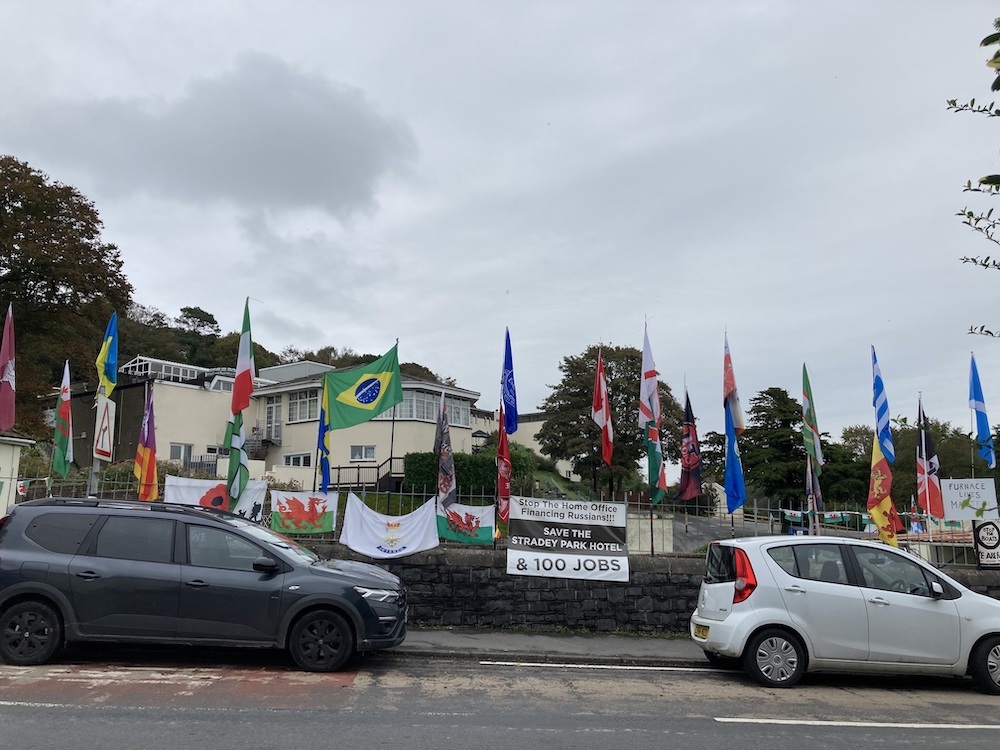 Richard Youle, local democracy reporter
The leader of Carmarthenshire Council wrote to the UK Government last week saying he feared someone could die as unrest at Llanelli's Stradey Park Hotel escalated.
The Home Office announced on 10 October that it was withdrawing plans to house up to 240 asylum seekers at the hotel, six months after news of the proposal began to emerge.
Days earlier protesters broke into the hotel grounds, with Dyfed-Powys Police saying that some windows were smashed and that a fire – the second in two days – was started. Arrests were made, with further arrests three days later after tense scenes.
Speaking at a meeting of full council, Cllr Darren Price said: "Great harm has been caused to Llanelli and Carmarthenshire over the last six months."
Cllr Price said he and the council's chief executive, Wendy Waters, had written to the Home Office last week expressing their fears.
He said: "We were genuinely concerned that it may escalate to a loss of life."
Cllr Price said that 95 hotel jobs had been lost as had a tourism asset. Most worrying was the "great division" that had been caused – division "aided and abetted" by certain people who "care nothing for Llanelli" and didn't even know where it was beforehand.

Welsh Government
Cllr Price thanked the Welsh Government for its support throughout the ordeal, saying that "many people have tried to portray the Welsh Government as evil in this story" but that in reality it had been "nothing short of supportive" of those objecting to the hotel plan.
He added: "We have some people trying to paint a picture that this was somehow driven by local politicians or the Welsh Government. Nothing has been further from the truth."
He said he had spoken to Wales's minister for social justice, Jane Hutt, on "countless occasions" but had not had a single conversation with a UK Government minister.
Welcoming the Home Office's U-turn, Cllr Price said the authority's response to the proposal "was not about saying no" to asylum seekers.
"We have welcomed families from Ukraine, Syria, and Afghanistan and will continue to do so."
Cllr Price added: "It is important that people take time out to reflect about what part they played in the process. There are family friendships that have been tested and it's vitally important that we move on."
Relentless stress
The owners of the hotel said this week that they were in the process of rehiring hotel staff and planned to resume normal services as soon as possible.
Cllr Price said: "There are clearly bridges that need to be built. I am aware of community interest in [acquiring] the hotel. We should do all we can to find a solution which is acceptable locally."
Llanelli councillor Martyn Palfreman said he had always felt the proposal was wrong for the hotel, for Furnace, and for asylum seekers who would have been accommodated there.
Cllr Palfreman, who represents the Hengoed ward, thanked Llanelli MS Lee Waters and MP Dame Nia Griffith for their support despite the "barrage of really unfair criticism" they had received.
He said people living near the hotel had been put under "unspeakable and relentless stress".
He added that those opposing the Home Office plan had been "infiltrated by a number of extremist groups peddling distortions of the truth" and seeking to portray an anti-migrant narrative in Llanelli.
"I still believe that Llanelli is at heart a welcoming community," he said.
Horrendous scenes
Fellow Hengoed councillor Edward Skinner struggled to hide the emotion in his voice when he spoke of "horrendous scenes" over the past few weeks.
He thanked the Furnace Action Committee – the local residents' group which sought to stop the Home Office proposal – and also police for their response to events. "When you see how [police officers] are treated on the streets it's horrendous and terrible," he said.
Speaking to BBC Wales on 10 October, Dyfed-Powys police commissioner Dafydd Llywelyn said he would be asking the Home Office who signed off the business case for the asylum seeker accommodation plan and who would pay the extra costs of policing and other public services.
On the same programme it was put to MP Dame Nia that while she – a senior member of Welsh Labour – took the moral high ground and said Wales was a nation of sanctuary, she objected when just over 200 asylum seekers were earmarked for a town of 35,000 people.
Dame Nia said the hotel was unsuitable from the outset and that in her view the Home Office should have consulted first with the Welsh Government and councils and asked what options there might be in their areas.
She added: "I think the point is we have never shied away from doing our bit. We have accepted asylum seekers dispersed into the community as have other places in Wales."
---
Support our Nation today
For the price of a cup of coffee a month you can help us create an independent, not-for-profit, national news service for the people of Wales, by the people of Wales.