News
Councillors call for more visible police presence after Ely riot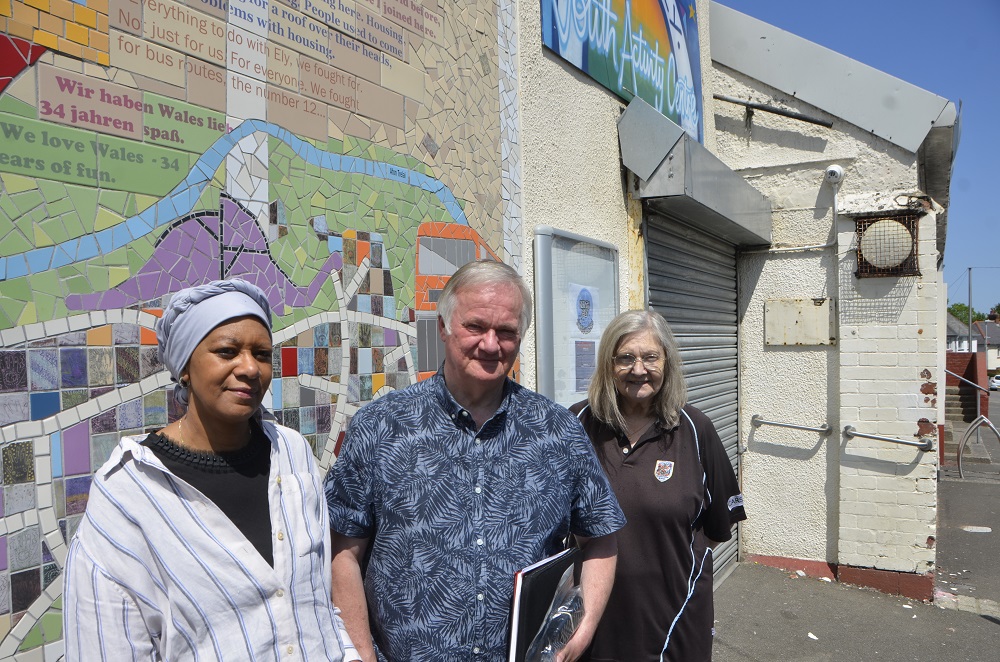 Ted Peskett, local democracy reporter
Councillors representing Ely have said more police visibility in the area could help rebuild trust in public institutions following last week's fatal electric bike crash and riots.
Two teenage boys, Kyrees Sullivan, 16, and Harvey Evans, 15, were killed in the collision which happened on Monday, May 22.
Nine people were arrested in the disorder which followed the crash on Snowden Road, Ely, after it was said that a police vehicle had been pursuing the boys.
CCTV footage shows that a police van was following the teenagers before the crash, despite South Wales Police and Crime Commissioner Alun Michael initially dismissing reports of a chase. He later stood by his comments, saying he had been assured, "there was no police vehicle in the road where the crash happened".
Standing outside the North Ely Youth Centre in Pethybridge Road, Cardiff Council ward members for Ely, Cllr Maliika Kaaba, Cllr Russell Godway and Cllr Irene Humphreys, shared their thoughts on the recent events which turned their community upside down.
"I was nearly in tears when it went on and on for many, many hours," said Cllr Kaaba, in reference to the disorder.
"This is a very sad state of affairs, especially when you have got two young boys who have lost their lives and their life is just starting."
Cllr Kaaba, who spoke to residents in Stanway Road on Tuesday, May 23, said many of them were left shocked by what happened.
She added: "They were looking from their bedroom windows at their community being ripped apart and they were obviously very angry at people for doing this."

Investigation
The Independent Office for Police Conduct (IOPC) has since opened an investigation into the events leading up to the crash.
Cllr Humphreys said: "Obviously, we have to wait for the investigation to go through before we can say anything about what actually happened, but my first thoughts were for the families [of the boys who were killed].
"There is more anger I think against the people who were doing the rioting more than anything else."
Cllr Goodway echoed the sentiment of his fellow ward members, saying: "My first reaction was how dreadful it is for the families in the immediate aftermath, but I just know that this is going to leave a permanent mark on this community and we have got to feel our way because none of us know exactly what happened yet."
At Cardiff Council's annual general meeting on Thursday, May 25, the leader of the council, Cllr Huw Thomas, said it was important that the events and movements in the run up to, and following, the crash were set out publicly as soon as possible.
The council leader went on to call for openness and dialogue as vital components of ensuring trust in public institutions, adding that this trust was "not where it needs to be" in some communities.
When asked how much this was the case in Ely, Cllr Goodway said: "Very much.
"I was commenting the other day that one of the significant changes that I have seen over the period that I have been here is that those parts of the community that you used to be able to rely on to champion the causes of the police, the local authority [and a] sense of authority generally, they are not there anymore because they don't feel as though their concerns are being responded to.
"When they see bikes coming down Grand Avenue doing wheelies, they want the police to do something about that, not just turn a blind eye.
"When you have got anti-social behaviour taking place on Mill Road, they want the authorities to do something about that."
Connected
Cllr Kaaba said she would like to see the police being more connected with certain communities, adding: "I get a sense that that is what is needed – more visibility, more connection, more conversations and more of being integrated with what is going on here.
"It is not about standing back and being less, it is about stepping in and being involved."
South Wales Police and Crime Commissioner Alun Michael said members of his team and the local policing team would "work hard with partners and with the community to build trust and confidence" while making a "positive and lasting difference for the area".
Mr Michael added: "There is no clear cause or justification for the violence but there are clearly issues that are contributory factors that are deep-seated and which require long-term organisational commitment and investment.
"They had been highlighted by local community leaders and elected representatives on many occasions long before the events of last Monday.
"That is why we are already involved in work locally and why there is a need for the UK Government to invest more in supporting work to give hope and opportunity to many of our local communities across the UK.
"The challenges, the social and economic issues and the worries in the community of Ely are replicated in many other areas. They are clear and obvious and they need to be addressed."
The First Minister of Wales, Mark Drakeford, met with representatives of the community in Ely and public agencies on Friday, May 26, to discuss support for the area.
Comforted
Cllr Goodway, who attended the meeting on behalf of his fellow Ely councillors, said he was eventually comforted by discussions after initially having concerns that they could lead to actions being imposed on the community.
He said: "We need support, we need facilitation, and dare I say we need some resource to be able to bring the community together and get them to ventilate their issues, but the solution has to be embedded in this community and not something imposed from outside.
"I got that absolute reassurance from Mark Drakeford and Jane Hutt [on Friday] that that would be the case.
"I was encouraged by that."
Giving her thoughts on how the community moved forward from the recent tragedy, Cllr Kaaba said: "There is a strong community [here] and there are some strong community leaders. They aren't always the ones you would know because they go about their business in a quiet manner.
"They are just here for the people and not for the publicity and it is those community leaders who we will be speaking to and will be talking to and they are quite diverse.
"It has to be a joint venture. It can't be something which is done to the community."
Bread riots
The last time police clashed with people in Ely was during the 1991 bread riots.
About 175 police officers were mobilised to the area at the height of the disorder and the event is still fresh in the memories of many residents, according to Cllr Humphreys.
In reference to the recent tragedy and disorder, she said: "They are still processing exactly what happened. They lived through it 30 years ago and they don't want to go through it again. It is the fact that those two boys were lying in the middle of the road and these people were just rioting.
"They cannot get past that, they are still processing it and it is going to take a while."
Following the meeting between Mark Drakeford and community representatives, a balloon release and vigil was held in Ely to pay tribute to Kyrees Sullivan and Harvey Evans.
About 1,000 people turned up to pay their respects at the spot where the two teenagers died.
Cllr Kaaba said it was a sign of the community's strength and called the event "heartening", whilst Cllr Humphreys and Goodway said they were both encouraged that there was not a repeat of the events which took place on Monday.
"This is for the two boys and that is it," said Cllr Humphreys.
Cllr Goodway said it took the community in Ely a long time to get over the rioting of 1991, adding: "We are determined that we are going to help the community move on this time, but we know it is going to be decades of work."
---
Support our Nation today
For the price of a cup of coffee a month you can help us create an independent, not-for-profit, national news service for the people of Wales, by the people of Wales.