News
Cross party backing for energy support for most vulnerable this winter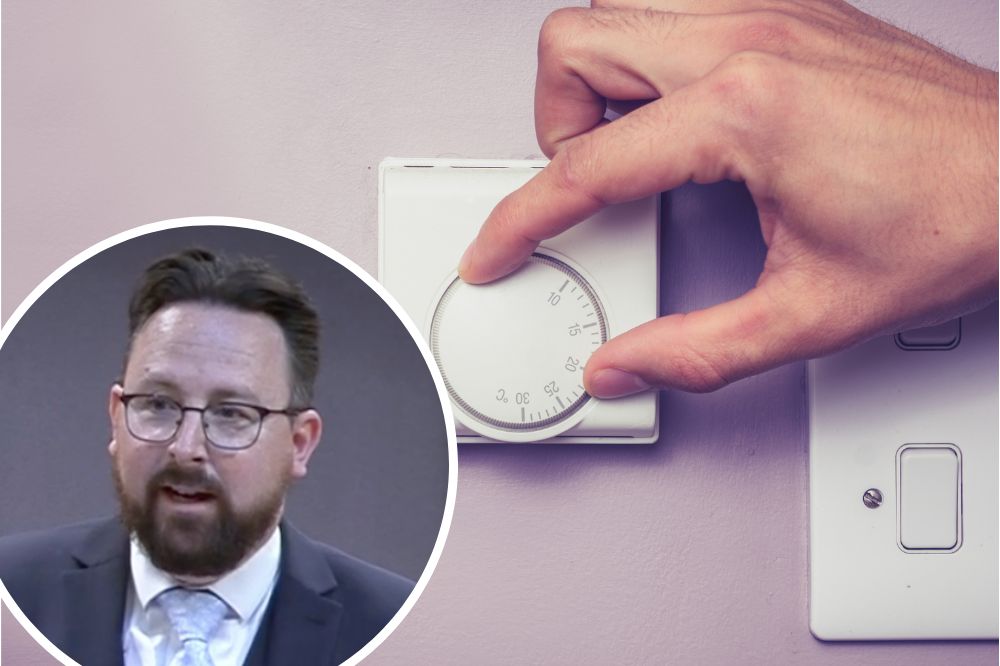 Emily Price
Senedd Members from across the political divide came together on one of the hottest days of the year so far to debate recommendations to protect the most vulnerable people in Wales during the energy crisis this upcoming winter.
The motion put forward by Hefin David MS who worked with Warm This Winter Wales campaigners received cross party backing on Wednesday (June 14) after 15 MSs come together to discuss solutions to the cost of living and energy crises.
Opening the debate, Mr David called on the Welsh Conservatives to work with the Welsh Government on a cross party agreement as the climate crisis, cost of living crisis and an environmental crisis combine towards "hurting those people who are most vulnerable in our communities."
He said: "I'm not going to get into party political battering of the Conservatives, but I will say to them, join the Welsh Government in calling for the UK Government to fill the gaps in social security system that is being created by this out of control inflation that we are seeing at this time.
"Work together, get the UK Government to fill in those gaps. It can happen and it can be done."
The MS for Caerphilly said he wanted to see a Winter 2023 fuel campaign similar to the one run in 2022.
So far the Welsh Government has not indicated whether a similar campaign will run.
Jack Sargeant MS, who has called for a ban on the installation of prepaid meters, supported calls for help for the most vulnerable and described "sickening" footage of agents from British Gas forcing installation of unwanted pre-payment meters.
He said: "Now, the whole experience reinforced to me just how broken our energy market is and how it is completely organised to protect the interest of the suppliers, their shareholders and their executives.
"I recently had the chance to grill some of these top executives from the most common energy suppliers in the UK when they came to give evidence to the Petitions Committee."
Mr Sargeant said that he was still waiting for a response from Scottish Power executive Andrew Ward, who had suggested that if people didn't have prepayment meters they would stop paying their energy bills and they would go on holiday.
Welsh Conservative MS and Chair of the group on fuel poverty and energy efficiency, Mark Isherwood highlighted that 80 per cent of fuel-poor households in Wales live in inefficient homes which is higher than in any other UK nation and said that current schemes are "insufficient to deal with the scale of fuel poverty in Wales".

Schemes
Mr Isherwood said: "The cross-party group believes it is imperative that the Welsh Government now implement the new warm homes programme with urgency, ensuring that the replacement demand-led scheme for NEST is operational this winter with eligibility and scale confirmed.
"Speaking here as Chair of the cross-party group on fuel poverty and energy efficiency, last year, I called for the scheme's eligibility criteria to be extended and was grateful when the Minister subsequently did this.
"However, questioning the Social Justice Minister here in January, and again last month, following the Welsh Government's announcement that it was not continuing the winter fuel scheme beyond 2022-23, I asked her whether this would be scrapped entirely, replaced by the original £100 payment or replaced by something else. I'd be grateful if the Minster could answer this now."
Minister for Social Justice, Jane Hutt said the Welsh Government had used the full means at its disposal to help those most in need with schemes such as fuel support scheme which supported over 340,000 families in Wales.
Jane Hutt said: "We are not able to continue with that scheme this year as our funding allocation from the UK Government was insufficient to enable us to repeat many of the schemes."
Ms Hutt added that she was pleased that support for those on pre-payment meters was still available as were warm hubs and welcome centres.
Hefin David thanked Bethan Sayed from Warm This Winter Wales for her work on the campaign highlighting issues and developing the motion.
Crisis
Speaking ahead of the debate Bethan Sayed said: "We are grateful to Hefin David MS, and the other 14 MS's who signed to support this important debate which is taking place on Wednesday.
"We are in the middle of multiple crises- costs of living, energy and a climate emergency. We have the solutions at our fingertips- by investing in more energy efficiency measures for our homes, and upscaling renewable energy projects in Wales, we can make a difference to people's lives on the ground by helping them to lower their bills and grow the Welsh economy, as well as working to save the planet at the same time.
Hefin David MS said: "There is always more that we can do to help vulnerable people this winter. I'll be meeting with Friends of the Earth Caerphilly later this week to discuss the outcome of the debate and hear their views and those of Caerphilly residents.
"Thanks to my Labour colleague Jack Sargeant MS and Liberal Democrat member Jane Dodds MS for their support in co-submitting the motion. Thanks to members from across Plaid Cymru and Labour for their support also."
Closing the debate, Hefin David said: "The wealthiest people, the suppliers, the stakeholders and executives are so far removed from reality that they do not understand the plight of people in the communities that we represent in Wales and that cuts to the heart of this debate."
The motion was agreed unanimously.
---
Support our Nation today
For the price of a cup of coffee a month you can help us create an independent, not-for-profit, national news service for the people of Wales, by the people of Wales.