News
Dafydd Iwan to address rally calling for government action to protect the Welsh language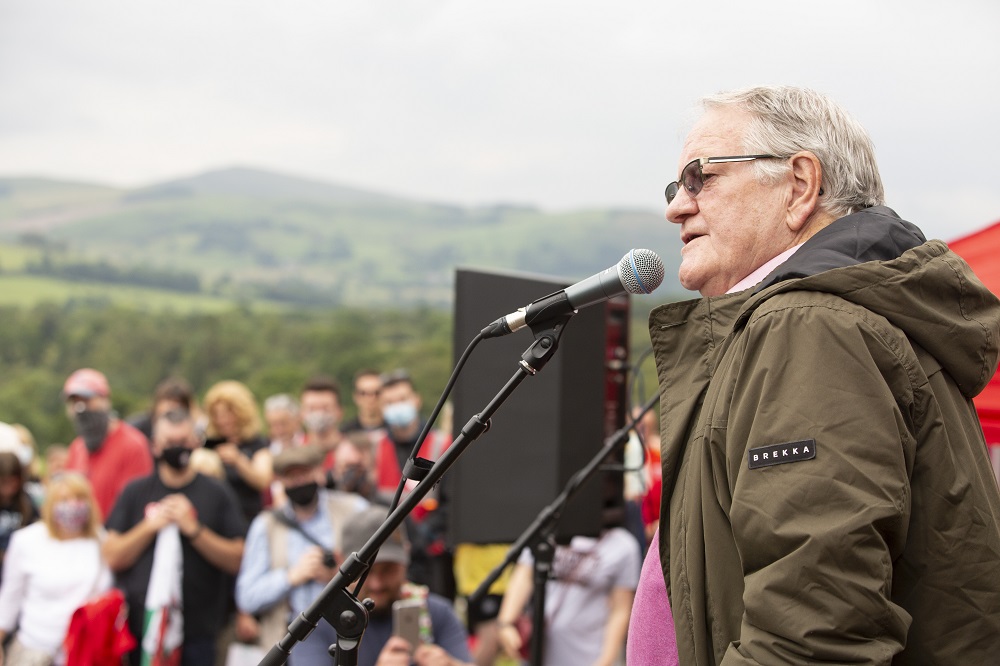 Cymdeithas yr Iaith has announced that Dafydd Iwan will be the guest speaker at its rally in Carmarthen on Saturday (14 January)
The rally will call for urgent Government action on the Welsh language and Welsh speaking communities following the publication of the Census results last month which revealed the biggest fall in the proportion of Welsh-speakers was in Carmarthenshire.
The 2021 census figures released last month showed number of Welsh speakers in Wales has fallen for the second decade in a row.
In 2021, an estimated 538,000 residents in Wales aged three years and over (17.8%) reported being able to speak Welsh, which is a decrease since 2011 (562,000,19.0%).
It means that there are 24,000 fewer Welsh speakers in Wales than there were 10 years ago.
The figure comes after the overall number of Welsh speakers decreased from 582,000 (20.8%) in 2001 to 562,000 (19%) in 2011.
The percentage of usual residents aged three years and over able to speak Welsh decreased between 2011 and 2021 in all local authorities except Cardiff, Vale of Glamorgan, Rhondda Cynon Taf, and Merthyr Tydfil.

County Hall
Hundreds of people are expected to assemble outside County Hall in Carmarthen for the rally which will be attended by the leader of Carmarthenshire Council Darren Price, and addressed by Cabinet member with responsibility for Education and the Welsh language, Cllr. Glynog Davies.
Campaigners will then march through the town to the Welsh Government offices in Picton Terrace where Cymdeithas' demands for a national framework to promote the language will be presented.
Cymdeithas Communications Officer in Carmarthenshire Ffred Ffransis said: "Whereas there is still a lot to be achieved here in Carmarthenshire, we recognise that the County Council is now working through a strategy to promote Welsh as the main language of the county again.
"The revival of the language and Welsh-speaking communities is, however, nowhere near the top of the priorities of the Welsh Government in Cardiff Bay, and we shall be presenting a reasoned set of demands for urgent action.
Mr Ffransis added "We are delighted that Dafydd Iwan has chosen to be with us and address the rally despite all the other calls on his time. Dafydd was born and spent his childhood here in Brynaman Carmarthenshire at a time when 78% of the people of the county spoke Welsh.
"That proportion has now halved, and yet we are sure that Dafydd will remind us that the language belongs to all and inspire us to work for the revival of the language and our communities. A flag will be on display bearing his famous words 'Yma o Hyd' reminding all that we are still here, and intent on pressing the Government into action".
---
Support our Nation today
For the price of a cup of coffee a month you can help us create an independent, not-for-profit, national news service for the people of Wales, by the people of Wales.