News
David TC Davies' father-in-law 'waited 27 hours for admission to hospital after accident'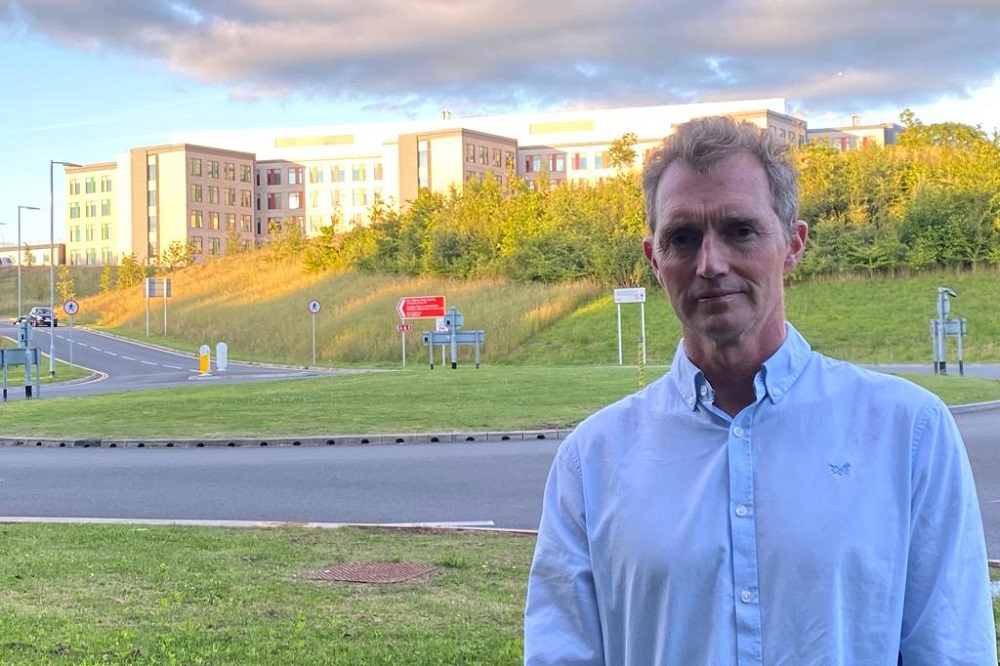 Martin Shipton
The state of the NHS in Wales has been branded a "national scandal" by the Welsh Secretary David TC Davies after his elderly father-in-law was left waiting nearly 27 hours to be admitted to Gwent's flagship hospital with a spinal injury.
The Monmouth Tory MP said long ambulance waits and poor hospital handover times have sadly been a "part of daily life" facing Monmouthshire residents for several years.
He described a catalogue of "disgraceful" delays following 72-year-old Joe's serious fall as yet another example of "systematic healthcare failings".
An accident at the MP's family home in Monmouth left the retired farmer, who is visiting from Hungary, unable to sit upright or stand. He slipped backwards down a flight of garden steps, badly hurting his back, and had to drag himself indoors by his hands before raising the alarm.
Mr Davies' wife, Aliz, who was across the border in England at the time, immediately called 111 but was told they were unable to help as the incident had happened in Wales. She was instead advised to contact the emergency services.
An initial 999 call was made at 10:55am on Monday October 30 when an operator said Joe had to be assessed before an ambulance could be sent and medical staff would call within two hours.
At 1:35pm, following a further 999 call, he was assessed over the phone by a nurse. She said he needed to be sent to hospital, but an ambulance would take four hours to arrive.
However, the family heard nothing until 10:30pm when the emergency services rang to apologise for the continued delay, saying Joe's case had been upgraded to "urgent".
"My wife even asked at one point if she could drive her father to hospital," said Mr Davies. "He was in significant discomfort and while he might have been able to take enough painkillers to endure the journey by lying down across the back of the car, Aliz would have needed help to get him out.
"She was told he would have to wait in a chair at the hospital, which was obviously not an option as he couldn't sit. The operator said there was nothing much they could do except to keep waiting for an ambulance."
Paramedics eventually arrived at 4am on Tuesday morning – 17 hours after the initial 999 call.

Queue
Yet the ordeal didn't end there. Joe was taken to The Grange University Hospital at Llanfrechfa, where his ambulance was forced to wait in a queue outside the emergency department for another seven hours.
He was assessed by a doctor who ordered a CT scan – but that could only take place once a bed became free. It wasn't until 1:45pm on Tuesday that he was finally admitted.
"My father-in-law is an extremely tough man and the staff who did treat him were wonderful, but this was a hugely distressing incident," said Mr Davies.
"It is shameful and scandalous that an elderly man, who could have suffered a serious injury, was left waiting to get into hospital for more than 24 hours.
"Sadly, I am not completely surprised because this is part of daily life for my constituents, day in, day out. Many people have experienced serious issues and while I received another appalling healthcare complaint over the weekend, I realise there are some patients who may not want to come forward and talk about it."
Independent inquiry
Mr Davies has repeatedly called for an independent inquiry into The Grange and accused the Welsh Government of "burying its head in the sand" after a damning report last year by Health Inspectorate Wales said urgent improvements were needed at the hospital's emergency department amid concerns patients are not consistently receiving an acceptable standard of care.
"The Grange is not good enough. It is not delivering and nobody can say it has been a great success," he said.
"When proposals were first announced to downgrade A&E at Nevill Hall Hospital in Abergavenny to a Minor Injury Unit – which is ironically now under threat of overnight closure – health bosses and consultants personally assured me that the extra journey time it would take for patients travelling the longer distance to Llanfrechfa would be compensated for by the new specialist and critical care 'centre of excellence' at The Grange, alongside a much better level of service in the ambulance en route.
"The sad reality is ambulances are not turning up and when they do, patients are facing unacceptably long waits to be seen. You can understand why people are deeply worried and upset."
Mr Davies stressed the situation is "no fault of our first-class health professionals, who are working around the clock to keep us safe".
He instead firmly laid blame at the door of the Welsh Government, which controls the Welsh NHS and has been run by Labour for more than 20 years.
"Despite increased funding from the UK Government, Labour has previously cut the health budget in Wales, which now has the worst waiting times in the whole of the UK," added Mr Davies.
"It is outrageous that they can find £130m of taxpayers' money to create more politicians in the Welsh Parliament and £33m to impose the 20mph blanket policy, yet they're forcing health boards to make massive financial cuts. This is an absolute disgrace.
"It is a national scandal. Every single power the Welsh Labour Government has responsibility for in Wales – health, education, transport, environment – they are drastically failing in. And this is what is in store for the rest of the UK if Keir Starmer comes to power.
"After all, he constantly bleats that the Welsh Government's track record is a blueprint for what a Labour UK Government would roll out to the rest of Britain."
Mr Davies said his father-in-law had now been discharged from hospital and is recovering at home.
A Welsh Government spokesperson said: "We were sorry to learn about the patient's experience.
We have been clear with the Aneurin Bevan health board of our expectations for improvement in ambulance patient handover performance to free up vehicles to support faster responses.
"All health boards and the Welsh Ambulance Service Trust have joint ambulance improvement plans in place to improve speed of ambulance responses and management of 999 patients in the community.
"Despite continued budget pressures we are investing in same day emergency care and extra community beds as well as integrated solutions with social care services to improve patient flow through hospitals; and tackle ambulance handover delays."
The spokesperson added that Wales has outperformed England in major emergency department performance in 10 out of the last 13 months for people spending fewer than four hours in emergency departments before returning home or being admitted to hospital.
---
Support our Nation today
For the price of a cup of coffee a month you can help us create an independent, not-for-profit, national news service for the people of Wales, by the people of Wales.