News
'Dead cat' claim over 20mph speed limit introduction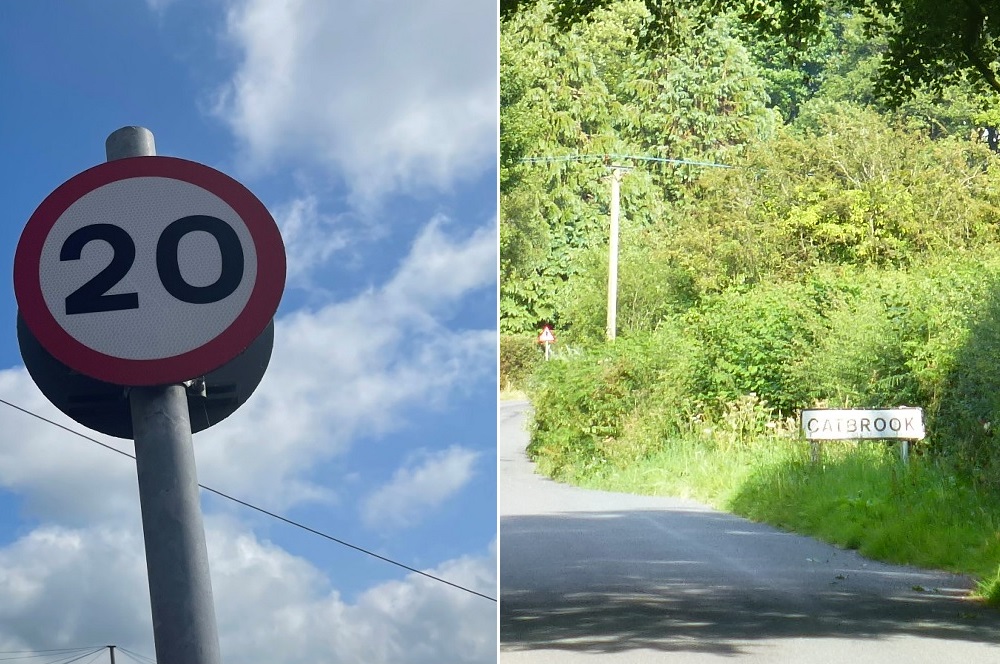 Twm Owen, local democracy reporter
A twenty-mile-per-hour speed limit to be introduced in a rural village is in response to demands for action after a cat was run over, it has been claimed.
A host of new, lower speed limits are being introduced by Monmouthshire County Council including in areas where the 20mph maximum to come into force across Wales from this September, wouldn't apply.
The council has approved making named rural villages, some of which drivers can currently legally zoom through at speeds of up to 60mph, subject to the lower limit as they haven't got the number of streetlight required to be considered a "built up area" where the 20mph limit will automatically apply.
But one resident, who responded to the council's consultation, claimed Catbrook, one of several Wye Valley villages where the 20mph limit will be introduced, doesn't have a problem with speeding vehicles as those calling for the lower speed limit had claimed.
Instead the respondent said they believed the call for a "tedious 20mph limit" was started in response to the death of a cat.

Catalyst
The resident, who responded via an online form, alleged: "I am not aware of any incident in Catbrook in the last 23 years where an accident and harm has been caused by a speeding vehicle. Unfortunately, and sadly for the owners, a cat was run over in the village a couple of years ago. I believe this has acted as a catalyst for a campaign from a limited number of villagers for an unreasonably low speed limit in the village."
The respondent also admitted to having ran over a cat themselves, but said it wasn't the one which had sparked the calls for action. They claimed there would be more justification in placing restrictions on pet owners.
They wrote: "I have run over a cat myself (though not this one). I was not speeding, and the animal just dashed across the road and under my wheels. There was nothing I could do to avoid it.
"On the evidence in Catbrook therefore, a more effective road safety measure might be to sanction people for not controlling their animals rather than imposing a tedious 20mph speed limit."
The respondent said they feared drivers may be more likely to cause an accident by swerving to avoid cats and they were also one of several people to object to new speed limit signs, fearing they could spoil the rural nature of the villages. Other respondents claimed the layout of the roads meant reaching top speeds isn't achievable.
Monmouthshire council's Labour cabinet member for transport, Catrin Maby, has said she is content to introduce the lower speed limit in Catbrook, and other areas, saying an inquiry to hear the objections isn't necessary.
Road safety
Where the council has departed from 2009 guidance, issued by the Welsh Government, on setting speed limits it says it is doing to as lower speeds will encourage those who wish to walk or cycle and improve road safety, and that it is anticipating new guidance from the Welsh Government.
As well as in Catbrook community wide 20mph limits will be introduced in the Wye Valley villages of Broadstone, Llandogo, Llanishen, Penallt, Parkhouse, St Arvans, The Narth and Tintern while there will be 30mph zones where traffic enters and exits the villages from national speed limit roads.
Reducing the speed limit has also been included as a priority action in the adopted Wye Valley Villages Improvement Plan.
A trial 20mph limit has been in place in Tintern, since 2020, and the trial lower limit in Raglan will also be made permanent.
In Llandogo, the proposal has been amended slightly to exclude The Woodlands and Holmfield Drive both unadopted roads, previously included in error.
A 20mph limit is also to be extended across nearly all roads in Usk with currently only the main road through the town subject to the lower limit.
In Monmouth, following a request by Cllr Jane Lucas, Old Dixton Road will now be included in the community wide 20mph area after it was left out in March 2022.
The 60mph stretch of the B4245 between Undy and Llanvihangel Rogiet will be reduced to 40mph to bring it into line with the limit in those villages. A 40mph limit in Llanbadoc is being reduced to 30mph.
In Dingestow, which is north of the A40 between Raglan and Monmouth, the limit will be reduced from 30mph to 20mph while the new lower limit will also be enforced in Mitchel Troy village and at Mitchel Troy Common.
There were a total of 44 responses to the consulation with 17 disagreeing, 13 that "somewhat agreed" and 14 which agreed with the proposals.
---
Support our Nation today
For the price of a cup of coffee a month you can help us create an independent, not-for-profit, national news service for the people of Wales, by the people of Wales.