News
Decline of National Theatre Wales 'a national scandal'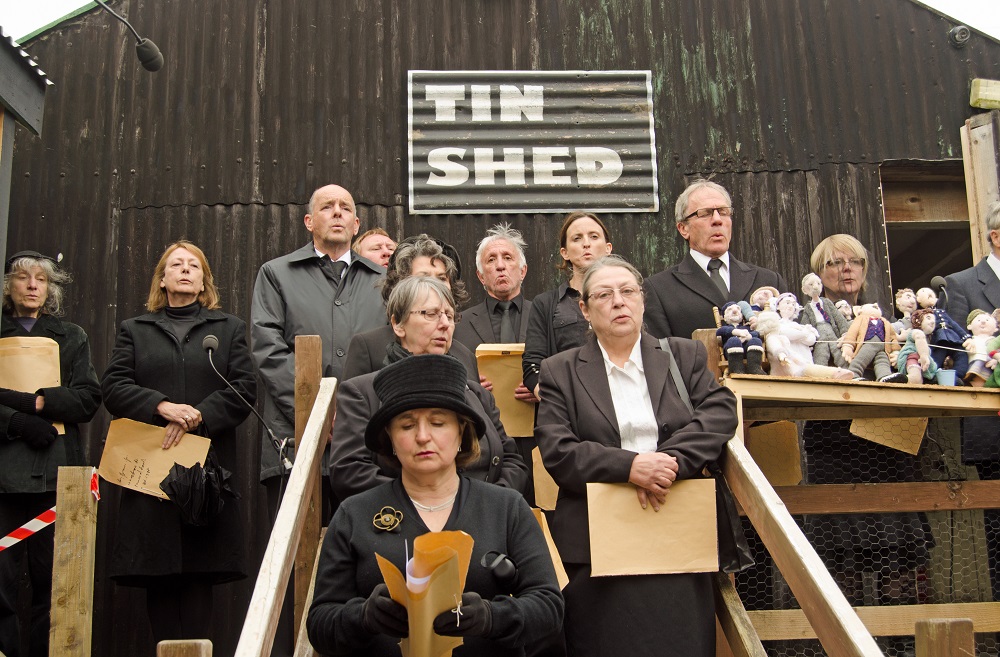 Martin Shipton
The decline of National Theatre Wales to the point that it's had all its funding withdrawn by the Arts Council of Wales is "an absolute national scandal" according to one of Wales' leading arts commentators.
Gary Raymond, who edits Wales Arts Review and presents BBC Radio Wales' Arts Show, made the comment during a press briefing following the announcement of ACW's Investment Review, in which a total of £29.6m received from the Welsh Government and the National Lottery was allocated.
At the same press briefing the chief executive of ACW acknowledged that some arts companies may close as a result of funding decisions that leave them without grants.
Nine arts companies, including National Theatre Wales (NTW) lost out and failed to secure renewal of their multi-year funding.

Shocked
NTW put out a statement which said: "National Theatre Wales is deeply shocked to receive news from Arts Council Wales that we have not been offered ongoing revenue funding from April 2024.
"We are aware that we are not alone; many publicly-funded charities like ours and public sector bodies are facing funding cuts, both in Wales and UK-wide. We will work with partners and funders to develop a picture of what is possible for our charity going forwards.
"The theatre we make places audiences – the people of Wales – at the heart of what we do. Our unique approach to collaborating with and involving communities in creating theatre has become globally renowned and our theatre productions have won international acclaim. During our first 12 years, we have connected with 331,000 live audience members; last year, we reached 2.5 million people digitally and 54% of our 34,000 audiences were children and young people.
"We make positive impacts on the lives of all the individuals and communities we work with – from building confidence in self-expression and self-worth through to improved community cohesion and mental health. We collaborate with partners in the health, education and social justice sectors as a crucial tool in the delivery of their work.
"We have been creating a nationwide community of theatre makers. Over 104,000 people across Wales have been involved in creating theatre projects with us through our award-winning community-based project, TEAM. We created jobs and employment opportunities for over 645 theatre makers in the last year. We have always invested in upskilling theatre makers: in 2022/23, we reached 6,500 people through over 80 training sessions, workshops and events focused on skills and professional development.
"During this challenging time, the well-being of our staff and the theatre makers and communities we work with is paramount. This decision will impact every one of those people: reducing opportunities to engage with theatre, to gain creative employment and to tell the stories of Wales across the nation and to the world.
"While this news means that we will have to rethink our plans, we invite you to come and support us and see Circle of Fifths [a multimedia show centred on Butetown, Cardiff] as we tour across Wales this autumn."
Investigation
During the press briefing, Mr Raymond addressed ACW chief executive Dafydd Rhys saying: "I think the Arts Council certainly should be applauded for undertaking such a thankless task. It's one that is colossal and you're never going to get every decision spot on and there's always going to be critics, no matter what.
"I'm just wondering whether this review of English language theatre you've suggested is going to involve an investigation into how National Theatre Wales was allowed to decline to the position where the funding was entirely pulled. It seems to me that this is an absolute national scandal that the Arts Council bears some responsibility for. I think there should be an investigation into how, over the last several years, NTW has been allowed to decline to the extent that it has.
"This is specifically about NTW because the other companies not getting their funding renewed are not national companies. They don't have the word 'national' in their title. And it's an international embarrassment, what's happened with NTW. This isn't a criticism of the Arts Council's decision, because I don't think anybody's that surprised. I'd like to know whether this review is going to involve a very open and transparent investigation into how NTW has failed so catastrophically in the last few years."
Mr Rhys responded: "We haven't agreed on the remit for the review because we are allowing the appeals process – NTW might be going down that route – to happen first. But even though the remit hasn't been agreed, I think we've all got to learn lessons.
"We need a set of guidelines as to what we would expect from the English language theatre sector in Wales – what are our aspirations as a nation? I think that's the discussion we need to have."
Close
Asked whether any arts companies were likely to close as a result of the withdrawal of funding, Mr Rhys said: "I actually phoned every organisation personally before they received emails and before it went out publicly, as a matter of courtesy.
"It's a sensitive time. Some, I think, will look upon our project funding route. By not continuing multi-year funding, it doesn't mean to say that we don't want a relationship with those organisations moving forward. It just means that the nature of our relationship has to change. Some were saying it's difficult and it might mean they close. Others were more philosophical, thinking maybe they could work in partnership with others.
"We also mentioned what we're referring to as 'strategic interventions' [in locations and art forms] and some have mentioned that they'd like to see more detail on that before they decide where and how they might continue. So it's a mix."
Mr Rhys wouldn't discuss individual arts companies because those who have had their funding cut can appeal. But responding to those who argue that at a time of austerity funding should be taken away from the arts and diverted to the health service and education, Mr Rhys said: "In terms of funding for the arts, we play a particular role in society. It's what gives us joy, it's what gives us soul, it's what gives us emotion. It helps bring communities together. It gives communities those joyous moments of gathering.
"And in terms of the arts activity itself, we contribute so much to the health agenda, we contribute to the education agenda, specifically in Wales. I think that in Wales we have an understanding that the arts play across many levels of the community and that's part of the advocacy we have to do to justify expenditure in the arts.
"In the future I think that's going to become more important in the work we do. The arts also allow us to perform, to be part of the world stage – to show that our voices, the voices of Wales, are as equal and valid as voices from any other part of the world."
---
Support our Nation today
For the price of a cup of coffee a month you can help us create an independent, not-for-profit, national news service for the people of Wales, by the people of Wales.