News
Campaigners take part in Cardiff 'Not My King protest'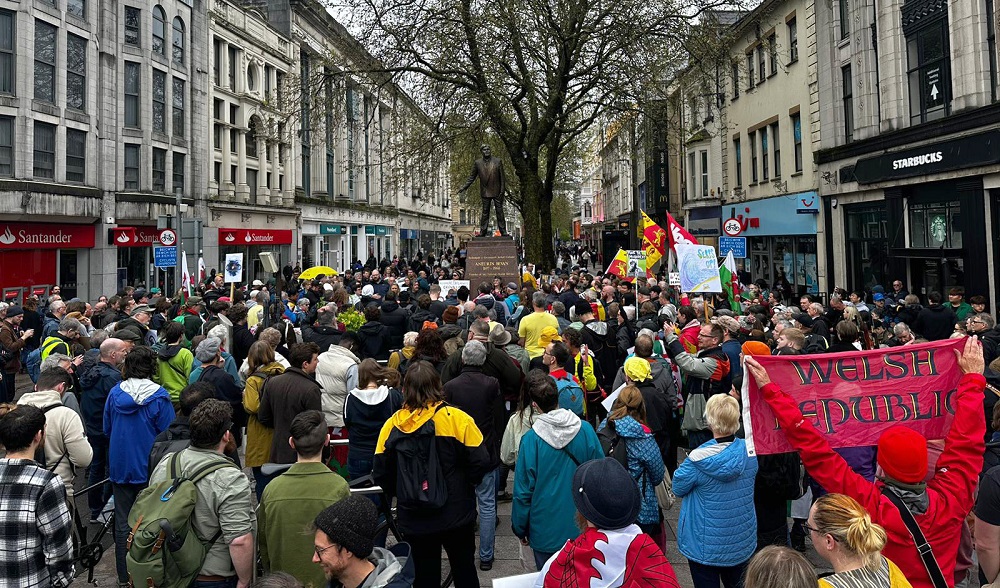 Demonstrators have taken part in a 'Not My King protest' organised by Republic Cymru in Cardiff City Centre following the coronation.
Hundreds of demonstrators gathered outside Cardiff Castle to sing Welsh national anthem, Hen wlad fy nhadau at the end of the march.
Anti-monarchy protestors sing the Welsh national anthem, Hen wlad fy nhadau, on Saturday outside Cardiff Castle 🎶

Earlier, officials told @SkyNews that 2,500 people had gathered inside Cardiff Castle to witness the coronation on a big screen pic.twitter.com/Oa3tREwNLM

— Tomos Evans (@TomosGruffydd) May 6, 2023
Retired teachers John and Tracy, from Abergavenny, said they have joined the rally because they felt "sickened" by the amount of money spent on one family while many are living in poverty.
Tracy, who did not want to give her last name, said she spent hours decorating a yellow umbrella with the words 'Pay your taxes, stop taking ours' and 'End the reign'.
She told PA news agency: "We are ordinary people who spent 35 years in teaching, bringing up our three children on barely enough money to get by, and we are sickened by the amount of money that's been thrown away on one person and his family.
"When there are, and we've watched, children who've had to go to food banks and go hungry in schools.
"We've watched children who enter social services and have the worst kind of lives you can imagine.
"It's obscene what's happening at the moment. Just obscene."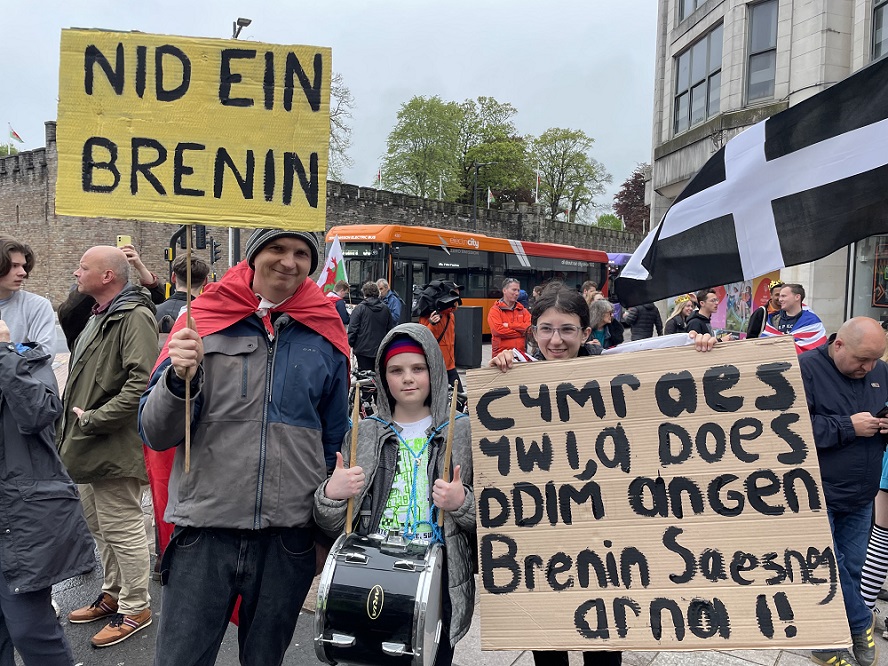 Democracy
Kev O'Connor, 40, from Mountain Ash, said he was attending the anti-monarchy protest with his son Gruffudd, 12, and daughter Gwenllian, 14, to campaign for democracy.
Holding signs reading Not My King, Mr O'Connor said: "I'm here today because we are supposedly a modern country living in the 21st century and it makes no sense for us to be giving money to people who have billions of pounds already. That's nothing to celebrate.
"We're out here because we think we should live in a proper democracy without a monarchy.
"I think that's quite a strong feeling here in Wales, stronger than ever before.
"Ultimately, you've got people being told by the Government that they have to accept we're worse off, and yet we're also supposed to go and have a party for billionaires. It makes no sense."
---
Support our Nation today
For the price of a cup of coffee a month you can help us create an independent, not-for-profit, national news service for the people of Wales, by the people of Wales.