News
Devolution 'becoming unworkable', warns Scottish First Minister in attack on 'interfering' Tories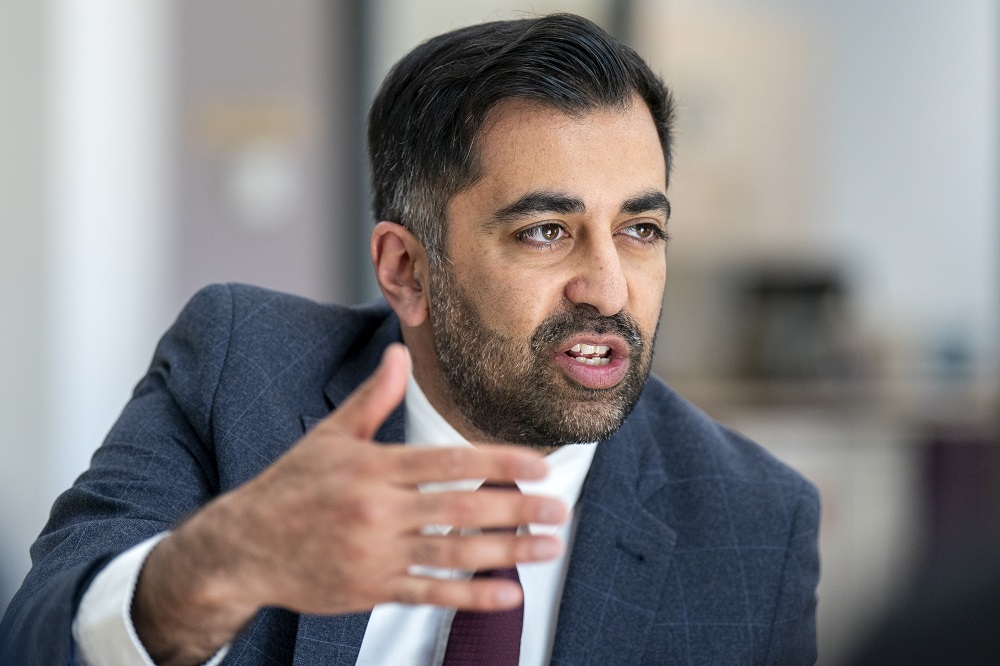 Scotland's First Minister has warned devolution is "becoming unworkable", as he blasted the actions of an "interfering" Conservative Government at Westminster.
Humza Yousaf said recent events had highlighted the "grim reality" that "even the limited measure of self-government that devolution provides is no longer guaranteed".
He hit out at the Tories for what he branded a series of "unprecedented assaults" on the powers of the Scottish Parliament.
But Mr Yousaf also urged UK Labour leader Sir Keir Starmer to show his support for devolution – although he claimed: "When it comes to standing up for our Parliament, Keir Starmer has been posted missing."
Mr Yousaf was speaking in the wake of the latest row between the Scottish and UK governments, which resulted in ministers at Holyrood postponing plans for a deposit return scheme for drinks cans and bottles from March next year to October 2025, so it comes in alongside a scheme south of the border.

Legal challenge
The Scottish First Minister has also vowed to mount a legal challenge after Westminster used its powers to block reforms to the gender recognition process for trans people which were passed by Holyrood.
Foreign Secretary James Cleverly has also come in for criticism, after he urged UK officials to adopt a "strengthened approach" to overseas visits by Scottish ministers, ensuring Westminster representatives are always in the room for any meetings with foreign governments.
Hitting out at the Conservative administration at Westminster, Mr Yousaf insisted: "The last few weeks have brought into sharp focus the grim reality that under Westminster control, even the limited measure of self-government that devolution provides is no longer guaranteed.
"It is the case that this Tory Government has ensured that devolution in Scotland is becoming unworkable."
Mr Yousaf said politicians at Holyrood are "facing a steady erosion of the powers of our Parliament", with this including the "routine undermining" of the Sewel Convention, which is meant to ensure Westminster does not legislate in areas devolved to Holyrood without consent.
The SNP leader went on to attack UK Government ministers for "blocking laws passed by a majority of MSPs in explicitly devolved areas", as he also accused senior Tories of "interfering in the Scottish Government's vital work abroad".
Mr Yousaf concluded: "All of this amounts to a pattern of unprecedented assaults on the Scottish Parliament – putting the entire devolution settlement at risk."
To tackle this, he said there must be "urgent and meaningful action" from the parties which supported the establishment of the Scottish Parliament in 1999.
While Tony Blair's Labour government created the devolved administrations in Edinburgh and Cardiff, Mr Yousaf insisted the current UK Labour leader and his party in Scotland have done "absolutely nothing" in response to the Tories in Westminster.
"When it comes to standing up for our Parliament, Keir Starmer has been posted missing," the First Minister claimed.
"Labour in London or Scotland have done absolutely nothing to protect people here from the Tories and their attempts to stop the Scottish Government from legislating in entirely devolved areas."
He insisted there is now "a real opportunity for Keir Starmer to show that he supports the basic principles of democracy, and devolution", adding the Labour leader must "recognise that urgently, or his party risks ending up on the wrong side of history".
Committed
A UK Government spokesman said it was "committed to working constructively with the Scottish Government to tackle our shared challenges".
"That is what families and businesses in Scotland expect. That includes working together through our jointly agreed co-operation arrangements, and through the many projects in Scotland being delivered jointly by Scotland's two governments, including city and growth deals and freeports," the spokesman said.
"The UK Government is delivering for people in Scotland and right across the UK, concentrating on halving inflation, growing our economy.
"In Scotland we are working directly with local communities to invest £2.3 billion in a range of projects to improve communities and increase prosperity.
"That is on top of a record block grant for the Scottish Government of £41 billion a year."
---
Support our Nation today
For the price of a cup of coffee a month you can help us create an independent, not-for-profit, national news service for the people of Wales, by the people of Wales.