News
Drakeford says introduction of 20mph default speed limit will not lead to loss of votes for Labour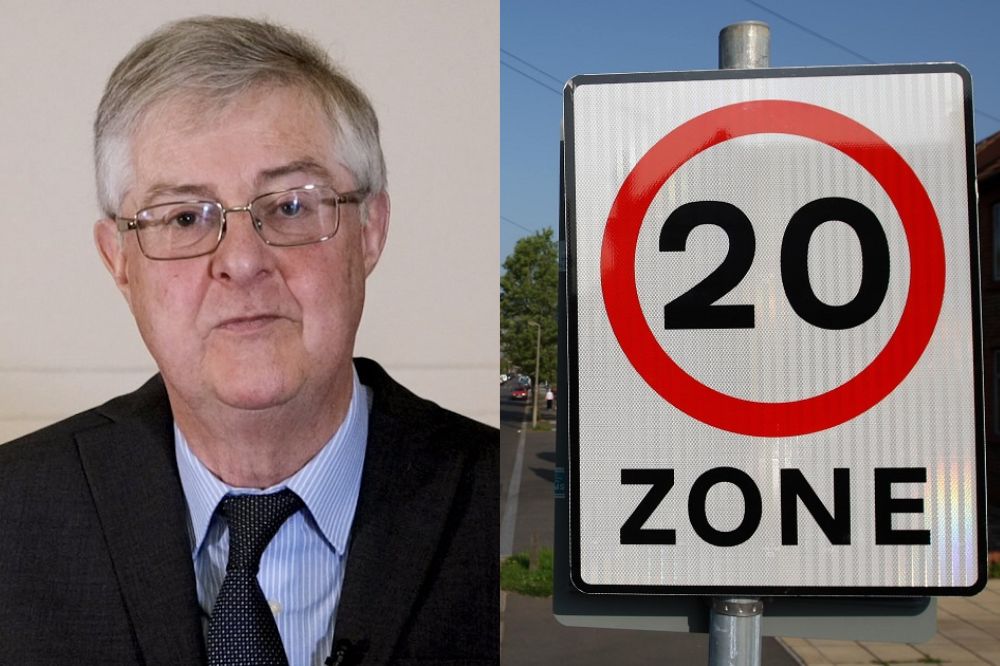 The First Minister has said that the Welsh Government's decision to reduce the default speed limit to 20mph will not lead to a loss of votes for his party.
Speaking at the Labour Party conference in Liverpool, Mark Drakeford also said Labour's record in government in Wales was never going to be "writ large" as the blueprint for a Westminster government.
The introduction of the new speed limit last month has drawn harsh criticism from some, with senior Conservatives claiming at their conference that similar measures could be introduced under a Labour government in Westminster.
Labour leader Sir Keir Starmer has distanced himself from previous remarks in which he described Mr Drakeford's administration as a "blueprint" for his own programme for government.
But Mr Drakeford appeared unfazed by this, telling the Press Association that he expected Sir Keir to "look around at everything" being done by Labour politicians across the UK, including metro mayors Steve Rotheram and Andy Burnham, as well as Welsh Labour.
He went on: "Then to look at all those things and then to draw on them informing the policy prospectus of the next Labour Government.
"Wales will certainly play our part in that, but the idea that the United Kingdom was going to be Wales writ large, I don't think that was ever a serious idea."

Further devolution 
Mr Drakeford also said he would welcome further devolution of power if Labour were to win the next general election, including plans to devolve youth justice and probation to Wales as recommended by former prime minister Gordon Brown.
But he added that the "first job" of a Labour government would be to protect the existing devolution settlement from what he called "rogue" Westminster governments.
Mr Drakeford has previously criticised former prime ministers Boris Johnson and Liz Truss and PM Rishi Sunak for not engaging with devolved authorities, and for apparent attempts to overrule decisions made in Scotland and Wales.
"In a constitutional sense what we really need the next Labour government to do is to entrench the devolution settlement so that it is no longer vulnerable to the actions of a rogue government of the sort we have seen since 2019," Mr Drakeford said.
"So the first job of an incoming Labour government in this case is actually to use the Brown report's prescriptions to put the devolution settlement on a footing that is protected against a future government of the sort we have just seen."
The Labour First Minister said he "absolutely" did not think that the 20mph default speed limit implemented in Wales would lose Labour votes at the general election, nor the next Senedd poll.
He told PA: "What we are accused of is a policy that saves people's lives, a policy that will prevent people from dying and will prevent thousands of serious accidents on our roads and will save the time and the money of our emergency services, will give people back the streets that they live on so that they become more liveable.
"What we are asking everybody to do is to drive a little bit more slowly in order to achieve those aims. I think that bargain, as people see it practically, they will see it for the modest bargain it is."
He added that similar measures were being pursued by councils across England, and that decisions were "just part of a movement that is far beyond Wales and far beyond the United Kingdom".
Co-operation deal
Mr Drakeford was also unconcerned that Plaid Cymru does not wish to renew its Senedd co-operation deal with his party once it expires.
Plaid's leader Rhun ap Iorwerth has told the media his party will not seek to renew the three-year deal once it expires.
Mr Drakeford told PA: "In December we will be two years through a three-year agreement and Plaid Cymru are committed to completing the three-year deal. By then, we will be within 15 months of a Senedd election.
"I don't suppose it was ever my expectation that as parties gear up for an election that we would have the same sort of detailed, formal, written-down close co-operation we have had on those issues."
But he said he did expect informal co-operation to continue once the deal ends.
He said: "It becomes a bit more challenging as elections approach of course, that is the nature of politics, but I am also sure that people who have the best interests of the Senedd and of Wales at heart will still want to co-operate where that is in everybody's interest."
---
Support our Nation today
For the price of a cup of coffee a month you can help us create an independent, not-for-profit, national news service for the people of Wales, by the people of Wales.