News
Drakeford speech marred by silent protest over women's safety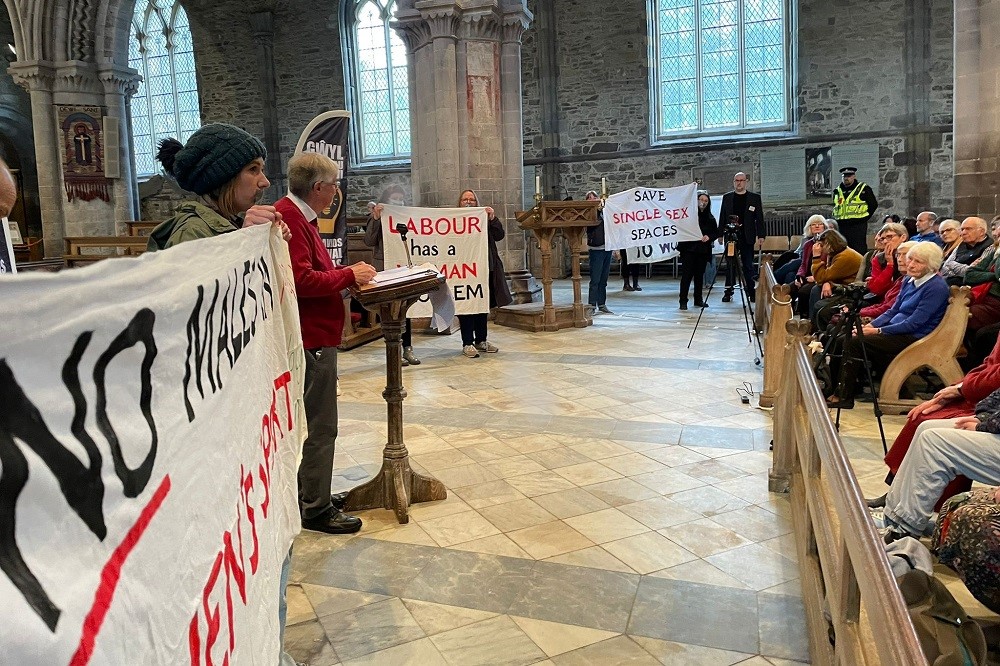 A silent protest accompanied the talk given by First Minister Mark Drakeford at the Festival of Ideas in St David's Cathedral yesterday.
A group of women carrying banners, quietly joined the First Minister as he delivered a talk on 'Wales: the big picture' in front of a full audience.
Mr Drakeford paused in his address as they made their way down the aisle but made no reference to the women who stayed in position until the end of his speech.
Their banners bore slogans advocating for the protection of single sex spaces and sports and one said: 'Labour has a Women Problem'.
As Mr Drakeford ended his speech to applause and went to sit down, the protesters moved across the church, lining their banners up before leaving.
A woman from the audience rushed forwards and grabbed the banners, and threw them to the floor, shouting at the women in Welsh.
The audience stood and the applause continued as the protesters left the Cathedral, accompanied by security, where they handed out leaflets before dispersing without further incident.
Dialogue
A spokeswoman for the protesters said afterwards: "We deliberately chose to have a silent and respectful protest, aware of our surroundings and in full support of the concept of a festival of ideas.
"For the last four years Mark Drakeford and his ministers have refused to speak to representatives of women's groups in Wales regarding the safeguarding concerns we have about maintaining single sex spaces and women's sports.
"Last autumn he promised at a public event that Julie James MS would organise a meeting with the concerned groups, but despite polite requests, this meeting is yet to be scheduled.
"We felt that this protest was our only option to be seen and heard. We were politely asked to leave as our presence was unexpected, but we presented cards explaining that it was a peaceful and silent protest and Mr Drakeford said he was happy for us to stay.
"Outside, whilst handing out leaflets we had some engaging conversations, some people being supportive and others not so much, but the important thing for us was that there was dialogue."

---
Support our Nation today
For the price of a cup of coffee a month you can help us create an independent, not-for-profit, national news service for the people of Wales, by the people of Wales.