News
Drone images reveal dramatic impact of peatland restoration work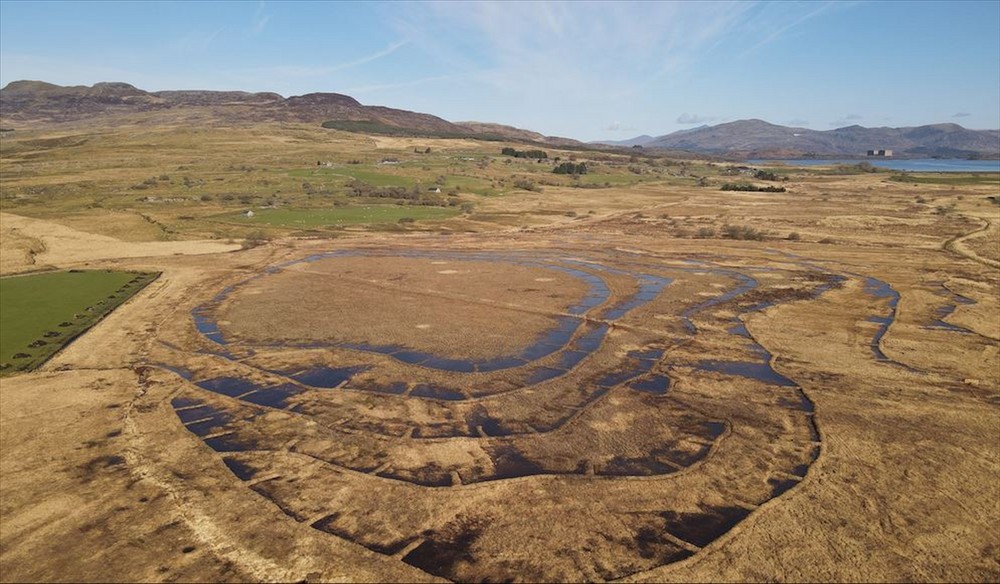 New drone images have revealed the dramatic impact peatland restoration work has had on improving natural water levels at a site within Eryri National Park.
Natural Resources Wales's (NRW) LIFE Welsh Raised Bogs Project has installed low level contour bunding for the first time on Cors Goch Trawsfynydd.
This is the first time that any peatland restoration ground works have taken place on this important site to restore water levels.
The new drone images shows that restoration methods are making an immediate and remarkable impact on water levels at the site.
Contractors worked on the site in February and March and work on the peatlands is due to resume in the autumn and winter.
So far the project has installed over 5,400 metres of low-level contour peat bunds and cut 25 hectares of dominant and dense Molinia grass.
Bunds are low level banks of peat and help to plug holes and cracks appearing on some parts of the bog that have become drier. The bunds act like dams and stop water from flowing off the bog.
Improving the water levels in the bog will ensure it remains wet and spongy – ideal conditions for important plants like sphagnum, and for wildlife.

Impact
Jake White from the LIFE Welsh Raised Bogs project said: "We are delighted with the work so far and it so good to see such an immediate impact with the bunds holding so much water only a few days after work has been completed.
"We are very grateful to the landowners and farmers for allowing us to carry out this work, and grateful to the contractors Dinsdale Moorland Specialists for their support."
The site has suffered due to due historic peat cutting and drainage in the past.
Before works took place this year, water levels in the raised bog were dropping as low as 35cm below the surface of the peatland during the summer – resulting in the important habitat drying out and releasing CO2 into the atmosphere.
Rhys Owen, the National Park Authority's Head of Conservation, Woodlands and Agriculture said: "It's fantastic to see all the peatland restoration work being undertaken by various agencies in Eryri, and especially the different techniques being used. We look forward to seeing the impact that these restoration works will have on the Cors Goch site."
The water table in a healthy raised bogs should be between 5-10cm to the surface for the majority of the year, this data shows that work to restore natural water levels on peatland is vital to ensure the long-term resilience of this rare habitat.
Cors Goch Trawsfynydd is located next to the lake of the decommissioned Trawsfynydd Power Station  which is owned by Magnox.
---
Support our Nation today
For the price of a cup of coffee a month you can help us create an independent, not-for-profit, national news service for the people of Wales, by the people of Wales.