News
Elin Jones calls out Andrew RT Davies over his support for GB News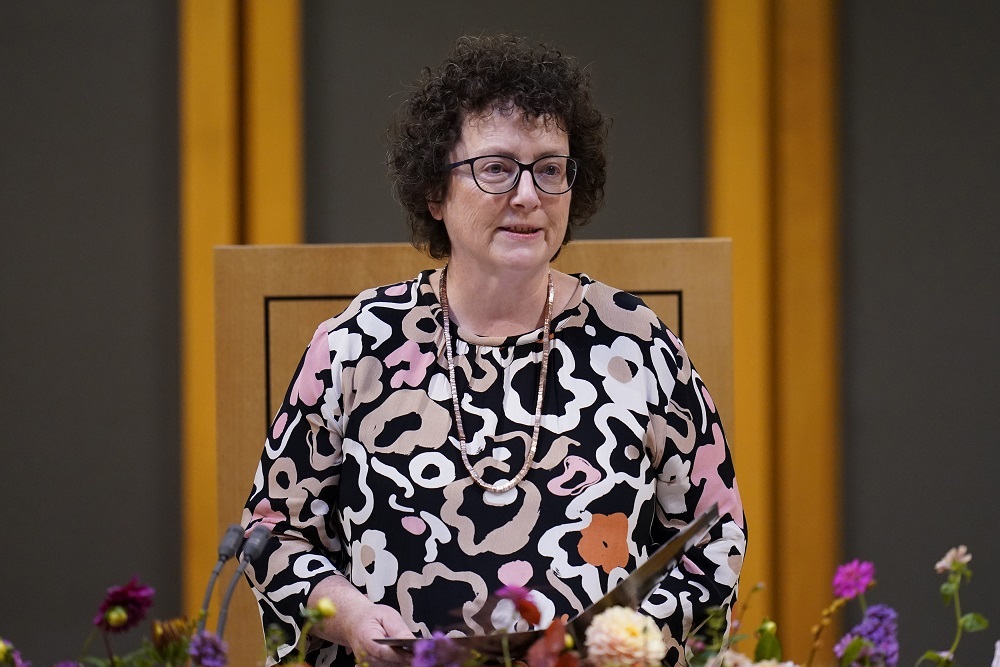 Presiding Officer Elin Jones has called out Andrew RT Davies after the Tory opposition group leader described a decision to remove the right-wing TV station GB News from the Senedd's internal TV system as "censorship".
A spokesperson for Ms Jones said: "GB News has been removed from the Senedd's internal television system following a recent broadcast that was deliberately offensive, demeaning to public debate and contrary to our Parliament's values.
"There are now several ongoing Ofcom investigations into the channel. The Commission will discuss the issue at a future meeting, and staff and Members who wish to view GB News will still be able to do so online in the Senedd."
Mr Davies reacted to the decision by posting a message on X, formerly known as Twitter, that said: "This is a disgraceful decision. It's censorship. Pure and simple."
This is a disgraceful decision.

It's censorship. Pure and simple. https://t.co/ZDUj1dZIOJ

— Andrew RT Davies (@AndrewRTDavies) October 17, 2023
Responding to Mr Davies, Ms Jones stated: "Do you seriously support a channel that allows a woman to be talked about unchallenged as below to continue to be broadcast on our Senedd internal system? 'show me a single, self-respecting man that would like to climb into bed with that woman … ever …Who'd want to shag that?"

Laurence Fox
Ms Jones was quoting the words of the actor-turned-right-wing activist Laurence Fox, leader of the Reclaim Party, on a recent GB News programme presented by former Sun journalist Dan Wootton. He was referring to the political journalist Ava Evans. Fox was sacked and Wootton, who grinned silently as Fox was speaking, has been suspended by the channel.
Former UKIP and Brexit Party leader Nigel Farage also criticised the ban, but directed his ire at the Welsh Labour government rather than the Senedd, which made the decision. He said: "This shows just how awful the Welsh Labour administration is.They are totalitarian in their thinking and behaviour. Is this what lies in store for the whole of the UK under (Sir Keir) Starmer?"
Elin Jones is the Plaid Cymru MS for Ceredigion.
Mr Davies has been invited to respond to Ms Jones' criticism of him, but has not done so.Recently Plaid's Westminster leader Liz Saville-Roberts accused Mr Davies of "stoking division" through his appearances on GB News.
She posted a message on X which said: "GB News is used as a stage by Welsh politicians including @AndrewRTDavies to stoke division. Plaid Cymru has refused invitations to appear on this extremist propaganda outlet. All politicians who respect women should sever ties with this vile excuse for a channel."
Concern has been mounting about the output of GB News, which often screens programmes in which right wing interviewers nod in agreement with the right-wing commentators they are interviewing.
Impartiality rules
Recently GB News was found to have breached impartiality rules by Ofcom for the third time since its launch in 2021.
The decision related to an episode of Saturday Morning with Esther and Phil, a discussion programme hosted by the Tory MP husband and wife duo Esther McVey and Philip Davies. The show featured a pre-recorded interview between the pair and Chancellor Jeremy Hunt, talking about the government's economic policy ahead of the spring budget.
The programme received 45 complaints, and the investigation found that during the discussions "no real attention was given anywhere in the programme to the viewpoints of politicians, political parties, organisations or individuals that either, for example, criticised, opposed or put forward policy alternatives to the viewpoints given by the three Conservative politicians."
An investigation by Byline Times established that Conservative MPs have been paid nearly £350,000 for appearances on GB News since the start of 2023.
There are currently six further active investigations into the channel, including two further episodes of Esther and Phil, two episodes of Jacob Rees-Mogg's 'State of the Nation', and investigations into Laurence Fox's show – guest-presented by Reclaim's former deputy leader Martin Daubney – and an episode of 'The Live Desk'.
Four of these investigations include possible breaches of rules limiting politicians acting as presenters, and three cover potential breaches of impartiality.
Since the channel was established in June 2021, three further investigations have concluded that GB News and one on 'To The Point' (GB News radio), have fallen short of expected standards.
The broadcaster was also found in breach of Ofcom regulations for a section on Mark Steyn's show, featuring anti-vaccine conspiracy theorist Naomi Wolf. During the broadcast, Wolf repeatedly made unopposed claims that the Covid-19 vaccine rollout amounted to "mass murder", as well as comparing it to "doctors in pre-Nazi Germany".
This was the second time the channel was found by the regulator to have pushed misleading Covid conspiracies.
Nigel Farage
Three GB News shows were the subject of around 400 complaints in a single week at the end of August this year, hosted by Nigel Farage, Dan Wootton, and Mark Dolan.
In a discussion on his show covering gang violence at the Kabaddi Tournament in Derby, Farage said – without evidence – that the "finger of blame" lay with people linked to the Khalistan separatist movement, which strives to create a homeland for Sikhs.
The Sikh Federation UK strongly criticised the segment, arguing that Farage's programme "was inaccurate and biased, misrepresented the facts, was offensive, misleading, discriminatory, spread hate, and was unfair".
A senior officer for the Sikh Press Association said: "The GB News piece may be the worst example of anti-Sikh reporting from a UK news org I have seen in nearly nine years of covering Sikhs in UK media."
In the same week, Mark Dolan's show was hit with 74 complaints when presenter Patrick Christys "joked" with a guest that "If you had one fake gun and one fake bullet and you lined up Harry and James Corden, I don't know which one you'd go for."
Andrew RT Davies has been making regular appearances on the channel. Recently he attacked the 20mph speed limit on Dan Wootton's programme.
Mr Wootton was allowed to continue broadcasting on GB News for many weeks after the Daily Mail suspended him on August 3 following an investigation by Byline Times into allegations that he pressured former colleagues to provide him with sexually explicit material.
On August 30 Mr Davies posted on X: "Labour's blanket 20mph speed limits are Wales' ULEZ. I told Dan Wootton on GB News that Welsh Conservatives would scrap them."
---
Support our Nation today
For the price of a cup of coffee a month you can help us create an independent, not-for-profit, national news service for the people of Wales, by the people of Wales.