News
End of an era for Llangefni pupils as move to new state of the art school begins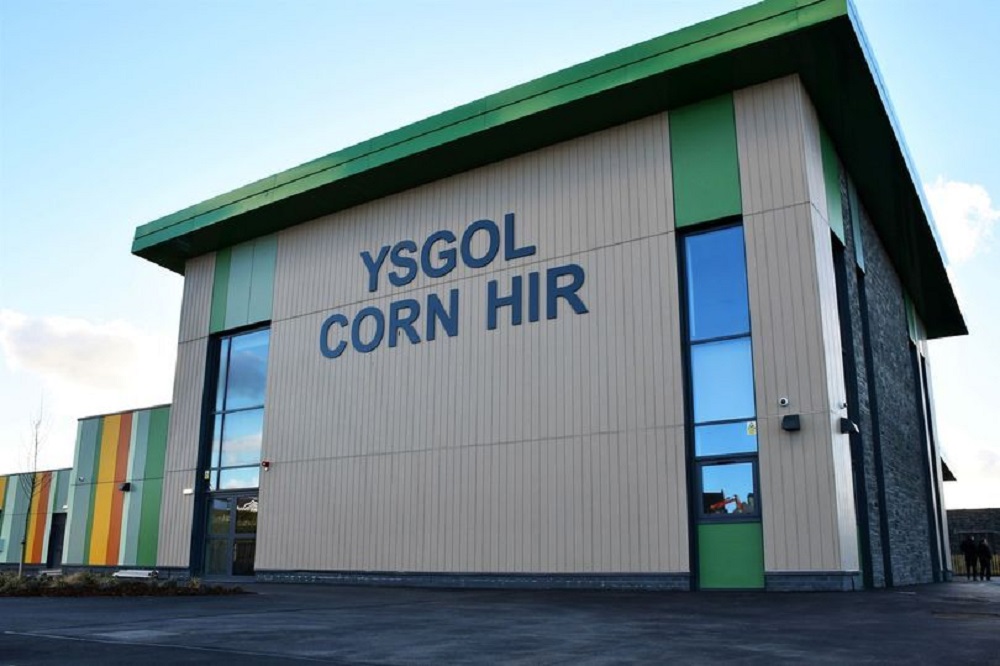 Dale Spridgeon, local democracy reporter
It is the end of an era for a Llangefni school which has closed its doors for the last time. But an exciting future now lays ahead for the young pupils of Ysgol Corn Hir.
They will soon be headed to a brand new £10M state of the art school just round the corner.
The children spent Friday having fun and playing games to mark their last day in their old school building on Bryn Meurig.
Next week, they will be working from home for the last week of term, whilst their old school is being emptied,
After the Easter holidays around 250 excited youngsters will move to the brand new school  keeping the name, Ysgol Corn Hir. Their new, ultra-modern colourful, super-school has been built at the junction of Cildwrn Road and the B4422.
It will eventually hold around 320 children aged between 3-11. It will also have larger capacity able to take more pre-school and nursery children in purpose-built areas. The school has been designed for the future, when it may need to cater for rising numbers of pupils of all ages.
Furniture removal at the old Ysgol Corn Hir was already underway. Built in the 1980s  it was previously deemed "no longer fit for purpose".

Excited
Only the third headteacher at the old school, Mr Rhys Roberts, has been in post for the past eight years. He said the children, parents, governors and staff were "delighted and excited" about their new school.
He said: "It is not often in this career that you get the opportunity to be at the beginning of a school's history. To have a say in its future and part of the team helping to plan it for the generations of children that will come here, it is quite a privilege.
"It has been a lot of hard work, and there is still a lot to do in the next few weeks, but we are all really looking forward to moving.
"Sadly, the old had started to deteriorate as it aged. Things just needed more and more attention. We'd outgrown the building, we were even using the corridors for some activities like art.
"But the new school has been purposely built with the new curriculum in mind, and it has so much more space and facilities. We can't wait to move, there are just a few who are a little sad at losing their old school. It has been a happy place.
"I am not sure it has really hit me yet that we are leaving I have been so busy, but I know once the children see their new school, they are just going to absolutely love it."
Finishing touches
The school has been funded by Anglesey County Council and the Welsh Government. The finishing touches are now being made to the new building, which was started in June 2021.
It has been specially designed with a host of modern features. The main hall boasts a massive, 5m x 4m video wall with surround sound.The new classrooms are bright and spacious, and nearly every room has a large screen and digital learning IT.
The classrooms are climate controlled, with sensors that can automatically open ceiling windows and vents, to reduce heat and carbon dioxide.
The corridors are much wider, it is a fully accessible school, with disabled toilets, a medical room with a special hoist and built in shower, and wellbeing areas and therapy spaces and changing rooms.
The staff have a much larger staff room, with modern day kitchen facilities a desk area to do their marking and their own outdoor sitting area with flower planters.
Many of the classrooms have special doors between the rooms so that the spaces can be enlarged.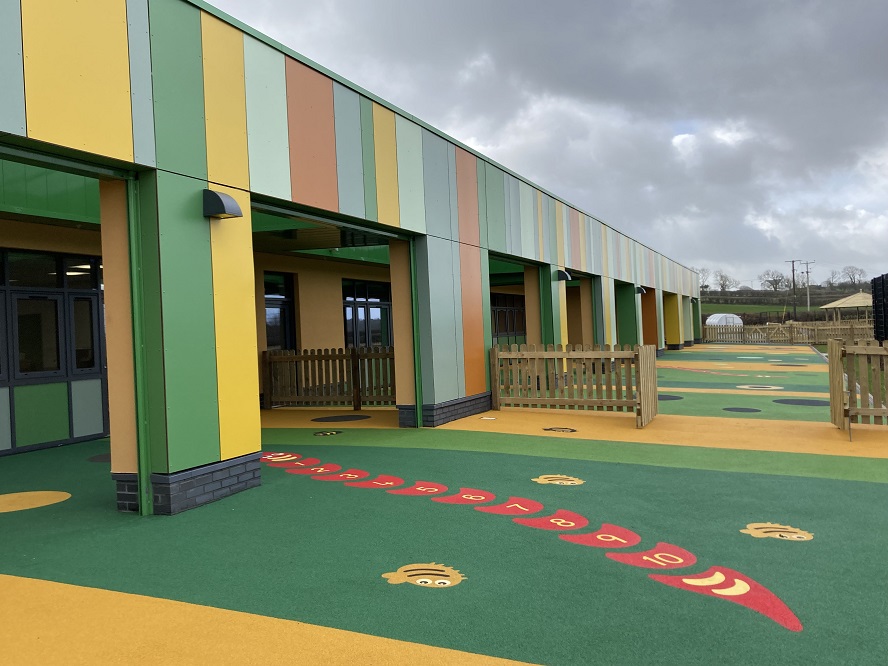 Community function
There are colourful play areas, with soft-fall safety surfaces, special doors which can be closed when the weather is bad, but still allow children to have an area to run about at playtime.
The large parking areas have been designed to help with the drop off and pick up times, to ease traffic flow, there are also electric charging units. Staff will have their own parking area.
The school will also serve community function, there are special rooms use by clubs and groups such as Welsh learning lessons.
Anglesey County Council deputy leader Cllr Ieuan Williams, with the portfolio for education and Welsh language said: "The project had been the culmination of a lot of hard work by the school, and the council teams working on the project, which included its property department and architects.
"The children of Anglesey are getting the absolutely best there is. It is just fantastic.
"We really want people to come and see the school for themselves."
He urged people to come along to  an open day which is planned for Friday, March 31.
---
Support our Nation today
For the price of a cup of coffee a month you can help us create an independent, not-for-profit, national news service for the people of Wales, by the people of Wales.