News
Extinction Rebellion activists deliver coffin to Senedd in hazmat suits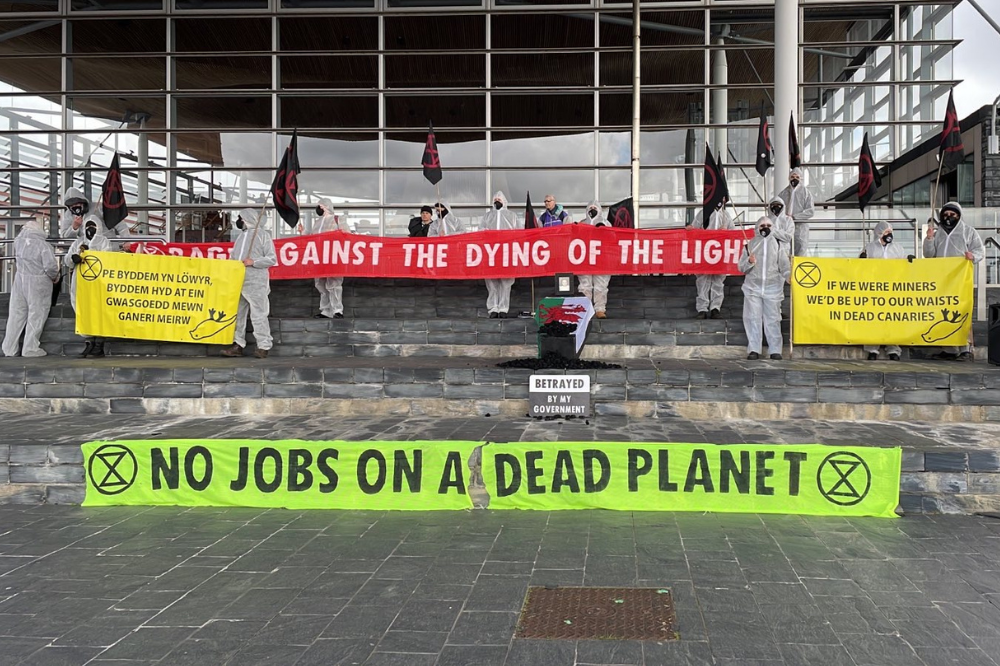 Extinction Rebellion Cymru activists have delivered a coffin to the Senedd wearing hazmat suits and black masks, in a protest against applications to extend coal mining licences in Wales.
It followed a protest at Ffos-y-fran opencast mine, on Sunday when protestors displayed a 80 metre long message on the excavation site, which read NO COAL EXTENSION and DIM ESTYNIAD GLO.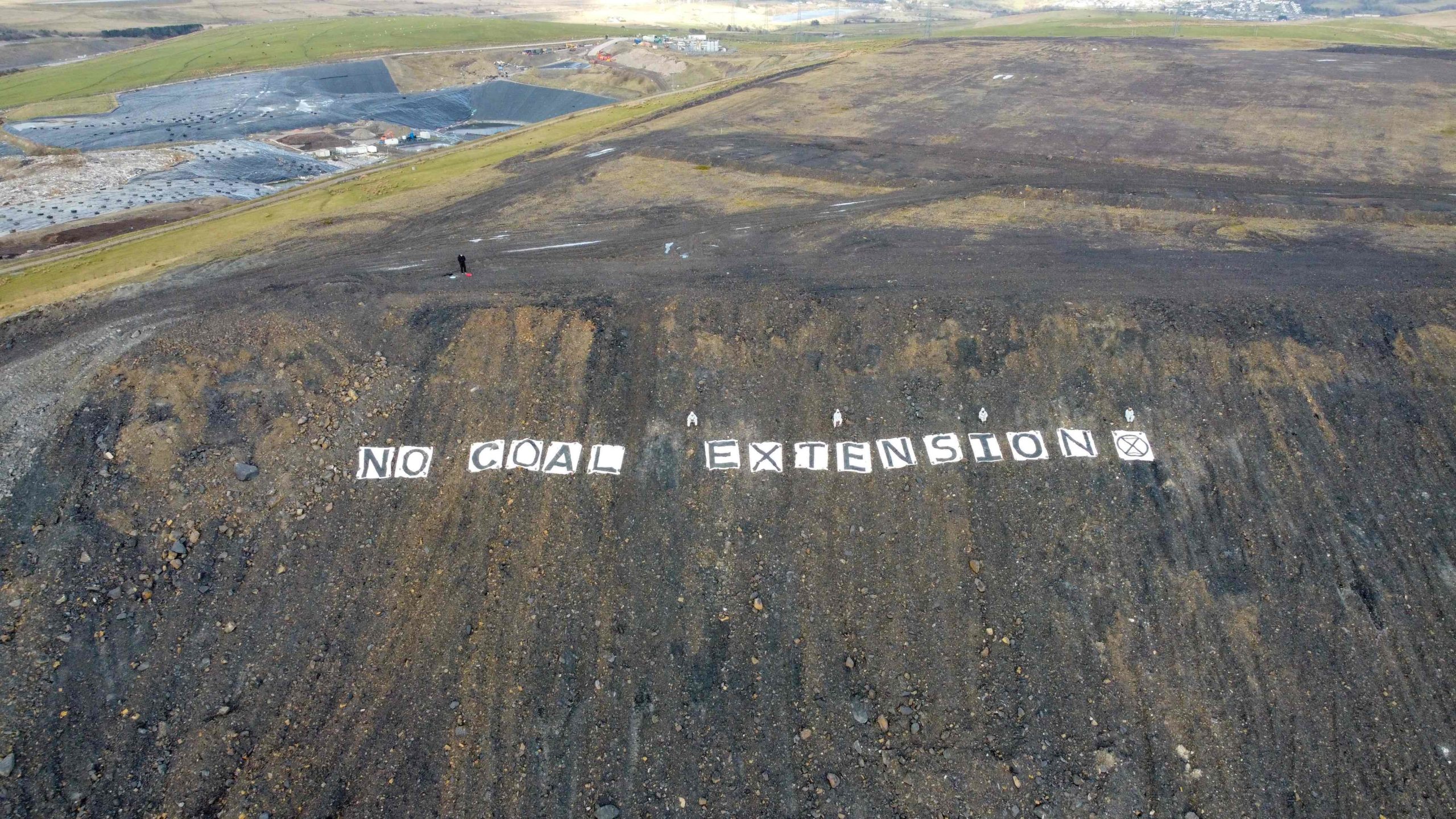 Forced
The campaign group strongly oppose plans to extend coal mining licences in other Welsh locations including the Aberpergwm mine in the Neath Valley and the Glan Lash mine in Carmarthen.
If plans go ahead for all three mines, in total, over 50 million tonnes of coal will be extracted, causing approximately 100 million tonnes of carbon dioxide to be released into the atmosphere.
Extinction Rebellion occupied the Aberpergwm mine in 2022 and since then, a Judicial Review of the decision has been granted to the campaign group, Coal Action Network.
Meanwhile, campaigners in Merthyr Tydfil are trying to halt the Ffos y Fran opencast mine from extending their licence by a further 3 year and 9 months, despite promises from Merthyr (South Wales) Ltd, and Merthyr Tydfil County Borough Council that mining would stop.
Alyson Austin, a campaigner from Merthyr Tydfil said: "Residents of Merthyr have endured 15 years of this mine and it's time we brought this suffering to an end.
"We didn't want this mine in the first place, and fought fiercely to stop it being approved, but we were overridden, and the mine was forced upon us.
"We had no choice but to bear it and fight to limit its impact on us. We looked forward to seeing the end of the operation and were devastated to find them continuing to work beyond their planning consent end date."

Ban
In Carmarthenshire in west Wales, an application is currently live for a licence extension for the Glan Lash open cast mine, for 95 million tonnes of coal in total to be excavated which would destroy 6.68 hectares of landscape.
Daniel, from Coal Action Network, currently campaigning against several coal mine applications and expansions across the UK, said: "We're fighting four coal mines and extensions. Three of those are in South Wales.
"Yet, the Welsh Government has said repeatedly that it doesn't want more of the Welsh countryside torn up with coal mining and fuelling a climate crisis – with erratic weather flooding many parts of south Wales just weeks ago.
"We think Wales should decide what happens on Welsh soil – and that's what we're taking to the Cardiff High Court on 15th and 16th March, challenging the Welsh Government's belief it doesn't have the power to decide the Aberpergwm coal mine extension which slipped through last year, and which the Welsh Government has called out as undermining Welsh climate policies.
"The time is now for the Welsh Government to catch up with Scotland to announce a clear and total ban on coal mining."
Extinction Rebellion will be joining 100,000 people from various groups at the Houses of Parliament on 21 April 2023, to demand a citizen-led programme to decide together how to build a system that works for people and planet.
---
Support our Nation today
For the price of a cup of coffee a month you can help us create an independent, not-for-profit, national news service for the people of Wales, by the people of Wales.