News
Failed Senedd candidate accused of setting up Facebook community pages to push political propaganda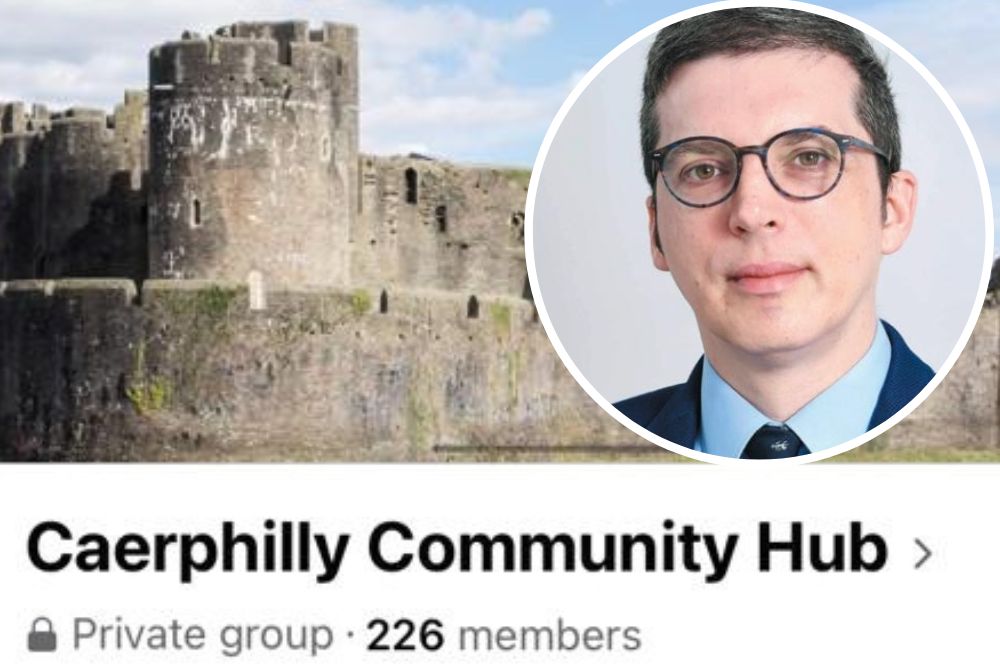 Emily Price
Questions have been raised over the running of a number of Facebook community groups which have been set up by a failed Senedd candidate working for a Tory MS.
A former member of a Facebook community group for Caerphilly told Nation Cymru they had been blocked from the page after they had questioned the string of Tory propaganda posts being shared by the group's admin.
Nation Cymru was able to gain access to three Facebook 'community hubs' which had been set up by Gavin Chambers who has requested we refer to them as Gav Chambers and use they/them pronouns for this story.
Using a decoy Facebook profile, we investigated the content being posted by Chambers in the Newbridge and Abercarn Community Forum, the Caerphilly Community Hub and the Risca / Crosskeys Communities Hub which have a collective membership of over 3000 people.
Two of the groups had been set up by Chambers in 2020 and one in 2022 with the outward appearance of being community hubs offering local information for group members.
Nation Cymru found that almost all the posts by Chambers were Tory propaganda with shares from Liz Truss' Facebook page, edited images of Mark Drakeford with anti-Labour slogans, calls to vote Conservative and not Labour, and videos of Chambers when he campaigned as a prospective Senedd candidate for Islwyn.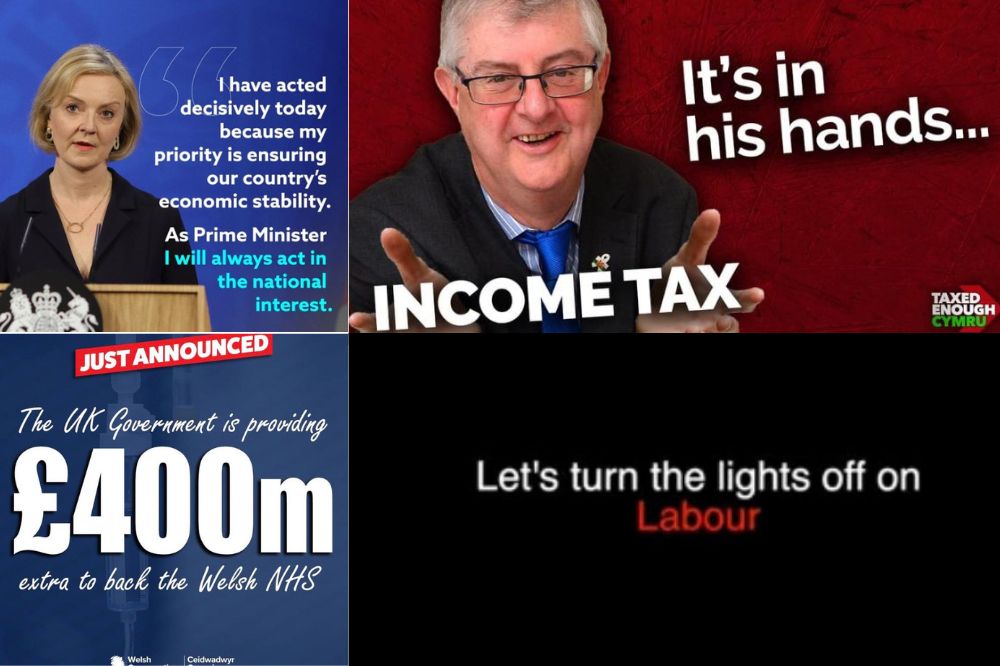 Blocked
Chambers currently works as an engagement officer for Welsh Conservative Shadow Minister for Education, Laura Anne Jones and most of the content posted into the groups has been shared directly from the South Wales East MS's Facebook and Twitter pages.
Nation Cymru found evidence that some group members who had expressed upset at the content Chambers was posting had been blocked from accessing the group.
Last week, Chambers shared a post from Laura Anne Jones' page which featured photos of the shadow education minister and the Home Secretary, Suella Braverman during a visit to Wales.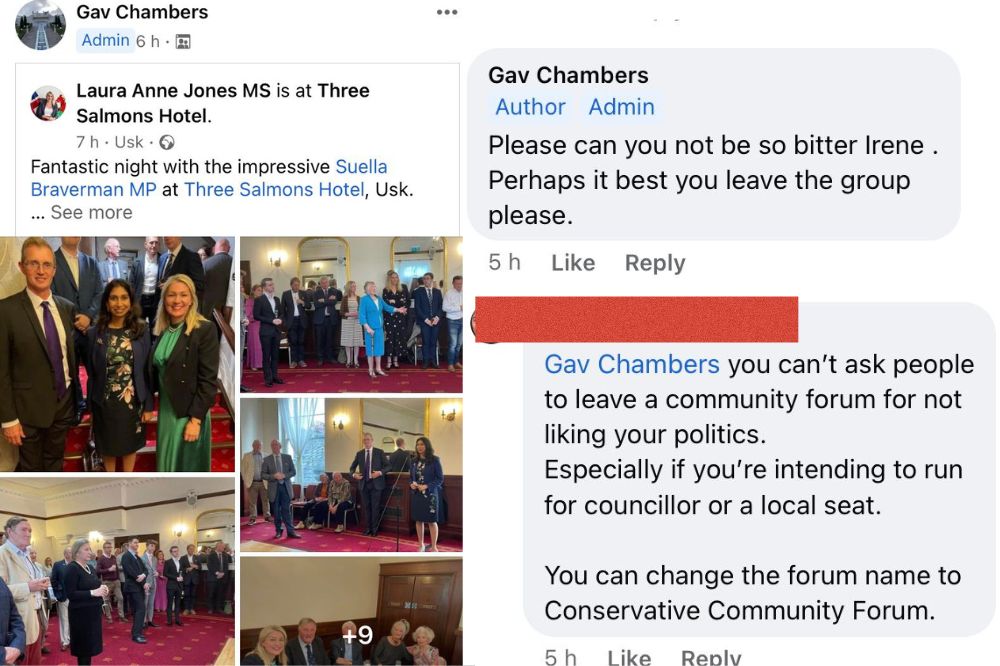 "Bitter"
A member of the community group expressed a dislike for the Home Secretary in the comments section of the post and Chambers branded the group member "bitter" and advised her to leave the group.
Another group member stepped in and said: "Gav Chambers you can't ask people to leave a community forum for not liking your politics. Especially if you're intending to run for councillor or a local seat. You can change the forum name to Conservative Community Forum".
Chambers replied: "I'm not running for any political seat! I don't mind different views but her comments were offensive. As admin of the group I set the rules thanks!"
The member who had stepped in to defend the other member was then blocked from the group.
They told Nation Cymru: "I wondered why the community Facebook hub had so many Tory posts when this is a Labour/Plaid stronghold.
"I became suspicious when anyone that commented on the posts seemed to disappear from the group. Using social media community hubs to push your own politics and block any alternative view is underhand and devious behaviour."
Gav Chambers is currently the Conservative Deputy Chairman for the Lea Valley Area, Chairman of Islwyn Conservatives and was the former Deputy Chairman Political in Epping Forest.
The failed Tory candidate splits their interests between the south of England and Wales where they have a house in the Islywn area.
Laura Anne Jones MS was not a member of any of the Facebook community groups investigated by Nation Cymru.
When asked if she had instructed her engagement officer to share her own posts into the Facebook groups she said: "I am not a member of these groups and was not aware of this happening until now."
Decoy
Gav Chambers told Nation Cymru they only block members from a Facebook group if someone is abusive or uses bad language.
In a statement, Gav Chambers said: "There are many admins from the community and we only block people who are abusive and swear on posts.
"You maybe referring to the person who called us "f***ing tory scum" this is not in line with Facebook guidelines and I am sure your readers will agree this language is not appropriate.
"I have only blocked this person from the group so perhaps you need to check with the other admins about the allegations that many have been blocked.
"Therefore the story that I block people who disagree with me is an untruth and clearly a political complaint which is libel."
Nation Cymru found no evidence of a post referring to Chambers as "F***ing Tory scum."
Prior to contacting Chambers for a statement, we used a decoy Facebook profile posing as a member of the community in Caerphilly to comment on one of Chambers' groups asking why so much Conservative content was being posted there.
Chambers briefly offered our decoy the chance to "balance out" the large amount of Conservative content.
However, the decoy account was blocked shortly after even though no abusive or bad language was used.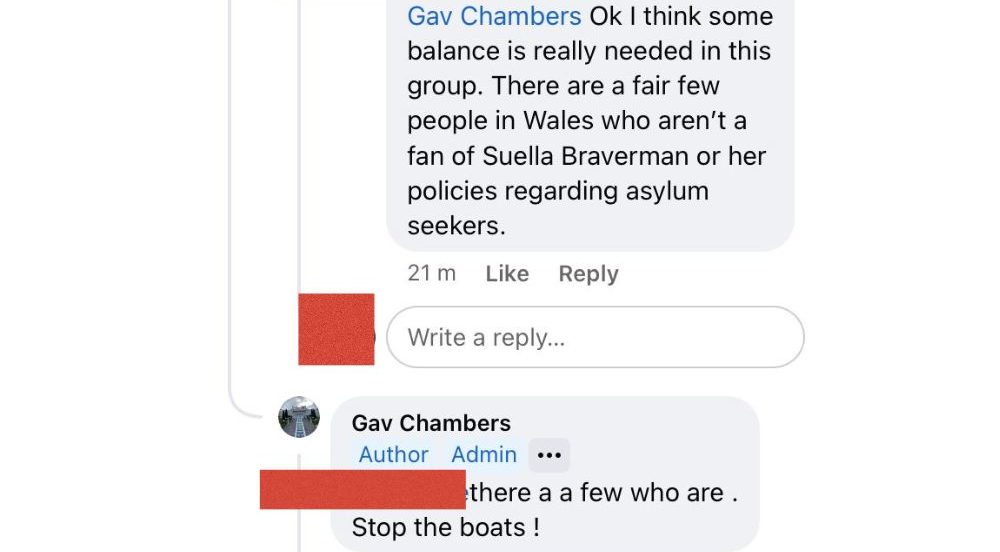 "Dishonest"
Nation Cymru made Caerphilly MS, Hefin David aware of the Facebook community hubs that had been set up by Chambers for community members living in the MS's constituency.
Mr David said: "Facebook is a very useful tool for communicating directly with residents. I found, particularly during Covid, Facebook Live Q&A sessions and interactive posts were great ways to share information.
"However, it appears that the Conservatives in Caerphilly Borough have been misusing the platform for party political advantage.
"This is fundamentally dishonest and devalues the community focused work of other elected members. It's really important to build trust and I've found most people value non party political community news from their local politicians.
"The Conservatives have done themselves and others a great disservice with their cynical use of Facebook and I call on them to stop this."
---
Support our Nation today
For the price of a cup of coffee a month you can help us create an independent, not-for-profit, national news service for the people of Wales, by the people of Wales.